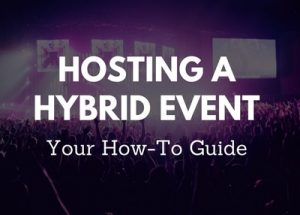 So what is a hybrid event?
A hybrid event is an event that takes place in a physical venue, while also being attended by a live and interactive audience online. And it's all anyone can talk about right now! They're a functional way to ensure ALL of your intended participants can engage in your event in the current climate….. but there are traps for the inexperienced.
Make sure your facilitator knows what they're doing
You need to do your homework and engage only experienced suppliers who know the nuances involved with hybrid events. Our number 1 tip is to engage an experienced facilitator. Most MC's say they can do a hybrid event, but few really nail it. And don't even think of doing it in-house. It's a real talent to be able to work to camera while also entertaining a large room. Needless to say we can help you with the right person for the job.
Consider the experience for each group participating
Carefully consider the run sheet for the event to ensure continuous content for your at home viewers. If that's not possible (when meals are being served etc at the venue), program online content for your at home audience – sponsors ads, fun video messages from the CEO, interviews with the MC and people in the live audience, or our favorite – a live band (who can be performing in a separate studio specifically for your online guests). Never leave your online guests looking at a screen of other people having a better time than they are!
Timing, timing, timing!
You probably work hard to keep all your events close to time but this is even more vital when providing a live stream. A competent stage manager is essential at the live venue to cue suppliers within the room, but also work with the webcast/AV company to ensure smooth execution. We recommend pre-promoting the agenda for your event so your at home audience can log on specifically to catch certain presentations, speakers or snippets of information at a particular time – making a slick, on-time event essential.
Our biggest hint: Go LIVE!
As soon as restrictions allow, go back to live events. People are power, and there's nothing more powerful than personal connections, networking, dressing up and going out with your peers. This is the only way to provide a truly immersive experience for the people who matter to you. What better time to lift the spirits of your clients, your staff and your industry than to have a live event to look forward to.