Picture this: a mesmerizing show of skill and artistry where performers manipulate flames with breathtaking precision, captivating your guests and leaving them in awe. Sounds pretty amazing, right? Well, that's just a tiny glimpse into the world of fire dancing! In this article, we'll dive into this incredible form of entertainment and explore why fire dancers are the perfect addition to your next event. From the fascinating history and cultural significance of fire dancers to the versatility and adaptability of these performers, you'll learn how this entrancing art form can wow audiences and add an extra level of excitement to any occasion. We'll also discuss the importance of safety precautions and venue requirements. So go ahead, immerse yourself in the captivating world of fire dancers, and discover how they can make your next event truly unforgettable. Trust us, after reading this article, you'll be itching to include these fiery performers in your next event lineup!
The Unique Appeal of Fire Performers at Events
Captivating Visual Displays
So, you're considering fire dancers for an event? Great choice! These incredibly skilled entertainers use a range of equipment and tools to manipulate fire and create breathtaking visual displays. They're masters of techniques like juggling, poi spinning, object twirling, fire breathing, and fire eating. Their talents captivate audiences and leave a fiery impression that's hard to forget. Now, imagine a fire performance set to music or a freestyle show with dance, gymnastics, and even singing or chanting. By incorporating a mix of talent and tradition, fire performers can deliver an experience that will keep your guests talking for weeks.
Versatility for Various Themes and Occasions
One of the best things about fire dancers is their versatility. Fire performers can tailor their performance to match the atmosphere, no matter what kind of event you're planning – a corporate gathering, a wedding, a festival, or any other special occasion. And guess what? Their flexibility allows them to complement various musicians, providing a well-rounded entertainment experience for your event.
Supporting Local Artists and Performers
Did you know booking local fire performers for your event is a fantastic way to support local artists and performers? By doing so, you contribute to the growth and development of the local arts community, and you give these talented performers a platform to showcase their skills. Moreover, you're adding a unique, captivating element to your event. Whether your gathering is big or small, fire performances can create a memorable and unparalleled experience for everyone involved.
History and Cultural Significance of Fire Performances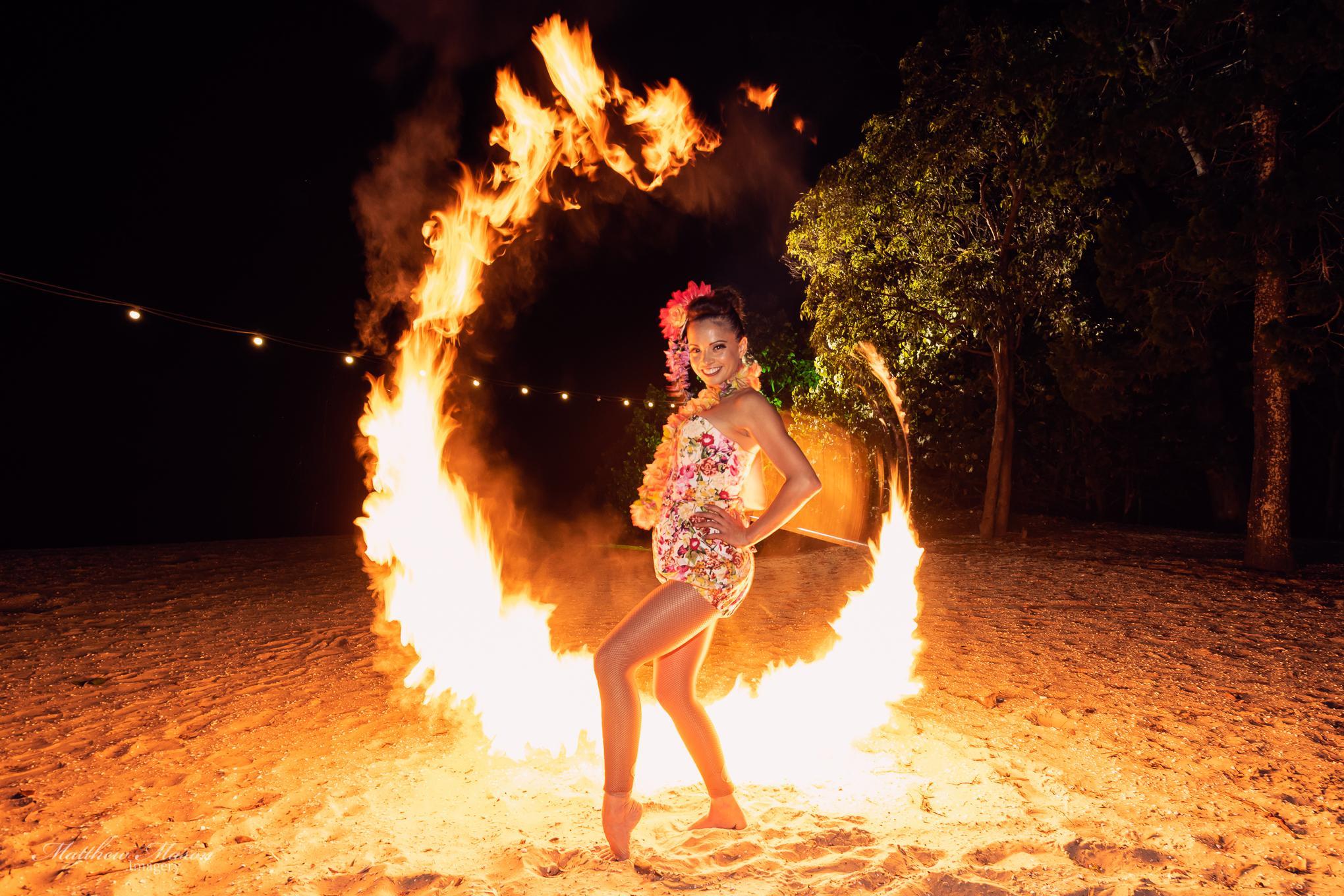 Ancient Traditions and Rituals
Fire performances have a rich history dating back thousands of years. They've been performed by various cultures and nationalities all over the world, deeply ingrained in traditions and rituals from the Aztecs to the people of Bali, French Polynesia, Cuba, Antigua, Saint Lucia, and India. They've left audiences spellbound by their beauty and daring nature. While the specific origins of fire performances may vary, they often hold cultural significance and are used to celebrate special occasions or events. For instance, some performances may be part of a wedding ceremony, a festival, or a religious ritual. The combination of fire, music, and movement creates a connection between the performers and the audience, drawing in spectators through a mesmerizing display of skill and artistry.
Fire Performances Around the World
Nowadays, fire troupes have elevated the art of fire performance to new heights. These groups of fire performers come together to perform a fire dance, complete with choreographed movements, music, and (of course) fire. These troupes often consist of highly skilled performers who have dedicated years to developing their craft, mastering the techniques and tools required to safely manipulate fire during their performance. In particular, Australia is home to world-class fire performers who have gained recognition for their exceptional talent. These skilled performers not only entertain audiences with their dynamic shows but also carry on the ancient traditions and rituals that have been passed down through generations. However, it's important to note that fire performances inherently carry an element of risk and danger due to the nature of the performance. So, fire safety precautions should always be taken to eliminate any possible risk. This involves using appropriate equipment, ensuring the performance space is clear of flammable materials, and having fire safety measures in place, such as fire extinguishers or a designated spotter, to watch for any potential issues.
Tailoring Fire Performances for Different Event Types
Another excellent reason to hire a fire performer is that they're super adaptable, making them perfect for all sorts of events, from corporate gatherings to weddings and festivals. Let's dive into how fire performers can customize their acts to fit the unique needs of various event types.
Corporate Entertainment and Team Building
Imagine taking your corporate event to new heights with a jaw-dropping fire performance. It'll leave a lasting impression on everyone and show your appreciation for their hard work. But it doesn't end there! Fire performers can also offer interactive workshops for team-building events. Participants learn basic fire manipulation techniques and safety measures, making for a fantastic icebreaker. Plus, it encourages collaboration, communication, and trust among colleagues as they engage in an out-of-the-box activity together. And the cherry on top? The workshops can end with a group performance, showcasing everyone's new skills and solidifying their bond as a team.
Wedding Shows with Fire Performers
Weddings are all about creating unforgettable memories, right? That's where a tailored fire performance comes in. It captivates your guests and highlights the love and passion between the bride and groom. Fire performers can work closely with couples to create a personalized performance that matches their wedding theme, colour scheme, and music choices. This seamless integration adds to the overall aesthetic and atmosphere of the big day. Want more magic and romance? Fire dancing and breathing can be synchronized with the couple's first dance, making it extra special.
Festival and Carnival Fire Entertainment
Festivals and carnivals are all about energy and eye-catching performances, and fire performers are perfect for the job. Their unique combination of artistry and daring feats grabs the attention of everyone around. With tons of experience, these artists can create custom acts considering the event's theme, size, and desired energy level. From roving fire performers that engage the audience at every corner to breathtaking aerial acts featuring mesmerizing fire manipulation, there's no shortage of captivating spectacles.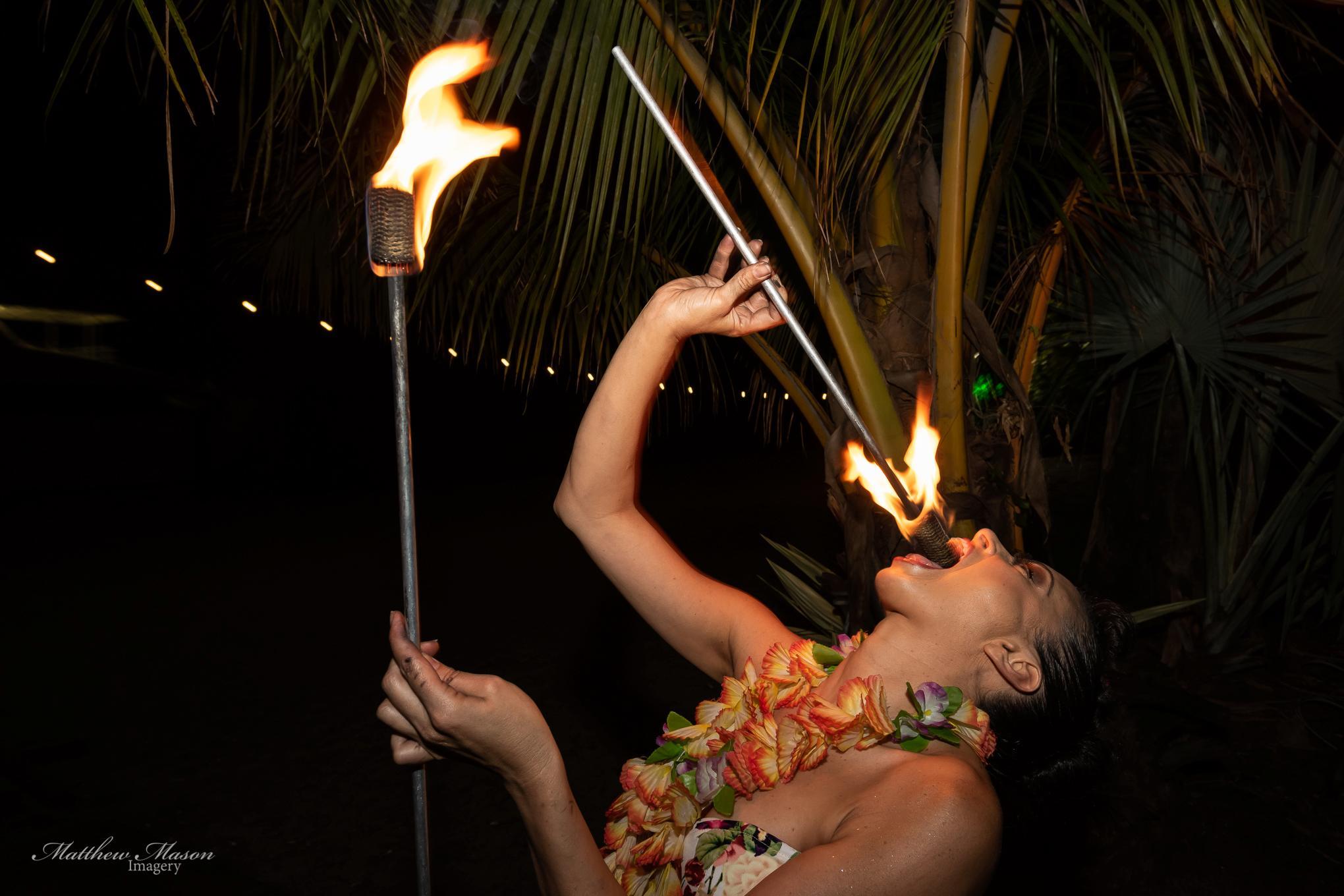 Ensuring Safety and Proper Precautions for Fire Performances
Venue Requirements and Regulations
When planning an event with fire performers, you must ensure the venue is safe and ready to host such a unique performance. It's essential to check the safety regulations and layout of the location to avoid any hiccups during the event. Working with a stage management team can make a big difference in overseeing the technical aspects and ensuring all safety measures are in place. Keep in mind that venues might have specific rules and requirements for fire performances.
Igniting a Fiery Finale for Your Event
In a world filled with countless entertainment options, fire performers genuinely stand out as a captivating and unparalleled choice for your event. Their unique combination of stunning visual displays, cultural significance, and adaptability to various event types makes them an excellent addition to any occasion. With proper safety precautions and responsible hiring practices, you can ensure a smooth and unforgettable experience for all involved. So for your next event, why not ignite that fiery finale and leave your guests with memories they'll treasure for years? Get in contact with us today to learn more!