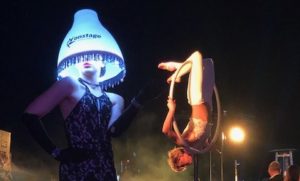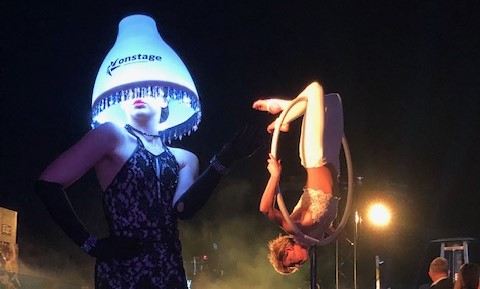 #SenseUs 2019 was heralded as 'the best yet' by Brisbane corporate buyers and event industry professionals.   Touted as 'not for the faint hearted', #SenseUs is in its sixth year and is considered Queensland's premier event industry showcase.
Founded by Onstage Entertainment party Queen Andrea Heath, and SolRED Décor extraordinaire, Jackie Rouleston Stuart, this year's event was held at Rydges South Bank, the first time the event has been in a hotel.   Each year features a bevy of innovative and like-minded industry suppliers, all of whom engage with the theme of five senses: sight, sound, smell, taste and touch (and there was plenty of touching, with a bondage-clad puppy-man and interactive phallic -themed dessert wall).
The aim of #Senseus is to reignite passion and real innovation.  To have corporate buyers, venues and suppliers all in one room to relax, enjoy each others' company and let their guard down.  It also serves as a reminder that our job is to throw parties and, to remain relevant and viable we need to continue to do it differently.  This year certainly did that.
Founder Andrea Heath says, "We always push the boundaries – this year more so, with the view to re-engage with our peers in a truly innovative way".  She continues, "The partners this year really embraced the concept, and watching their teams connect and get excited reminded me why we do this each year.  It's a motivator, an opportunity to demonstrate how we can deliver exceptional experiences differently, and a reminder that the norm is not okay.  Most of all though, it's a reminder that we're all fun, amazing humans who need to be given 'approval' to create, not to be confined to a set of beige coloured rules".
Act 1
Guests arrived at Rydges South Bank's 'Soleil Pool Bar' and were hit in the face with a visual and feasting fiesta.  Glowing performers on segways, a living red carpet and lamp shades,  lollipop aerialist, interactive food stations and real-time photography were all part of the deal.  A customised, time-coded fireworks display by Fuse Pyrotechnics signalled a move to the next 'act'.
Act 2
Moving into the Podium ballroom for a seated dinner, all 150 guests engaged in an interactive "Events" themed version of Cards Against Humanity, hosted by singing and dancing MC Jenny Wynter.  Like all things #SensesUs, nothing was normal, with meals featuring an edible version of the card game and centre pieces that exploded with mini fireworks.  Table styling by SolRed  managed to create a contemporary and stylish look in what was otherwise a crazy hour and a half of interactive fun.
Act 3
Moved to the lifts by incredibly unique performers, guests arrived to the Rooftop where expansive views of Brisbane River were enhanced with neon and tropical embellishments.  The highlight – Rydges South Bank's sensory dessert cave – complete with headphones playing themed sounds as they moved around the darkened maze.  Dance band, The JSB, had even the most hardened wallflowers on the dance floor, while wind machines made for a "Marilyn" style experience for dancers.  The night wouldn't be complete without the interactive, phallic-themed dessert wall… right?
Production Credits
Concept, entertainment design and event design: Andrea Heath, Donnita Maher and Jackie Rouleston Stuart
Event Management: Andrea Heath
Menu design / Head Chef: Justin Newbury, Laura Medda and Robin Singh
Partners
Venue and catering: Rydges South Bank
Entertainment: Onstage Entertainment
Décor: SolRED
Pyrotechnics: Fuse Pyrotechnics
Photography: SocialPix by EventPix
Registration: Jason Thomas Events
AV production: Select Audio Visual