So, you've got a big corporate event coming up in Brisbane, and the pressure is on to find the perfect venue. We feel you – finding that ideal spot that ticks all the boxes can be challenging. And there are so many function venues to choose from! But don't worry, we've got you covered when it comes to choosing the right place for next corporate event, which people will enjoy!
In this article, we'll walk you through the essential factors to consider when choosing a venue or event space for your next corporate event. From location, capacity, amenities, audio visual aspects of the function spaces, and your budget – we have your back. Plus, we'll share our top picks for the best corporate function venues in Brisbane for 2023 – trust us, you'll be spoilt for choice as Brisbane has so many corporate event spaces!
Because we know you want that extra wow factor, we'll also throw in some unique venue suggestions that'll have your guests talking about your event for years to come. Are you ready to make your corporate function in Brisbane truly unforgettable? Let's dive right in.
Factors to Consider When Choosing Corporate Function Venues in Brisbane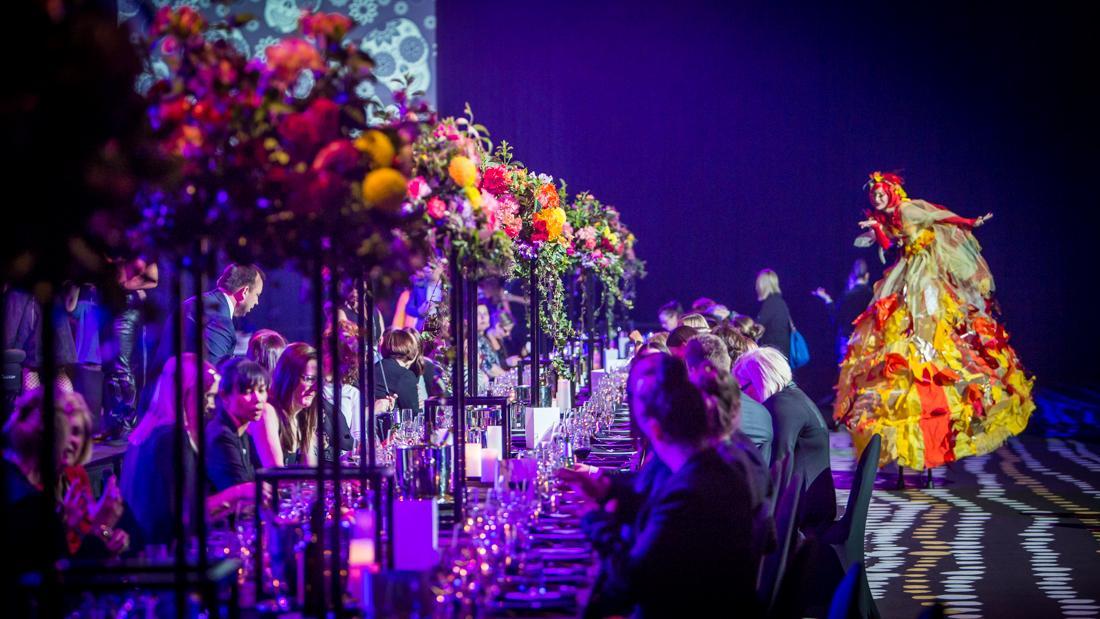 When you're planning a corporate event, experienced event planners and places with food and beverage packages can be of a huge benefit. When thinking of venues Brisbane, its important to consider natural light in the event space if its a daytime event, the function room, conference room or function spaces, and if you want to use Brisbane's natural beauty as a stunning backdrop or unique space. it all stems down to the type of corporate event you are planning. Corporate events are always a special occasion, but there are many different types. These could be gala events, a work Christmas party, a staff cocktail party, a company function engagement party or birthday party for a colleague or even product launches. Whichever event venue you choose, its good to consider the following to ensure you choose the perfect place.
Location and accessibility
So you're on the hunt for the perfect corporate function venue in Brisbane? It all starts with location and accessibility. Some of the top suburbs for venues are Brisbane CBD, Fortitude Valley, Newstead, Woolloongabba, South Brisbane, Toowong, and St Lucia.
You'll want to pick a venue that's easy to get to, either by public transport or with plenty of parking. A couple of great options in Brisbane are Customs House, a beautiful heritage-listed building with private dining rooms and amazing views of the Brisbane River, and WATT, a modern waterfront venue with outdoor areas and flexible spaces.
Capacity and venue size
Next up, you need to think about the venue's capacity. Can it comfortably accommodate all your guests? For large-scale events, Brisbane City Hall is an iconic, heritage-listed venue with multiple function rooms which can cater to huge crowds..
If you're looking for something a bit more intimate, Victoria Park Function Venue has eight rooms with stunning views of the golf course, and it's just 2km from the CBD.
Amenities and services
When planning a corporate function, it's important to consider the amenities and services the venue provides. For example, the Southbank Beer Garden offers signature cocktails, shared plates, and canapés for a more relaxed event atmosphere.
Looking for something a bit more formal? Swiss-Belhotel Brisbane has two versatile meeting rooms that can fit up to 80 people. And if you need a venue with multiple breakout sessions, Cliftons is a great choice, with 20 naturally lit rooms catering for up to 120 people, plus an on-site technical team and event coordinators.
Entertainment
Of course, you can't forget about entertainment. Whether it's live bands or feature acts, the right entertainment can make or break your event. Luckily we are here to help! Contact us to find out more about how we can help plan the perfect entertainment for your event.
Budget and pricing
Last but not least, you need to think about your budget. It's important to have a clear understanding of your overall event budget and what costs are associated with the venue.
Make sure to factor in venue hire fees, catering, entertainment, and any additional services the venue provides. Comparing prices across different venues will help you find the perfect location within your budget while still meeting your event requirements.
And one last tip: plan early and be flexible with your dates. Popular venues tend to book out quickly, so don't miss out on your dream location!
Top Corporate Function Venues in Brisbane

Source: https://customshouse.com.au/
Customs House
Looking for a heritage-listed building on the Brisbane River for your corporate event?
Customs House offers multiple private dining rooms and can accommodate up to 300 guests. The elegant architecture and charming atmosphere make it an ideal venue for a memorable event.

Source: https://www.ivvy.com.au/
WATT
How about a modern waterfront venue with stunning views of the Brisbane River?
WATT features outdoor areas and flexible spaces that can host up to 400 guests. This contemporary location is perfect for any corporate function, whether you're planning an intimate gathering or a larger event.

Source: https://www.hiddencitysecrets.com.au/
Brisbane City Hall
If you're searching for an elegant, iconic heritage-listed venue, Brisbane City Hall is the one for you. With multiple function rooms, including the Main Auditorium (which accommodates up to 2,000 people), the grand architecture and timeless elegance of this venue make it a popular choice for large-scale corporate functions and events.

Source: https://victoriapark.com.au/
Victoria Park Function Venue
Victoria Park Function Venue is just 2km from the CBD and offers eight function rooms with panoramic views of the golf course. Plus, the venue provides complimentary parking for guests, making it a convenient choice for corporate functions. With its picturesque surroundings and versatile function rooms, it's an ideal location for any event.

Source: https://eatsouthbank.com.au/
Southbank Beer Garden
Looking for a unique beachside venue? Southbank Beer Garden has function rooms catering to groups of up to 300 people. Offering signature cocktails, shared plates, and canapés, this venue provides a relaxed and enjoyable atmosphere for corporate events. The beachside location adds a distinctive touch to your event, making it an unforgettable experience for your guests.
Unique Corporate Event Venues in Brisbane
So, you're planning a corporate event in Brisbane and need an outstanding venue, right? Don't worry, Brisbane has plenty of unique event spaces to cater to various event types, sizes, and styles. Let's dive into some of the best venues in Brisbane that are sure to impress your guests.

Source: https://thecalilehotel.com/
Rooftop, The Calile Hotel
Imagine hosting your corporate event at The Rooftop at The Calile Hotel. This luxurious setting offers breathtaking views, stylish design, and superb facilities. It's perfect for impressing clients or rewarding staff.

Source: https://www.roseroombrisbane.co/
Rose Room, Fortitude Valley
If you're looking for something more intimate, check out the Rose Room in Fortitude Valley. This charming, elegant pink-themed venue offers various seating options perfect for gatherings of all sizes.

Source: https://factory51.com.au/
The Workshop, Factory51
For those who prefer an industrial-chic vibe, The Workshop at Factory51 is a great choice. This versatile space can cater to events with 10 to 200 attendees, making it suitable for meetings, conferences, product launches, and gala dinners.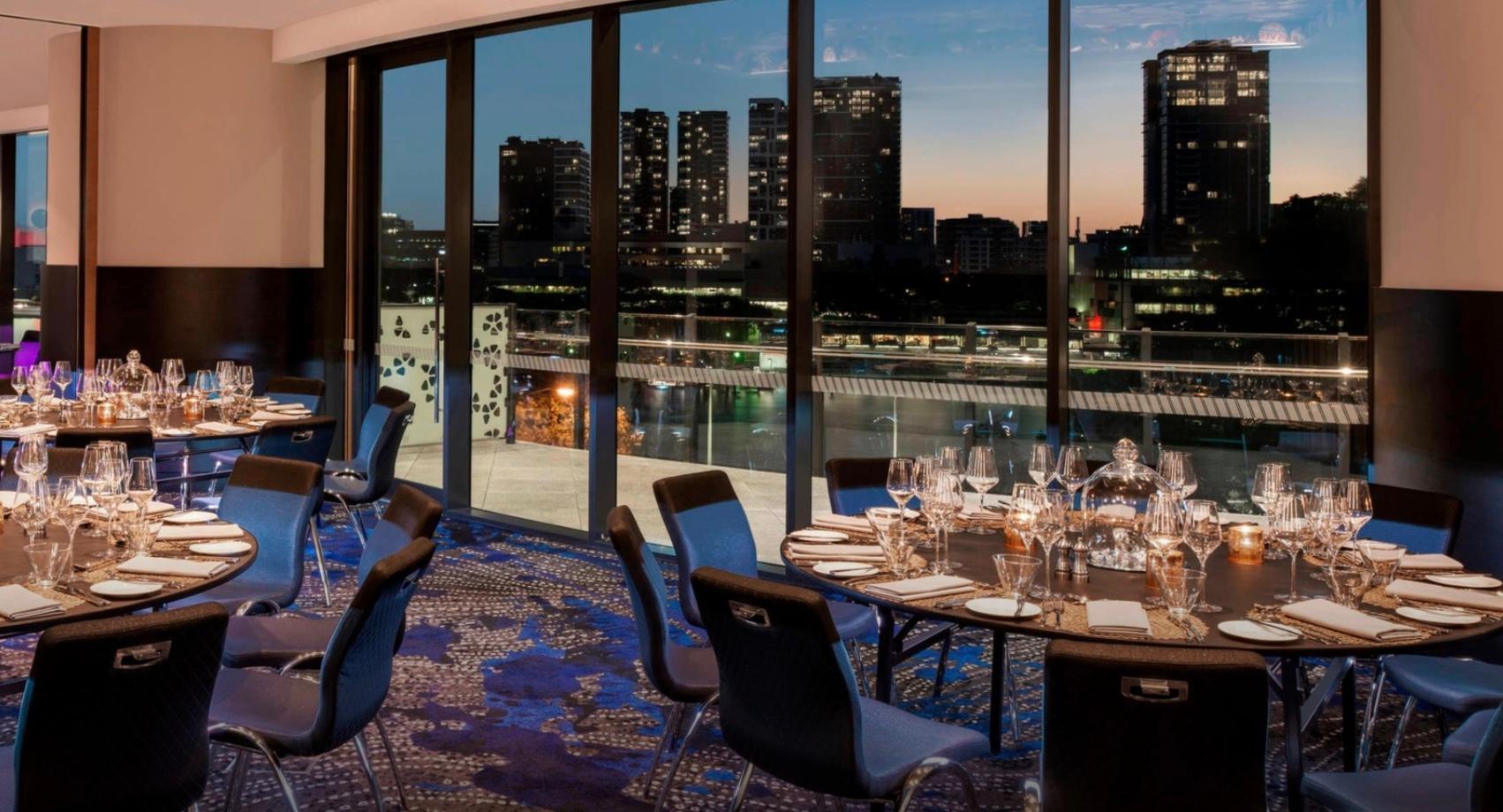 Source: https://www.marriott.com/
Great Room, W Brisbane
The Great Room at W Brisbane offers a spacious 595 sqm pillarless area that can accommodate up to 450 guests for banquet-style events or 750 guests for standing receptions. This stylish venue is perfect for hosting a seamless and unforgettable corporate event.

Source: https://www.citywinery.com.au/function-venue
Private Cellar, City Winery Brisbane
In search of an intimate and luxurious space? The Private Cellar at City Winery Brisbane is a hidden gem that can seat up to 22 people. Surrounded by a prestigious collection of wine bottles, this venue is perfect for exclusive dinners or business meetings.

Source: https://www.brisbaneshowgrounds.com.au/
Marquee 1, Brisbane Showgrounds
For large-scale events, Marquee 1 at Brisbane Showgrounds offers 5500m2 of undercover space. This massive venue is ideal for conventions, exhibitions, trade shows, markets, or corporate holiday parties.
With a range of customisable options and excellent facilities, you can create an exceptional experience for your guests.
Planning a Successful Corporate Event in Brisbane: How Corporate Function Venues Can Be A "Make or Break"
Determining event objectives
So, you're planning a corporate event in Brisbane? Great! Before getting into the nitty-gritty, you need to figure out the event's objectives. What's the reason for this gathering?
Is it a product launch, an employee appreciation party, a conference, or a team-building exercise? Knowing your goals will help you make the right decisions throughout the planning process.
Creating an event agenda and schedule
With the objectives in mind, it's time to create an agenda and schedule. You'll need to pick a date and location, select keynote speakers and presenters, and decide how long the event will last.
Don't forget to allocate time for breaks and activities. Corporate events in Brisbane usually include a mix of educational sessions, networking opportunities, and entertainment. The trick is to find the perfect balance to keep everyone engaged and informed.
Coordinating catering and entertainment
Now let's talk about catering and entertainment – two things that can make or break your event. For catering, think about the dietary preferences and restrictions of your attendees. You'll want to offer options that suit everyone.
As for entertainment, the right performers can take your event from good to great. Have you considered hiring a DJ or live band? Or perhaps you want something with a bit of flare like fire performers or stilt walkers? Or maybe even both?
Managing event logistics and coordination
Event logistics and coordination require a keen eye for detail. Your job is to make sure everything runs smoothly from start to finish. That means handling registrations and RSVPs, organizing transportation and parking, and more.
Stay in touch with speakers and entertainment providers, and always have a backup plan for unforeseen issues like bad weather or last-minute cancellations.
Evaluating event success and feedback
Once the event is over, it's time to assess its success and get feedback from attendees. You can do this through post-event surveys, one-on-one chats, or just by observing people's reactions during the event.
This feedback will help you understand what worked and what didn't, and it'll be invaluable when planning future events. Remember, the key to a successful corporate event in Brisbane is learning, adapting, and refining your approach to exceed expectations every time.
Perfect Corporate Function Venues Create Unforgettable Events!
With so many incredible options available, finding the best corporate function venues in Brisbane has never been easier. The city boasts a diverse range of unique and memorable spaces, catering to events of all sizes and styles. By considering location, accessibility, capacity, amenities, services, and pricing, you're sure to find the perfect venue that will leave a lasting impression on your guests.
Don't forget, the key to a successful corporate event lies in meticulous planning and attention to detail. From determining event objectives and coordinating logistics to choosing the right catering and entertainment, every aspect contributes to the overall experience.
So go ahead, let Brisbane's amazing corporate venues set the stage for an unforgettable event that not only meets but exceeds the expectations of your attendees!