Hey there, party planner! We can tell you're someone who knows how to throw a top-notch corporate cocktail event. But are you aware that the new and up-coming market is flourishing with fresh and creative cocktail-themed parties, which can be a challenge to compete against!
You know, the kind of ideas that not only impress your guests but also create unforgettable memories and leave everyone buzzing long after the event is over.
That's where we come in. In this article, we've gathered some truly amazing corporate cocktail party themes that will elevate any event and leave your guests in awe. We're talking about themes that range from the classic black and white elegance to the thrilling experience of a circus soiree. Trust us; there's something here for everyone.
To help you create a truly immersive experience, we'll also dive into some tips on world-class event entertainment. We'll explore how to choose the perfect acts, and how to make your event a memorable one that your guests can't stop talking about.
So, grab your favourite cocktail, sit back, and let's get the party started! Cheers to an amazing corporate cocktail party that will leave your guests in awe!
Unforgettable Corporate Cocktail-Themed Parties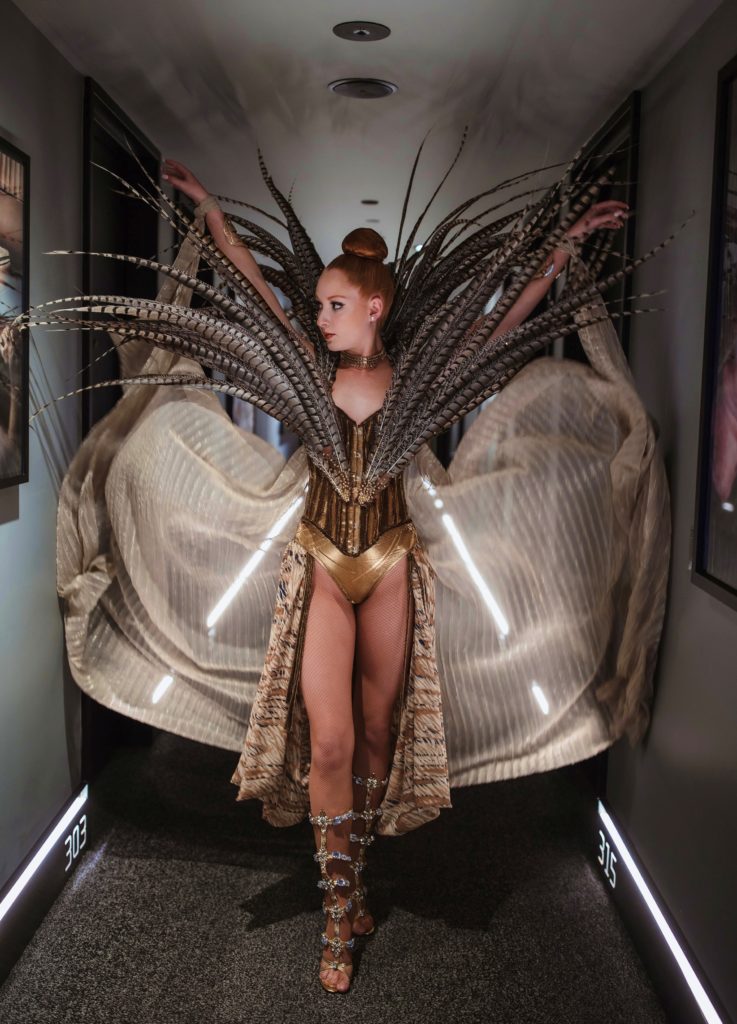 Monochromatic Elegance: Cocktail-Themed Classic Black and White
The allure of a classic black and white themed corporate cocktail party is synonymous with sophistication and refinement. Imagine sleek decorations, luxuriously crafted cocktails, and guests donning stylish monochromatic attire. Take inspiration from classic films like Casablanca to complete the look with vintage Hollywood glamour, ensuring an ambiance that wows your guests.
Rewind to the 90s
Hit rewind and transport your guests back to the vibrant era of the 90s! Encourage everyone to dress in their favourite trends from the decade and deck out your event space with decor inspired by iconic 90s sitcoms or movies. Serve up inventive drinks that mirror popular snacks or candies like Pop Rocks-infused cocktails and provide entertainment in the form of arcade games and trivia challenges. A night filled with cool nostalgia awaits!
Star-Studded Hollywood/Bollywood Nights
Bring the dazzling glamour of Hollywood or Bollywood to your next corporate cocktail party. Roll out the red carpet, set up photo booths with film reel backdrops, and display posters of iconic movies. Why not invite celebrity impersonators to mingle among your guests for added fun? Serve show-stopping libations embodying famous big-screen characters and offer themed activities, such as movie-themed charades or quizzes.
Exotic Flavours: Chaat Party Fusion
For a flavour-packed journey, delight your guests with an exotic and uniquely delicious chaat party. Showcase a mouthwatering array of Indian street food, accompanied by spiked chaats like tequila-infused sev puri. Combine traditional and modern tastes flawlessly with elegant presentation, resulting in a memorable culinary adventure for your corporate guests.
Spectacular Circus Soirée
Immerse your guests in the enchanting atmosphere of a circus-themed cocktail party. Transform your venue with big-top ceiling drapes, red and white striped decorations, or vintage carnival photos, while serving thrilling circus-inspired drinks and canapés. Interactive stations such as ring toss, fortune tellers, or even roving jugglers and stilt walkers will delight and entertain your guests throughout the event.
Enchanting Secret Garden
Invite your guests to enter a magical secret garden filled with whimsy and wonder. Adorn your venue with lush greenery, fairy lights, and rustic garden centerpieces to create an ethereal ambiance. Tempt their senses with fragrant botanical-infused cocktails that imagine floral delights, transporting attendees into a mystical world to remember.
Tropical Island Oasis
Bring a slice of paradise to your next corporate cocktail party with a vibrant island oasis theme. Encourage guests to dress in tropical attire, and embellish your venue with tiki huts, palm trees, and leis. Serve up beachy libations such as coconut mojitos and offer fun activities like hula lessons or limbo contests for an unforgettable night of relaxation and festivity.
Embrace the potential of these innovative and captivating themes for your next corporate cocktail party. Creating a sense of escapism and excitement will inspire connections and ensure a memorable experience for all in attendance.
World-Class Entertainment For Your Cocktail-Theme Parties
When planning a themed cocktail party, top-notch entertainment is key to keeping your guests engaged and entertained. With years of experience, we've discovered the secrets to success when it comes to selecting and incorporating the best entertainment for any kind of event.
Innovative Entertainment Ideas
Want to make your cocktail party truly memorable? Then it's time to think outside the box. Consider incorporating unique entertainment elements that will delight and surprise your guests. From incredible acrobatic performances to mesmerising light shows, the sky's the limit when it comes to innovative entertainment ideas for your event.
Live Music
There's just something about live music, right? It's always a crowd-pleaser and remains a popular choice for events. A talented band or musician can create an unforgettable atmosphere, bringing energy and life to your cocktail party.
You have tons of genres to choose from, including jazz, pop, classical, and many more, depending on the theme and preferences of your audience.
Pro Tip: Try and include the musicians in your cocktail party theme. Having them dress up in the appropriate outfits and play music to suit the theme is a great way to set the mood of your cocktail party.
Dance Performances
Looking for a touch of elegance and culture? Dance performances are a fantastic way to entertain your guests. From ballet and contemporary to Latin and hip-hop, there are countless dance styles and groups available to capture your audience's attention and ensure an engaging experience.
Interactive Activities & Roving Entertainment
Who doesn't love a little interaction? Offering roving entertainment or interactive activities that allow your guests to participate in the fun is a surefire way to keep them entertained and engaged.
Roving entertainment is a fantastic way to entertain the guests at your next cocktail party. Whether it's stilt walkers, fire breathers, or magicians, these entertainers add an impressive element to any occasion.
On the other hand, activities that guests can participate in themselves are always a great way to leave a lasting impression. Think photo booths for goofy pictures with fun props, virtual reality experiences for a trip to incredible new worlds, or art stations where they can express their creativity and take home a keepsake. Plus, these activities serve as excellent icebreakers, helping guests connect and form lasting memories together.
Choosing the Right Entertainment for Your Corporate Cocktail Theme Parties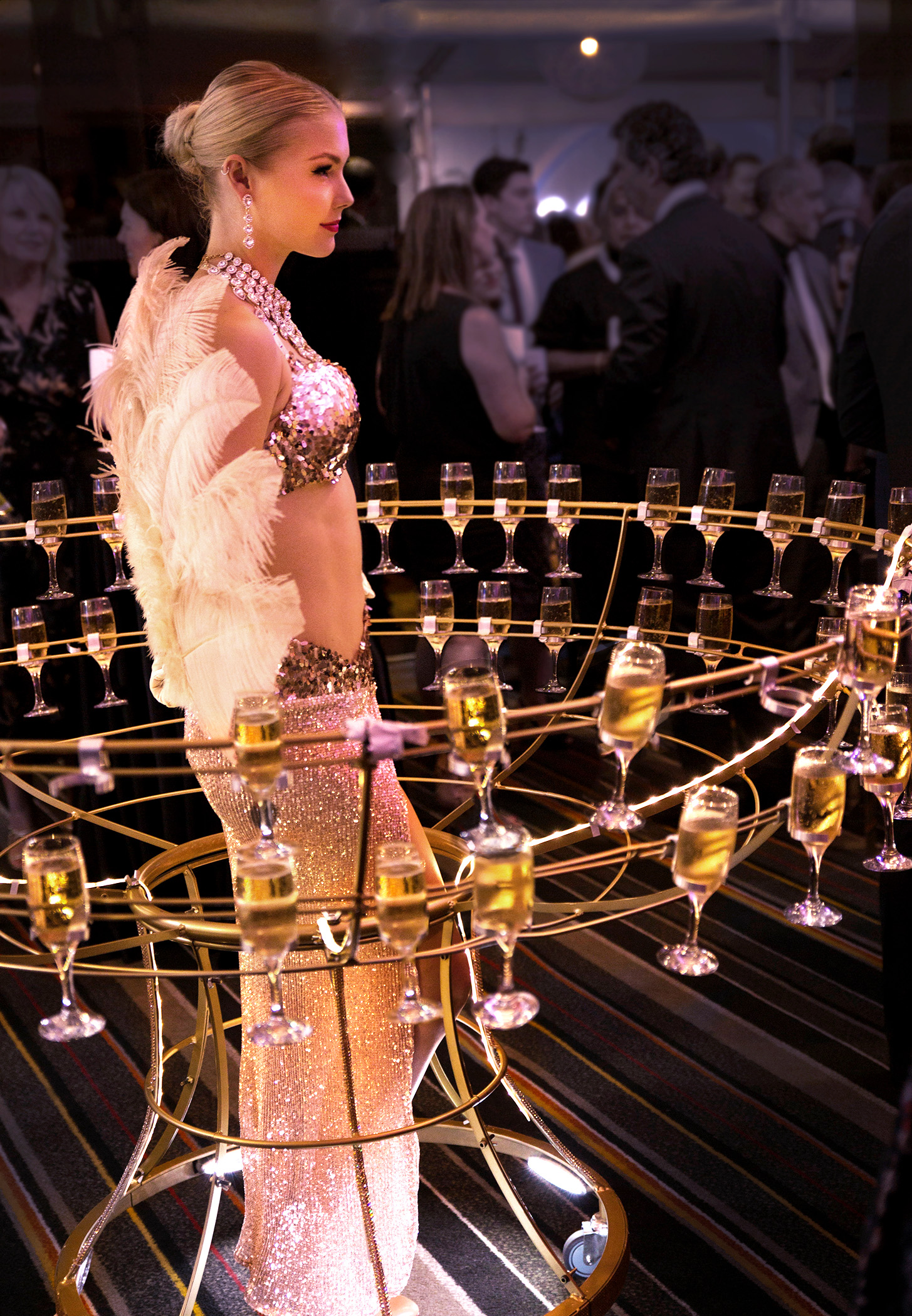 With so many entertainment options out there, selecting the perfect one for your event can be overwhelming. It's important to consider factors like your event's theme, budget, venue, and the preferences of your target audience.
Remember, investing in high-quality entertainment can significantly impact the overall success of your event and leave a lasting impression on your guests. Don't hesitate to consult with experienced event planners, who can offer invaluable guidance and recommendations based on their expertise and vast knowledge of the industry.
Here are some tips on picking the right entertainers and creating a truly memorable experience.
1. Define Your Event Theme and Objectives
First things first, think about your event's theme and objectives. What's the purpose of the event? Who's attending? What kind of atmosphere do you want to create?
Aligning your entertainment with these factors will ensure a cohesive and engaging experience for your guests.
For example, if you're organizing a masquerade ball, consider hiring a live band with a mix of classical and contemporary dance music.
2. Do Your Research
There are so many entertainment options out there, so take the time to research and find the perfect fit for your event. Look through online portfolios, watch showreels, and read reviews to understand what different entertainers offer.
Plus, why not attend a few live showcases? This way, you can experience their performance style firsthand and see how well they interact with the audience.
3. Book Ahead of Time
Popular entertainers can book up quickly, so don't wait too long to secure their services. As soon as you have a date and venue confirmed, reach out to us here at OnStage Entertainment and we will take care of the rest.
Booking early not only ensures their availability but also gives you plenty of time to plan additional logistics, like stage setup, sound, and lighting.
4. Plan for Contingencies
Even with the right entertainment booked, it's always good to have a backup plan. Performers may have to cancel or reschedule due to illness or unforeseen circumstances.
Having a vetted backup option you can call upon in case of an emergency will save you from last-minute stress.
5. Engage with Your Entertainers
Once you've booked your entertainment, keep the lines of communication open. Talk to them about your event goals, audience demographics, and any technical requirements they may have.
This helps ensure a smooth event day and allows your entertainers to tailor their performance to meet your expectations.
6. Promote Your Entertainment
Don't forget to generate excitement for your event by promoting the entertainment you've lined up. Share images, videos, and information about the performers on your social media, event website, and invitations.
Giving your guests something to look forward to will build anticipation for the big day.
By following these tips and investing in top-quality, world-class entertainment, you're well on your way to creating an unforgettable event that will be talked about for years to come.
Cheers to Unforgettable Corporate Cocktail Theme Parties
As you can see, there's no shortage of unique and engaging themes to choose from when it comes to hosting a corporate cocktail party. From timeless elegance to nostalgic fun, innovative takes on traditional themes, and immersive experiences – there's something for every taste and occasion.
Remember that the key to a successful event lies in the details and in tailoring the chosen theme to your audience's preferences. By combining stellar entertainment, creative decor, and delicious cocktails that complement your theme, you'll create a memorable experience that will leave your guests talking long after the party is over. So, get ready to raise a toast to your company and let the good times roll at your next corporate cocktail party!