Imagine tying the knot at a location as captivating and unique as your love story. With its diverse landscapes and iconic landmarks, Sydney offers a feast of wedding venues that'll leave you spoilt for choice. From rustic vineyards to the elegant backdrop of the Sydney Opera House, there's a perfect venue here for every taste and budget.
Known for its climate, Sydney provides a splendid setting for a wedding ceremony any time of the year. So come along as we explore the wide range of wedding venues this magnificent city offers – peppering your journey with cost-saving tips, unique venues, venue alternatives, and essential preparation advice. Whether you're just starting your search for a historic wedding venue or whittling down your shortlist, this guide will help you find your dream wedding venue in Sydney.
Overview of Wedding Venues in Sydney
The Demand for Wedding Venues in Sydney
Choosing the right wedding venue is a big deal. So much so that 26% of Australian couples set their wedding date based on when their dream venue is available.
The average cost of a wedding venue in Australia is around $15,000, with a price per head of approximately $150. Given that the average wedding has 100 guests, it's clear that the most intimate wedding venue takes up a significant chunk of the wedding budget. Even with the pandemic's impact on the wedding industry, causing many businesses to report losses, the demand for bespoke wedding packages and venues hasn't waned.
Variety of Wedding Venues in Sydney
Sydney's varied topography means you're spoilt for choice regarding wedding venues. Whether you dream of a beachfront wedding on the sandy white coasts, a rustic celebration at a quaint vineyard, or a sophisticated event at a historic property with beautifully manicured gardens, Sydney's got it all. You can even find venues with exclusive water access, like industrial wharves or platforms in the Southern Highlands and the Hunter Valley.
And remember Sydney's iconic landmarks, such as the Sydney Opera House and Sydney Harbour Bridge, which provide a stunning backdrop for wedding venues.
The Influence of Sydney's Climate on Venue Choice
When you're planning a wedding in Sydney, you've got to take the city's climate into account. March, April, and September are the most popular months for weddings, with spring and autumn being the most favoured seasons. But remember, autumn is officially the wettest season in Sydney, so that you might need a wet weather backup.
Winter in Sydney isn't as harsh as in other places, with temperatures not dropping below 16 degrees during the day. The softer light due to the sun's lower angle can result in better wedding photos. And if you're into numerology, specific dates and numbers are considered "lucky," so you'd better book early for these dates.
Popular Areas for Wedding Venues in Sydney
Most of Sydney's best wedding venues around are located around the harbour. You've got everything from rooftop terraces with views of Sydney Harbour to Art Deco ballrooms, beachfront venues, and private estates with lush gardens.
There's also a variety of unique and beautiful venues in Sydney, like Bennelong, Audley Dance Hall, The Grounds of Alexandria, The Art Gallery of New South Wales, Lions Gate Lodge, The Ovolo in Woolloomooloo, and many more.
Whether you're after a venue with a coastal style, a spot in the Southern Highlands, or a location in the heart of the city, Sydney's popular wedding venues have a venue to suit every couple's taste and budget.
Budget Wedding Venues in Sydney
Sydney's diverse selection of venues can cater to various budgets. From rooftop terraces to private estates, there's something for everyone.
Cost-Cutting Tips for Wedding Venues
Given the increasing expenses associated with weddings, particularly the venue hire fee, it's crucial to find ways to reduce costs without sacrificing the quality of the event. Early planning is one such strategy. Additionally, a weekday celebration could be more economical than a weekend one. Avoiding peak wedding months could also result in savings.
Affordable Wedding Venues
Even though wedding costs may surge, Sydney is home to a cheap wedding venue with an array of reasonably priced venues. These range from establishments boasting historic charm evident in vintage brick partitions and arch-styled windows to more offbeat spaces. Refurbished warehouses, for instance, present a distinctive ambience with bare brick interiors and lofty ceilings.
Amongst these affordable options is the The Woodlands Weddings elegantly designed with contemporary interiors. It's just 40 minutes from the city's bustling heart, making it easily accessible.
Belgenny Farm in NSW offers a country-style touch and rustic warmth ideal for couples dreaming of a cosy country wedding while still relatively close to Sydney CBD.
Alternatively, if you are seeking ocean views for your special day, consider Bathers' Pavilion Mosman, a modern seaside venue that offers sweeping vistas of Sydney's stunning Balmoral Beach.
On another note, The Theatre Bar at the End of the Wharf offers a unique warehouse-style setting on Sydney Harbour that could be your ideal choice for an industrial chic wedding.
Transitioning away from traditional venues, Ottimo House in Sydney provides a fairytale atmosphere for those yearning for a romantic wedding amidst nature. This venue takes advantage of its 500-acre setting on the historic Denham Court Estate by offering lush, scenic backdrops for unforgettable weddings.
These inexpensive venues facilitate your creativity, whether you envision an industrial chic wonderland or a Scandinavian-inspired setting with smooth cement flooring and abundant sunlight.
Balancing Budget and Experience
While budget is a key consideration, ensuring the venue offers wedding guests a memorable experience is also essential. Sydney's venues cater to couples looking for a specific culinary experience. Venue ceremony venues like Bennelong offer Sydney's finest dining.
Others offer food that'll transport you to specific cultures. For the wedding ceremonies, for example, some venues serve Sardinian food and Italian wines, giving you the feeling of dining on the Amalfi Coast. So, when planning a budget wedding, remember to balance cost with the overall experience to ensure your special day is unforgettable.
Unique and Alternative Wedding Venues in Sydney
Non-Traditional Venue Options
For those seeking something out of the ordinary, Sydney offers a plethora of distinctive and alternative wedding venues. Consider an alfresco reception on a pristine beach, a rooftop gathering with panoramic views, or a ceremony in a lush garden. Heritage-listed locations provide a sense of history and grandeur, while waterfront venues maximise Sydney's picturesque harbour.
For the eclectic at heart, consider a 50s Jazz Bar, a fine dining establishment with brutalist architecture, or an art deco cinema. Other choices include a location set amidst native bushland in the Royal National Park, a bowling green overlooking the ocean, or an industrial chic venue brimming with greenery. You could even opt for a platform housed in one of the city's architectural gems.
Examples of Unique Wedding Venues
Sydney boasts an eclectic mix of unique wedding venues to cater to every couple's preferences and party size, embracing intimate nuptials to extravagant celebrations and hosting up to 500 revellers. Some captivating examples illustrate Sydney's rich offering of inclusive weddings here.
Jonah's Restaurant & Boutique Hotel is a haven for couples yearning for luxury alongside breathtaking ocean views. Poised on Sydney's Northern Beaches, this venue captivates couples with panoramic sights of the Pacific Ocean, hatted dining, a cellar wine list, superior service, and boutique accommodation facilities. Its capacity can comfortably host up to 122 guests, providing exclusivity for your big day.
Estate Vaucluse House is a remarkable option for couples wishing to immerse their special day in botanical splendour. Bathed in world-class heritage charm, guests of grand weddings will revel in the surrounding ten hectares of meticulously designed Victorian-style gardens. This location offers space for 120 seated guests and opens up for 200 attendees for a cocktail-style celebration.
On the golf course, Urban Winery Sydney – Australia's pioneer urban winery is bound to add a splash of laid-back sophistication to your vows. The venue boasts an intimate ambience and can accommodate both large gatherings for a standing event with a capacity of 250 and cosier, seated guest arrangements for up to 180 attendees.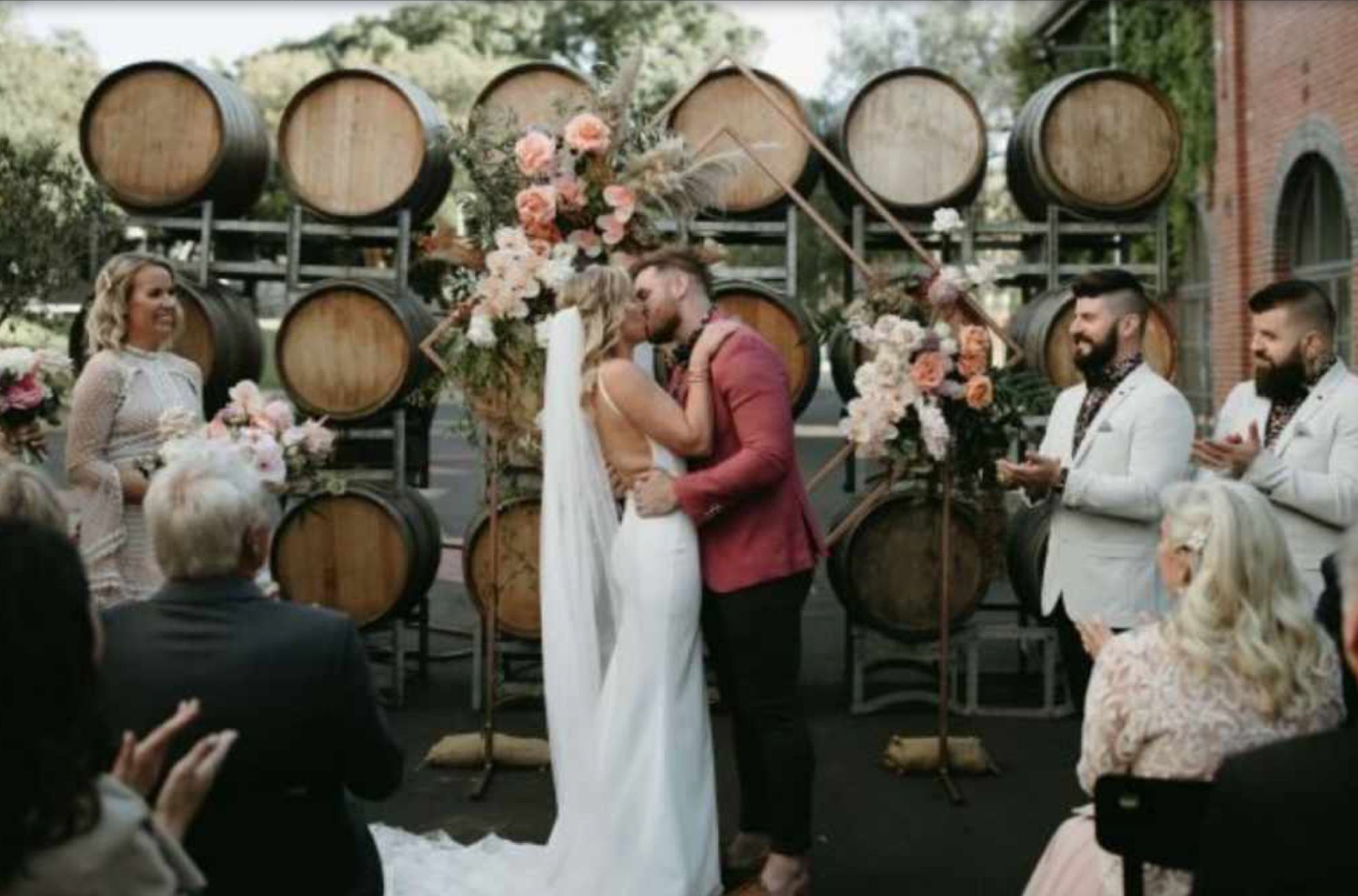 (Source: https://urbanwinerysydney.com.au
Wrapping Up Sydney's Wedding Venue Scene
Sydney truly is a wedding destination that has it all. With vast choices from beachfront locations to rustic vineyards and historic properties, it's a city that caters to every couple's unique vision for their special day. It is a place where budgets, tastes and preferences of all scales can find the perfect match.
Sydney's climate, iconic landmarks, and the vibrant culinary scene only add to its appeal as a wedding hotspot. Whether your dream wedding is a grand affair at a heritage-listed location, an intimate gathering at a converted warehouse, or a unique celebration on a pristine beach, Sydney's wedding venue scene has got you covered.
With careful planning, early booking and the right choices, your wedding in Sydney will be an unforgettable celebration of love, joy and unity. Embrace the extraordinary, and let Sydney be the stunning backdrop to your beautiful beginning. If you need more guidance on how to plan your event, check out this guide.