So, you've found your soulmate, popped the big question, and now it's time to plan the big day, right? Well, one of the most important elements of any wedding is the venue – it sets the tone for the entire celebration and creates memories that last a lifetime. But with so many gorgeous locations and wedding venues across Australia to choose from, where do you even start?
Not to worry, because we've got your back! In this article, we'll take you on a whirlwind tour of the top 6 wedding venues in Australia, from the enchanting gardens of Sydney to the serene hinterland of Byron Bay. But that's not all – we'll also discuss the factors to consider when choosing your dream venue, budgeting tips, and how to plan for unpredictable Aussie weather.
So, grab a cuppa, sit back, and join us as we explore the most beautiful wedding venues that Australia has to offer. By the time you're done with this guide, you'll feel inspired and confident about finding the perfect place to say 'I do' with your loved one. Let's get started!
The Best Wedding Venues In Australia
So, you're searching for the perfect wedding venue in Australia, right? You're in luck because this beautiful country is full of stunning locations that would make any couple's dream wedding come true and be an absolute delight to their wedding guests. At the end of the day – the best wedding venues can differ vastly depending on what the couple are desiring for their wedding ceremony. From unique wedding venues, a spectacular waterfront, an award-winning wedding planner or amazing wedding photos taken throughout  the ceremony and reception – Australia has everything you'll need for the big day!
Everyone has a different idea in mind about what their beautiful wedding venue will be. There are simply so many choices to choose from- for those who want a boutique wedding venue with their ceremony and reception held under a wedding pavilion, to those who would rather a more unique wedding venue such as an outdoor garden ceremony with spectacular views- this guide will have you covered! You can even choose to stay in a historic location which has a grand ballroom with an old world charm, book several reception rooms minutes away from the Sydney Harbour, opt for an country wedding in a rustic barn with gourmet catering- with so many choices it can be overwhelming.
That is a lot to think about, on top of everything else! Not to worry, our dedicated events team has taken that stress off your hands by compiling the ultimate guide for 2023!  So, without further ado, let's show you the top 6 best wedding venues in Australia so you can start planning your special day.
The Grounds of Alexandria, Sydney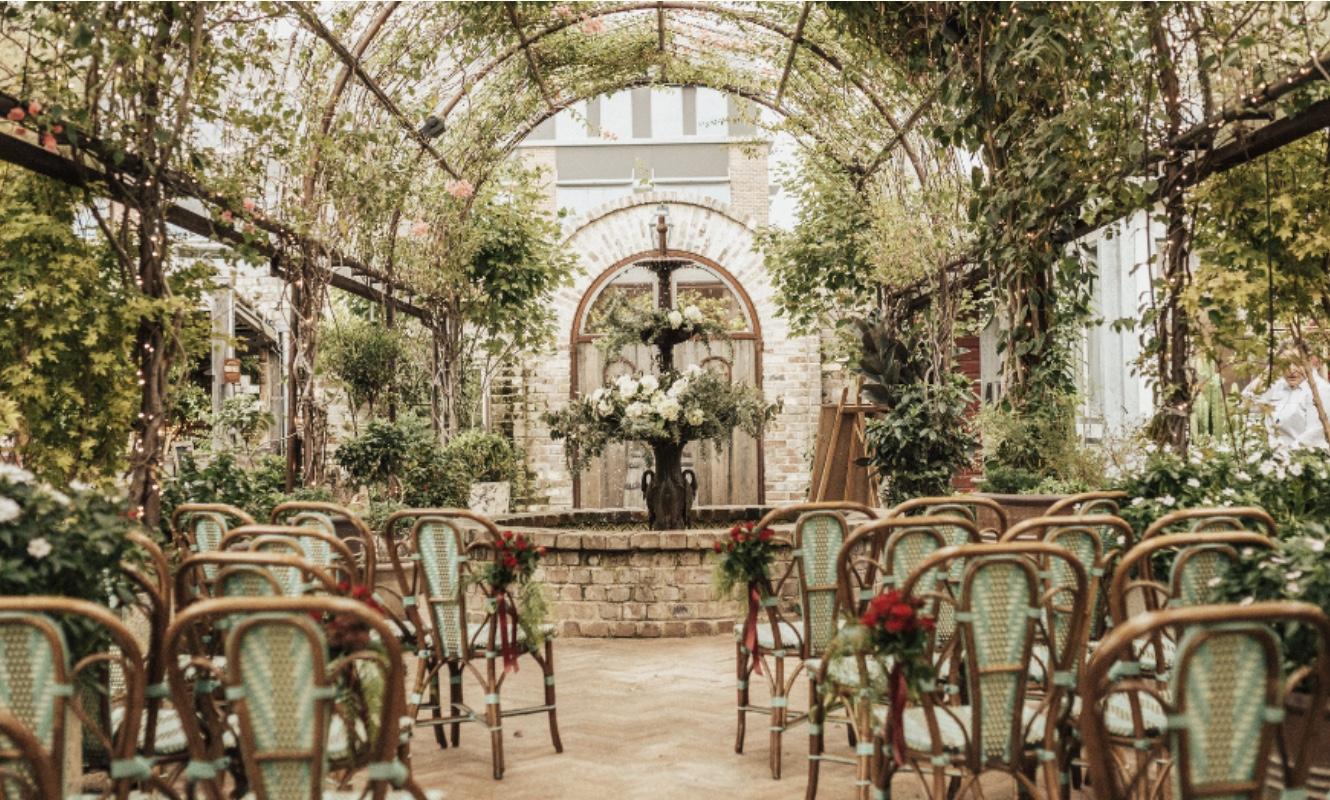 Source: https://thegrounds.com.au/weddings/
Have you been considering tying the knot in an elegant venue with manicured gardens less than an hour away from The Sydney Opera House and the iconic Sydney Harbour Bridge? Imagine saying "I do" at The Grounds of Alexandria. Nestled in Southwest Sydney, this hidden gem perfectly blends modern elegance with classic sophistication to create an unforgettable experience for couples seeking a fairytale wedding. From its picturesque outdoor gardens to its exquisitely restored Linseed House, every aspect of this venue exudes charm and luxury that's sure to captivate you and your guests.
If the bridal party and wedding guests requiring accomodation wish to stay closer to the city centre, this ideal location is only a 17 minute drive from the Sydney CBD to Southwest Sydney- making it easy to travel to and from their hotels. Easy accommodation proximity to your venue hire is definitely a key element when choosing this particular wedding ceremony and reception hire.
What sets The Grounds apart from other Sydney wedding venues is not only its stunning surroundings but also its unwavering commitment to providing a personalised, stress-free experience. Their team of in-house experts attends to every detail, from exquisite floral arrangements to exceptional catering, ensuring your special day unfolds seamlessly and with the utmost precision. Whether planning an intimate gathering or a grand celebration, The Grounds offers versatile spaces and packages that cater to a variety of styles and preferences.
The culinary offerings are equally impressive, using fresh, locally-sourced ingredients to create mouthwatering feasts that will delight guests and leave unforgettable memories. With options ranging from lavish banquets to chic cocktail parties, there's something to suit everyone's taste buds at The Grounds of Alexandria.
Orchard Estate, Byron Bay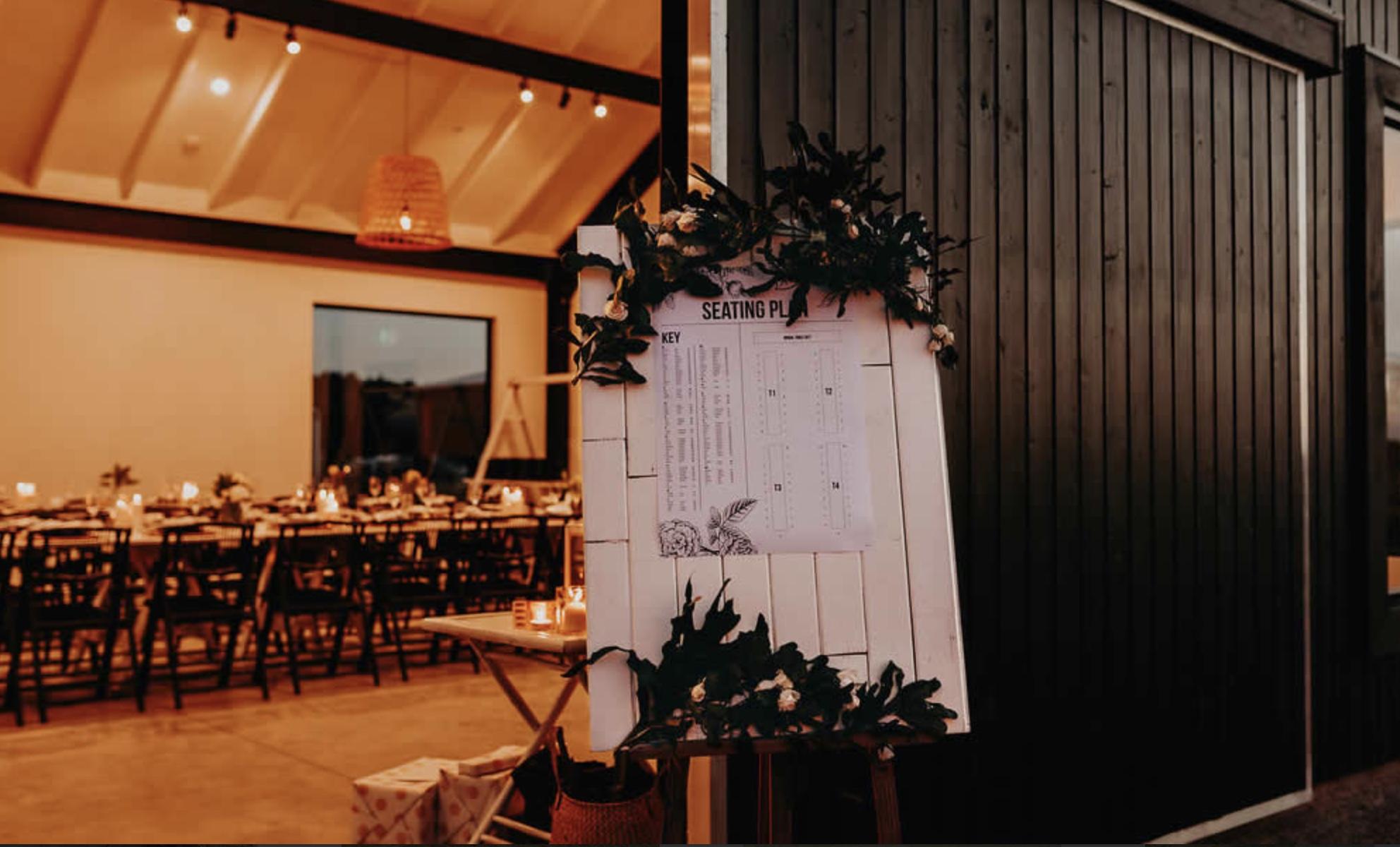 Source: http://www.theorchardestate.com.au/gallery/
Stationed in the breathtaking Byron Bay hinterland, The Orchard Estate is a truly enchanting and idyllic setting for your special day. Set on an opulent 100-acre macadamia nut orchard, this luxurious and exclusive venue provides both dazzling beauty and intimate seclusion for weddings of all styles and sizes.
Orchard Estate's striking modern barn-inspired structure is a visual treat and an absolute dream come true. Blending rustic charm with contemporary elegance, its polished concrete floors, crisp white walls, and dark framing set the perfect stage to bring your wedding vision to life. With endless possibilities for styling, you can transform this versatile space into whatever your heart desires.
The property's captivating landscape serves as a stunning backdrop for memorable ceremonies and unforgettable photographs. Whether strolling through the calming macadamia orchard or witnessing the awe-inspiring golden sunset over the rolling hills, every moment spent at The Orchard Estate is picture-perfect. Its on-site photographic opportunities also allow you to spend more precious time enjoying your guests' company.
Not only does The Orchard Estate provide a wondrous canvas for your wedding, but its outdoor dining area, elegantly surrounded by lush greenery and sophisticated lighting, heightens the overall ambience. This beautiful, private haven delivers an unparalleled experience, making it truly stand out among Byron Bay wedding venues.
The Bower Estate, Gold Coast Hinterland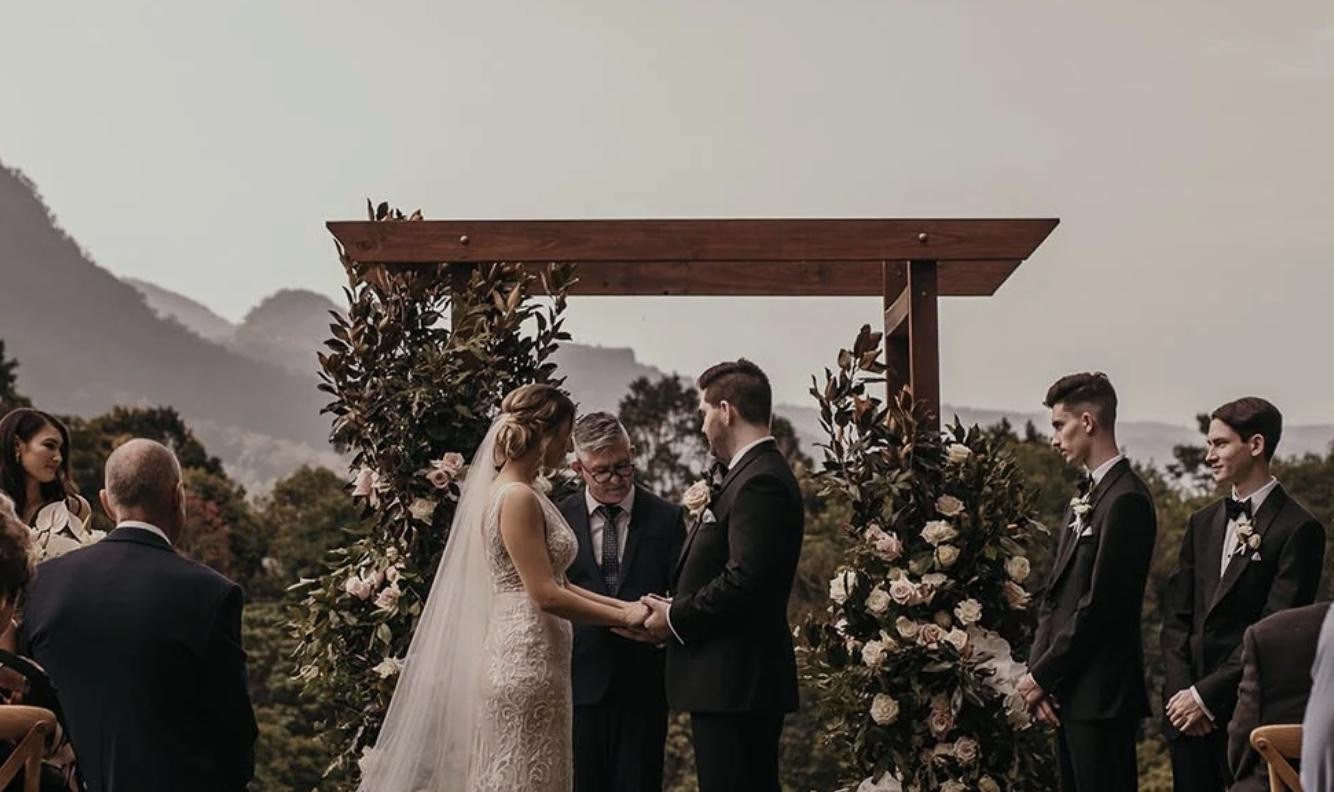 Source: https://bowerestate.com.au/
If you're dreaming of a rainforest wedding, The Bower Estate in the Gold Coast Hinterland is the place for you. Its bespoke timber pavilion, sweeping valley views, and beautifully landscaped gardens create a romantic and elegant atmosphere.
The Bower Estate, a hidden gem nestled within the Gold Coast Hinterland, is truly an idyllic location for a fairytale wedding. A captivating 120-acre property, this exquisite estate exudes romance and sophistication, commanding awe-inspiring views that provide the perfect backdrop for your unforgettable day. Located amid the verdant landscapes of Queensland's National Parks, The Bower Estate is easily accessible, being only 45 minutes from the CBD and an hour from Coolangatta Airport.
As you step onto the estate, it becomes clear that this venue is like no other, as meticulous attention to detail has been paid to curating each element of the space. The result is an array of breathtaking photo locations and secret spots that have been lovingly cultivated over decades by a passionate family dedicated to preserving world heritage rainforests and wildlife corridors. At the Bower Estate, supporting local growers and producers is also paramount, ensuring that your event will be infused with the essence of the surrounding area, including a taste of Bower's homemade honey!
The full-service wedding venue leaves no stone unturned, providing onsite catering, event coordination, and accommodation options. Couples can expect a seamless planning experience as The Bower's team collaborates with a flock of first-class suppliers to bring every unique vision to life. From whimsical themes to bespoke designs, all dreams become reality at The Bower Estate.
Zonzo Estate, Yarra Valley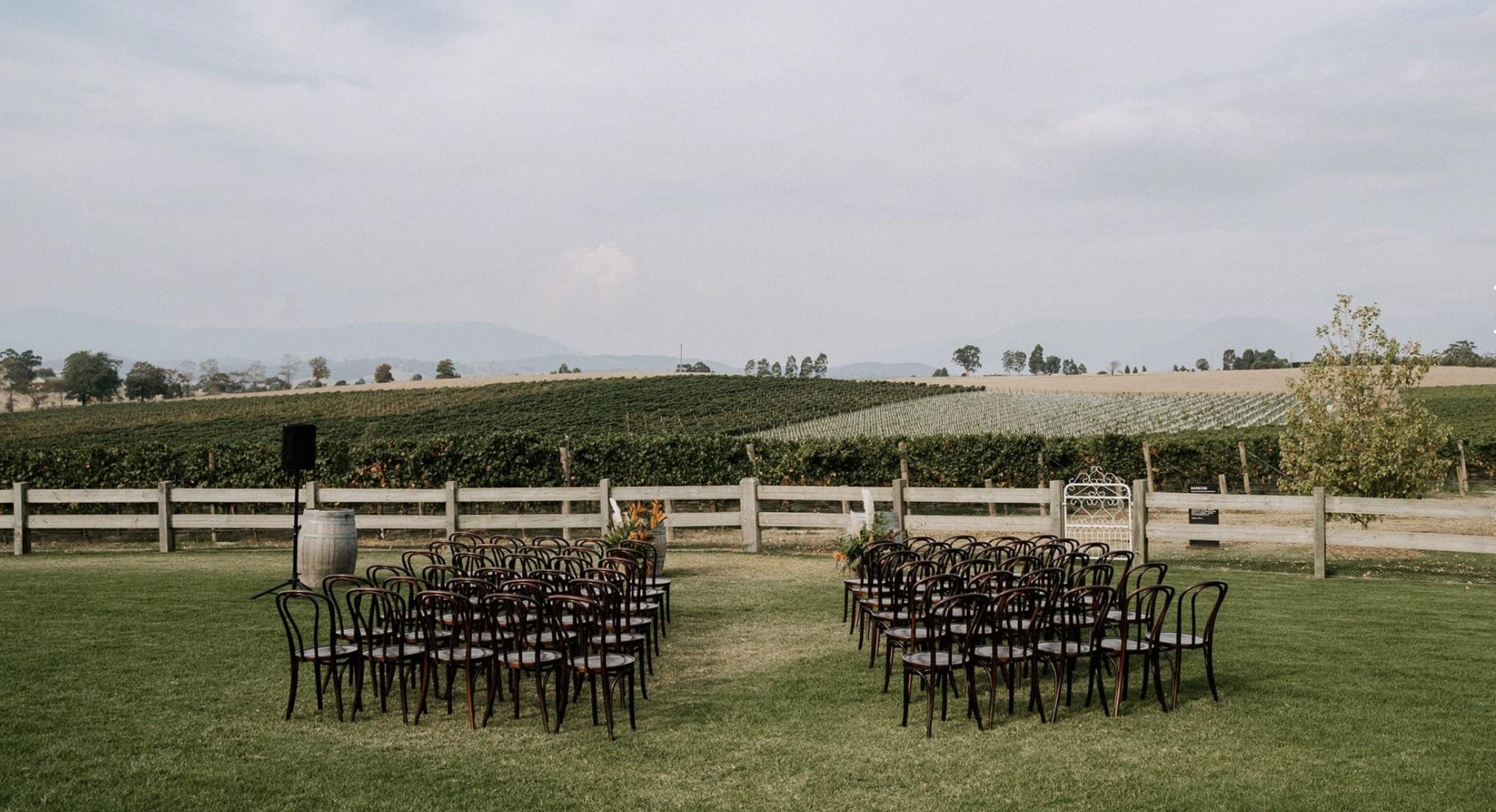 Source: https://www.zonzo.com.au/weddings
Set in the heart of the Yarra Valley, Zonzo Estate is an enchanting wedding venue that promises a picturesque and unforgettable experience. Surrounded by lush vineyards and evergreen lawns, Zonzo Estate combines luxurious amenities with stunning natural beauty, creating the perfect backdrop for couples seeking an elegant winery wedding.
The estate's versatile venues offer multiple options for ceremonies and receptions, from the whimsical Barrel Room overlooking the vineyards to the Italian-themed restaurant which features a 130-guest capacity and inviting dance floor. For a truly spectacular outdoor affair, The Grounds presents a breathtaking ceremony area embraced by scenic landscapes and rolling mountains. Alternatively, opt for the contemporary architectural elegance of The Cappella to exchange vows in a modern indoor space.
Zonzo Estate continues to shine in service, offering dedicated wedding coordinators, personalized decoration and set-up, and ample complimentary amenities such as parking and music. Additionally, the in-house catering presents a menu that will delight your taste buds – featuring traditional Italian canapés, a 4-course meal, and a diverse beverage package.
Spicers Peak Lodge, Maryvale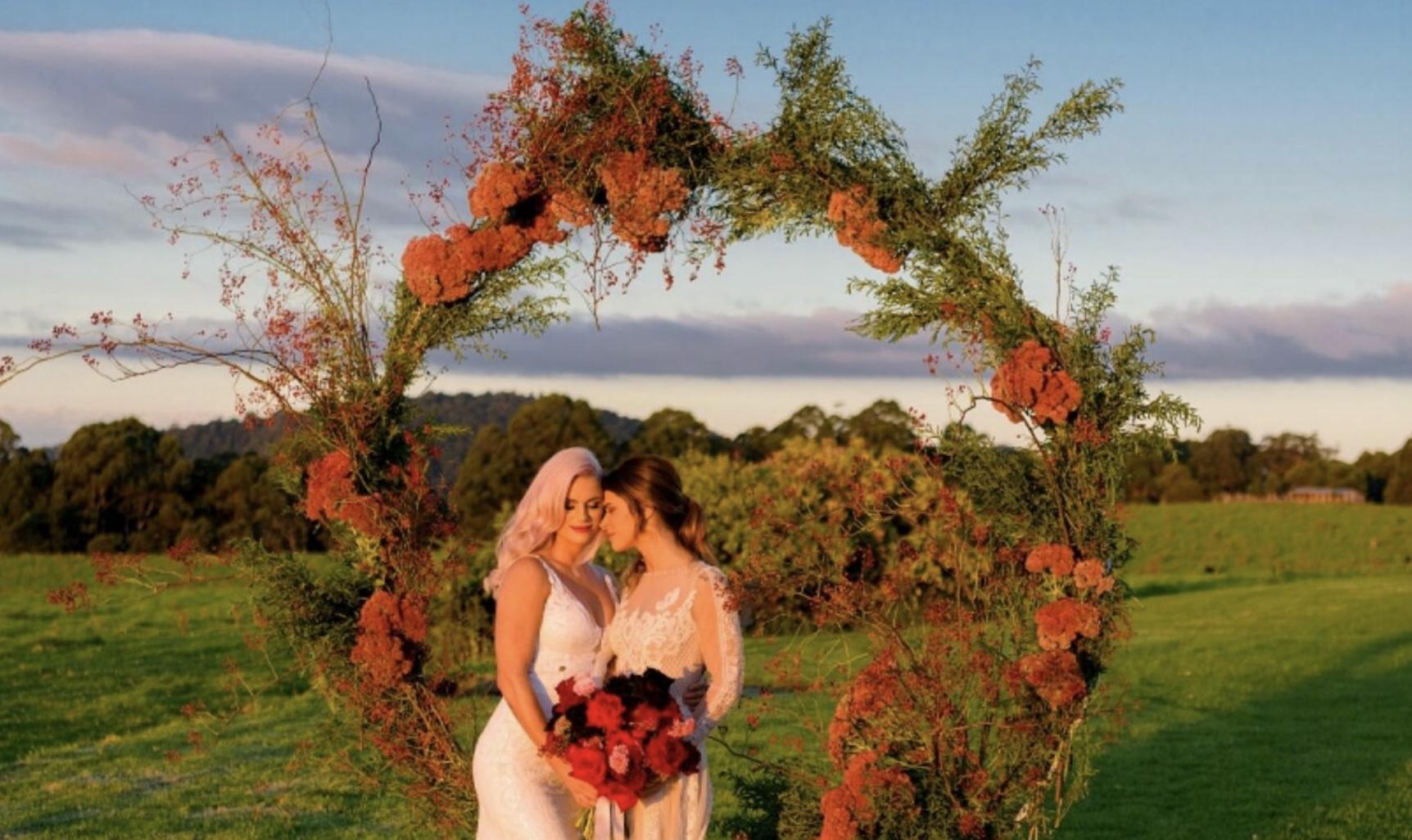 Source: https://spicersretreats.com/
Looking for an intimate wedding with less than 150 guests? Situated atop an 8,000-acre property and surrounded by the breathtaking World Heritage Listed Main Range National Park, Spicers Peak Lodge offers a truly unparalleled wedding experience like no other. If you're after a low-key wedding which is still a top level event – set amongst the backdrop of real nature – this is one of the best function spaces for outdoor weddings. If you're after a truly intimate wedding for you and your wedding guests with spectacular views, natural light-filled space, old world charm and stunning panoramic views- look no further! At 1,100 meters above sea level, the majestic cedar and bluestone lodge presents an idyllic setting for your big day, catering to exclusive-use destination weddings for up to 60 guests.
The picturesque mountain views create a spectacular backdrop for both your country wedding ceremony and reception, providing infinite photographic opportunities to capture each magical moment. In addition to their enchanting surroundings, Spicers Peak Lodge is renowned for its luxurious accommodation and award-winning venue, ensuring an intimate and personalised environment for you and your treasured guests.
One of the most notable highlights of celebrating your union at Spicers Peak Lodge has to be their extraordinary culinary experience, led by awarded chefs who cater to all dietary requirements. You can choose their all-inclusive wedding packages for your country wedding, or choose which parts of their wedding packages you wish to choose from. You can even consult their dedicated events team for the sort of advice only a wedding planner could give you! Your wedding reception comes alive with mouth-watering cuisine, leaving a lasting impression on both your tastebuds and heart.
Complemented by the attentive service of their dedicated team and the added convenience of accommodating up to 26 guests on-site, you can rest assured that every aspect of your special day will be taken care of with precision and passion.
There you have it! From iconic Sydney landmarks to the serene hinterland of Byron Bay, these top Australian wedding venues offer something unique for every couple. With a little research and careful consideration, you'll find the perfect setting for your special day. Now let's get into the other factors you need to take into consideration when planning your big day.
Stones Of The Yarra Valley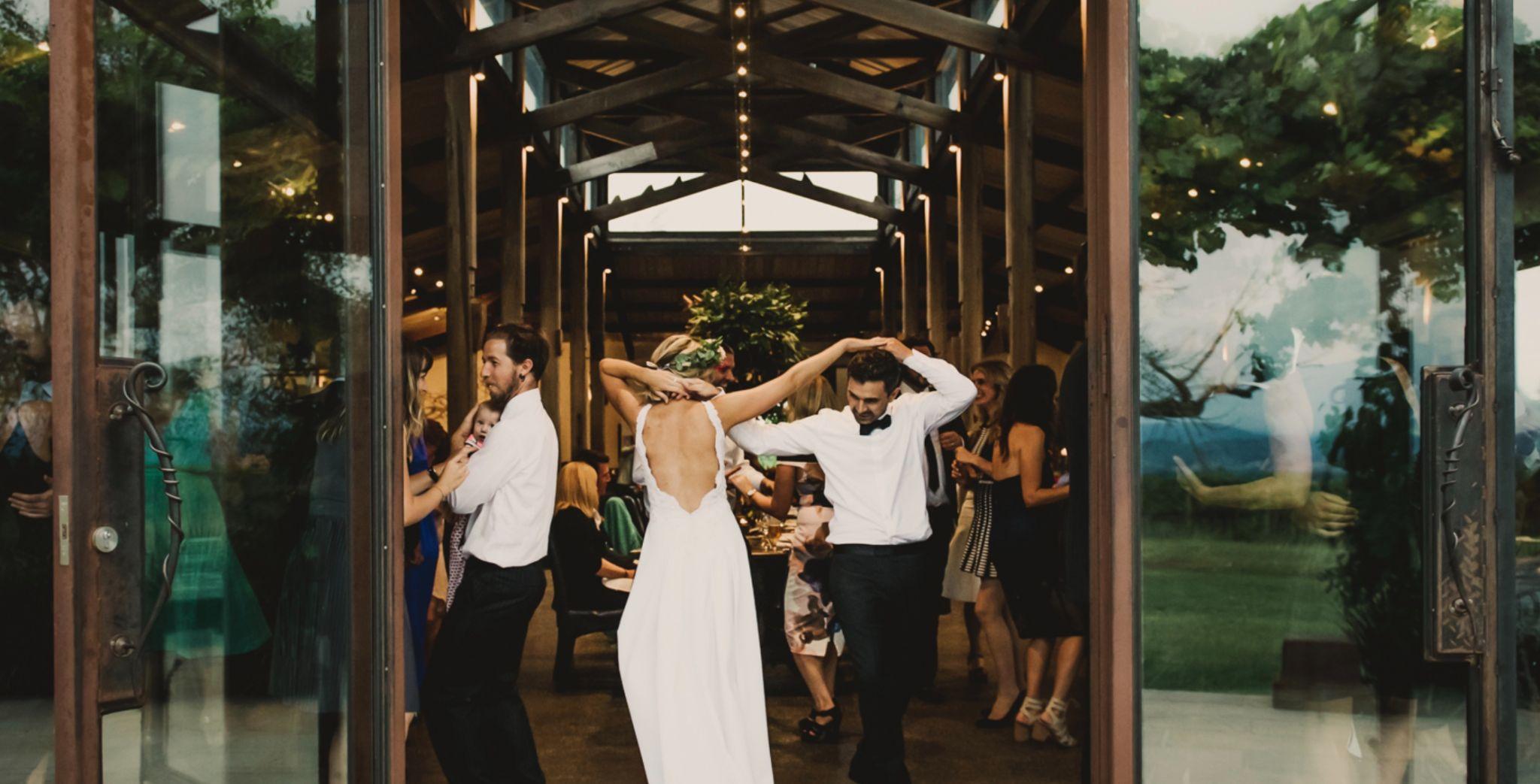 Source: https://www.stonesoftheyarravalley.com/weddings
Amidst century-old oak trees, lush vineyards, and stunning blue-tinted mountains, Stones of the Yarra Valley offers an idyllic, romantic setting for your dream wedding day. This picturesque venue effortlessly combines historical charm with modern elegance, boasting a meticulously restored 1860s Barn, Stables, Dairy, and Chapel, all connected by European-inspired pathways sprawled across immaculately manicured lawns.
The majestic Chapel, with its soaring ceilings, stained-glass windows, and sweeping views of the vineyards, exudes an unparalleled sense of romance and solace. Seating arrangements on handcrafted timber pews beneath a rustic chandelier further enhance the serenity of this rural place of worship. Meanwhile, The Dairy provides a stunning, intimate space for guests to enjoy drinks and canapés during the interlude between the ceremony and reception.
The historic Stones Barn, adorned with elm trees and fountains, offers a mesmerizing reception venue, comfortably accommodating up to 200 seated guests. Here, delight in sumptuous menus, exceptional wine lists, and unforgettable entertainment, all while savouring the breathtaking surrounding views. For smaller, more intimate gatherings, The Stables at Stones presents a charming alternative, boasting rough-hewn timbers
Factors to Consider When Choosing a Venue
Location and Accessibility
So, you're planning a wedding in Australia, huh? This beautiful country has so many unique regions to choose from, like the Gold Coast beaches, Hunter Valley vineyards, or the breathtaking Blue Mountains. But keep in mind, accessibility for your guests and nearby accommodations are super important when picking the perfect spot.
Venue Size and Capacity
Next up, let's talk about the size and capacity of your venue. You want to make sure your chosen spot can comfortably fit all your guests, as well as any vendors like caterers, musicians, and photographers.
Think about the layout and flow of the event to ensure the space works for you. Need some help deciding on entertainment? Don't worry, we have you covered with a wide range of feature acts, bands, solo artists, and duos for any event size and style.
Style and Theme
Now, let's not forget about your wedding style and theme. Planning a rustic or vintage-themed wedding? A barn or farm venue might be just what you're looking for. Or maybe you're into modern and contemporary vibes? A rooftop or city venue could be more your speed.
Consider the ambience of the venue and whether it matches your wedding vision.
Amenities and Services
Lastly, don't forget to think about the amenities and services offered by your venue. Some places might provide on-site catering, while others need you to bring in your own vendors. And what about accommodations for you and your guests? Make sure to check if the venue offers what you need.
By carefully considering all these factors, you'll find the perfect setting for your special day, creating an unforgettable experience for everyone involved.
Budgeting for Your Wedding Venue
Planning your dream wedding doesn't have to break the bank, so setting a tentative budget and sticking to it is very important. When you're trying to wrap your head around the numbers, remember to consider what's included in the venue's price – including any additional services like catering, decorations, and rentals.
Now, don't forget about entertainment! Great music or a talented performer can really take your wedding to the next level, creating an unforgettable atmosphere for you and your guests. But remember, every little thing adds up, so be mindful of the overall budget and factor in all the elements that will contribute to your magical wedding experience. Happy planning!
Venue Costs and Additional Services
Some venues provide catering, decorations, and rentals, which can either help you save money or potentially cause you to exceed your budget if you don't account for them in your planning.
When you're evaluating each venue, weigh the costs of these additional services against the total value they provide and your budget limitations. Remember that choosing a venue that includes these services might be convenient, but it doesn't always guarantee the highest quality or best fit for your specific needs.
What's most important is to think about your vision for the wedding and prioritize the elements that will make your special day truly unforgettable.
Off-season and Weekday Discounts from many Wedding Venues
Want to know a little secret to save money on your wedding venue without compromising on quality? Consider getting married during the off-season or on a weekday. Many venues offer discounts for weddings that take place outside of peak season or on days other than Saturday, allowing you to potentially book your dream location at a lower cost.
When you're deciding on the ideal date for your wedding, think about how flexible your schedule is and whether it aligns with the availability of your desired venue. Choosing an off-season or weekday wedding might require some adjustments to your initial plan, but it could open up opportunities to secure a fantastic venue that fits your budget.
Planning for Unpredictable Weather
Indoor and Outdoor Ceremony Options
With Australia being known for its unpredictable weather, it's a smart move to choose a venue that can accommodate both indoor and outdoor ceremonies and receptions. This way, your special day will be memorable, come rain or shine. But rest assured, there are plenty of wedding venues with will cater to whatever the weather.
Now, when picking a venue that caters to both indoor and outdoor options, there are a few factors to keep in mind. First, think about the size of your guest list and whether the site can comfortably fit everyone. Then, consider any specific requirements for your ceremony, like needing a stage or a dance floor. And of course, choose a location that matches your vision and preferences for your wedding. Consider the overall aesthetic, atmosphere, and accessibility for your guests.
Some venues have designated areas for both indoor and outdoor activities, making it easy to switch between the two options. For others, you might need temporary structures or canopies to create an indoor/outdoor feel. Whatever type of venue you choose, it's important to work closely with your management team to make sure everything runs smoothly and seamlessly.
Visiting and Finalising Your Venue Choice
Prepare for Your Viewing
So, you've done your research and narrowed down your top choices of wedding venues for your event. Great job! Now, it's time to visit them and make a final decision.
Before you go, schedule appointments with each venue's event coordinator. This way, you'll have enough time to explore the space, understand its layout, and get all the information you need. Don't forget to ask important questions about capacity restrictions, availability, weather contingencies, accessibility, and any specific rules that could impact your event.
Got any unique requests or requirements for your event? Feel free to ask if the venue can accommodate them. After all, you want a venue that's not only beautiful but also practical for your needs.
Assessing the Venue Atmosphere
When you visit each venue, pay attention to the atmosphere and ambience. You want a place that evokes the emotions and energy you wish to create for your guests. Whether it's a sophisticated black-tie affair or a cosy, rustic gathering, find a venue that complements your event's theme and goals.
Also, gather information on the sound, lighting, and any existing decorations or furniture you might need. If you're looking for inspiration on how to make the venue align with your creative vision, don't hesitate to head to your favourite sites like Pinterest or Instagram. These platforms are full of fantastic ideas and photo inspiration for weddings and events.
Ensuring the Venue Meets Expectations
It's important to feel a personal connection with your venue and make sure it aligns with your vision.
Don't hesitate to ask for references from past clients or read reviews online to learn about the venue's reputation, quality of service, and professionalism. While you're visiting, observe the staff's support and responsiveness. How attentive and helpful are they? Keep in mind that these factors will significantly contribute to your event's overall success.
Take your time to consider all the essential factors and weigh the pros and cons of each location. Trust your instincts and make an informed decision. By visiting and carefully evaluating your options, you'll be well on your way to choosing the perfect venue that exceeds your expectations and creates lasting memories for you and your guests.
Time to Tie the Knot at Your Dream Venue
By now, you must have a shortlist of potential Australian wedding venues, and with the guidance provided here, you're well-equipped to make an informed decision. Remember to consider the location, style, capacity, amenities, and budget when selecting your perfect venue. Keep in mind the importance of having a backup plan for unpredictable weather, and make the most of your venue visits to assess the atmosphere and ensure it meets your expectations.
No matter which of the stunning regions in Australia you choose, rest assured that the perfect wedding venue awaits you. Once you find the one that truly speaks to your heart, all that's left is to celebrate your love and create unforgettable memories with your loved ones on your special day.