Imagine saying 'I do' amidst Brisbane's breathtaking landscapes, elegant architecture, and sun-kissed locales. Intrigued? You're invited on a guided tour of the city's diverse wedding venues, from the romantic waterfronts to the antique historic estates, chic hotels to tranquil gardens.
As one of Australia's most charming cities, Brisbane's a palette of perfect spots for your dream day. This article is crafted to help you explore the right venue that matches your style, taste, and budget. It also offers insights into the costs involved, amenities offered, and key considerations to ensure your day goes off without a hitch.
So, let's navigate these best-kept secrets and plan a wedding as unique as your love story.
Overview of Brisbane Wedding Venues
Brisbane, the capital city of Queensland, is a favourite spot for weddings, thanks to its diverse and stunning venues. With over 280 days of sunshine per year, the city's beautiful architecture and breathtaking nature make it an ideal location for outdoor and indoor weddings.
Whether you're on a tight budget or ready to splurge, Brisbane has got you covered. There's something for everyone from waterfront weddings to historic estates, parks, golf clubs, gardens, and restaurants.
The Diversity of Brisbane Wedding Venues
Brisbane's wedding venues are as diverse as the city itself. You'll find historic estates like Stamford Plaza and Cedar Creek Lodges. If you're after unique indoor venues, The Warehouse and The Inchcolm by Ovolo Brisbane are worth a look.
Brisbane also boasts unique outdoor venues like Bundaleer Rainforest Gardens and Coolibah Downs Private Estate. And suppose you're a fan of unique architecture. Consider venues like Customs House, Villa Botanica, and Mirra in that case.
Key Reasons to Choose a Brisbane Wedding Venue
There are several reasons why Brisbane is a great place for a wedding. Its tropical climate and rolling hills make it perfect for outdoor weddings. Some venues even give you the unique opportunity to host your ceremony, photoshoot, and reception all in one location.
This not only saves time but also simplifies logistics. Brisbane's unique architecture, stunning views, and convenient locations make it a top choice for couples.
Types of Wedding Venues in Brisbane
Brisbane has a variety of wedding venues to suit every couple's taste. If you're a nature lover, venues like Bundaleer Rainforest Gardens, Walkabout Creek, and Coolibah Downs Private Estate are what you're looking for. Suppose you prefer an indoor venue with elegant interiors and historic architecture. In that case, you might want to consider The Warehouse, The Inchcolm by Ovolo Brisbane, or Tattersall's Club Brisbane.
For a unique venue with industrial charm, modern luxury, and artistic flair, The Lussh, The Refinery, and The Calile Hotel are worth checking out.
Average Costs Associated with Brisbane Wedding Venues
The cost of a wedding in Brisbane can vary greatly. On average, a couple in Queensland will spend $24,759 on their wedding, with $12,504 spent on the venue. Other costs can include a celebrant, transport, a videographer, catering, hiring external items, entertainment, wedding attire, decorations, bridesmaid dresses, invitations, a wedding cake, flowers, a photo booth, hair and makeup services, and wedding favours.
But don't worry; Brisbane also offers a variety of affordable wedding venues. Prices range from $80 to $350 per hour. Many venues offer wedding packages with prices varying from $1400 to $5000. Prices can also vary depending on the date and time of the hire.
You might want to avoid the peak wedding season in March and November to save money. Popular holidays such as Christmas or Valentine's Day should also be avoided.
Indoor Wedding Venues in Brisbane
The city is home to many indoor wedding venues catering to various tastes and styles.
Historic Venues for a Touch of Elegance
For those who appreciate the allure of the past, Brisbane offers several historic venues. Tattersall's Club Brisbane, a majestic venue nestled within a heritage-listed building from 1926, offers flexible seating arrangements and customised menus, with an on-site wedding planner to ensure your day runs smoothly.
Another noteworthy venue is the Brisbane City Hall, a National Trust-listed building located in the city centre. Capable of accommodating events of varying sizes, from intimate gatherings of 20 to large celebrations of up to 1500 guests, its stunning 1930s architecture and vaulted ceilings provide a beautiful setting for your nuptials.
Modern Venues for a Chic Wedding
For those seeking a more contemporary setting, Brisbane does not disappoint. Cloudland, nestled in the lively Fortitude Valley, is a luxurious modern venue featuring lush indoor gardens, a waterfall, and sparkling chandeliers. The venue offers a variety of specially designed spaces for both your ceremony and reception.
Victoria Park is another modern venue worth considering. It offers six unique function rooms, each boasting breathtaking city views, exceptional dining experiences, and private terraces. The venue also features private bars and outdoor decks, providing many options for your wedding festivities.
Booking and Preparations for Indoor Venues
When securing your indoor venue in Brisbane, consider the size of your guest list and your budget. While the average cost of a Brisbane wedding venue is around $13,000, prices can fluctuate depending on the venue and the specifics of your event. Most venues offer a variety of packages that can be customised to your needs. It's advisable to discuss your requirements with the venue's event coordinator.
In terms of preparations, many venues offer additional services like on-site wedding planning, catering, and decoration. Venues such as Coolibah Downs Private Estate and Boulevard Gardens even allow you to host your entire day from start to finish in one location, providing a convenient and seamless experience for you and your guests.
Outdoor Wedding Venues in Brisbane
The city's diverse outdoor venues are a testament to its natural beauty and favourable climate. From historic estates to waterfront locations, Brisbane offers a variety of settings for your special day.
Parks and Gardens for a Natural Setting
Venues such as the City Botanical Gardens offer a serene environment, brimming with lush greenery and stunning landscapes. These locations provide a tranquil backdrop for your ceremony, enhancing the overall experience.
Beach Venues for Seaside Nuptials
For those who prefer the sound of waves and the feel of sand under their feet, Northshore Harbour provides a waterfront location that can offer a romantic setting for your ceremony. The proximity to the water adds a unique charm, making it an unforgettable experience for all attendees.
Considerations for Outdoor Wedding Venues
When selecting an outdoor venue, it's important to consider its proximity to accommodation for your out-of-town guests and how well it aligns with your wedding theme. The cost of these venues can vary significantly, with packages ranging from $1400 to $5000. Consider avoiding peak wedding season and popular holidays to make it more affordable.
Dealing with Weather Changes at Outdoor Venues
Despite Brisbane's reputation for sunny weather, it's not immune to unexpected weather changes. Sudden rain during the tropical summer isn't uncommon, so having a backup plan is essential. Visiting the venue in person can help you envision your dream wedding and assess how well the venue can accommodate different weather conditions.
Catering and Amenities at Brisbane Wedding Venues
Beyond the venue itself, the food and facilities provided can significantly enhance your wedding experience in Brisbane.
Catering Services Provided in Brisbane Venues
Each venue in Brisbane offers a unique culinary journey. For instance, Ocean View Estates Winery & Restaurant is known for its distinctive dining experience. The convenience of having all wedding activities in one location contributes to a smooth and enjoyable day.
Beverage and Bar Services for Your Wedding
The beverage options are equally important. Whether you prefer a venue with a comprehensive bar or one that allows you to bring your own drinks, Brisbane has it all. Customs House and Tattersall's Club are renowned for their wide-ranging beverage selections, ensuring your guests are well-catered throughout the event.
Extras and Amenities Available
Beyond food and drink, Brisbane's wedding venues offer a variety of additional amenities. For instance, Woodlands of Marburg and W Brisbane provide endless photo opportunities. Venues like Villa Botanica and Mirra boast unique architectural features. Some even offer boutique on-site accommodation, providing a comfortable retreat for you and your guests after the celebrations.
Essentials to Discuss with Venue's Catering Team
When planning your wedding, it's crucial to communicate your specific needs and expectations with the venue's catering team. This includes discussing your budget, the number of guests, the type of food and beverages you want to serve, any dietary requirements your guests may have, and any additional services or amenities you require. By having these discussions early on, you can ensure a seamless wedding day.
Planning and Preparing for a Brisbane Wedding
Organising a wedding in Brisbane involves several considerations. The city's venues are known for their unique characteristics, and choosing the right one is crucial.
Steps to Booking Your Wedding Venue
The initial step in your wedding planning journey is finding the ideal venue. While keeping your budget in mind, explore the various wedding packages Brisbane has to offer. When choosing a venue, consider its aesthetic potential, the services it provides, and its capacity to host your guests.
The venue's standing in the wedding industry is another crucial factor. Look for venues with a track record of successful events, as evidenced by positive reviews and recommendations. Keep in mind that popular venues tend to fill up quickly, so early booking is advisable.
Accommodation Options in Brisbane
Proximity to lodging options is another key consideration, especially if you have guests coming from out of town. Brisbane offers a various accommodation choices to cater to all budgets, ensuring your guests have a comfortable place to stay.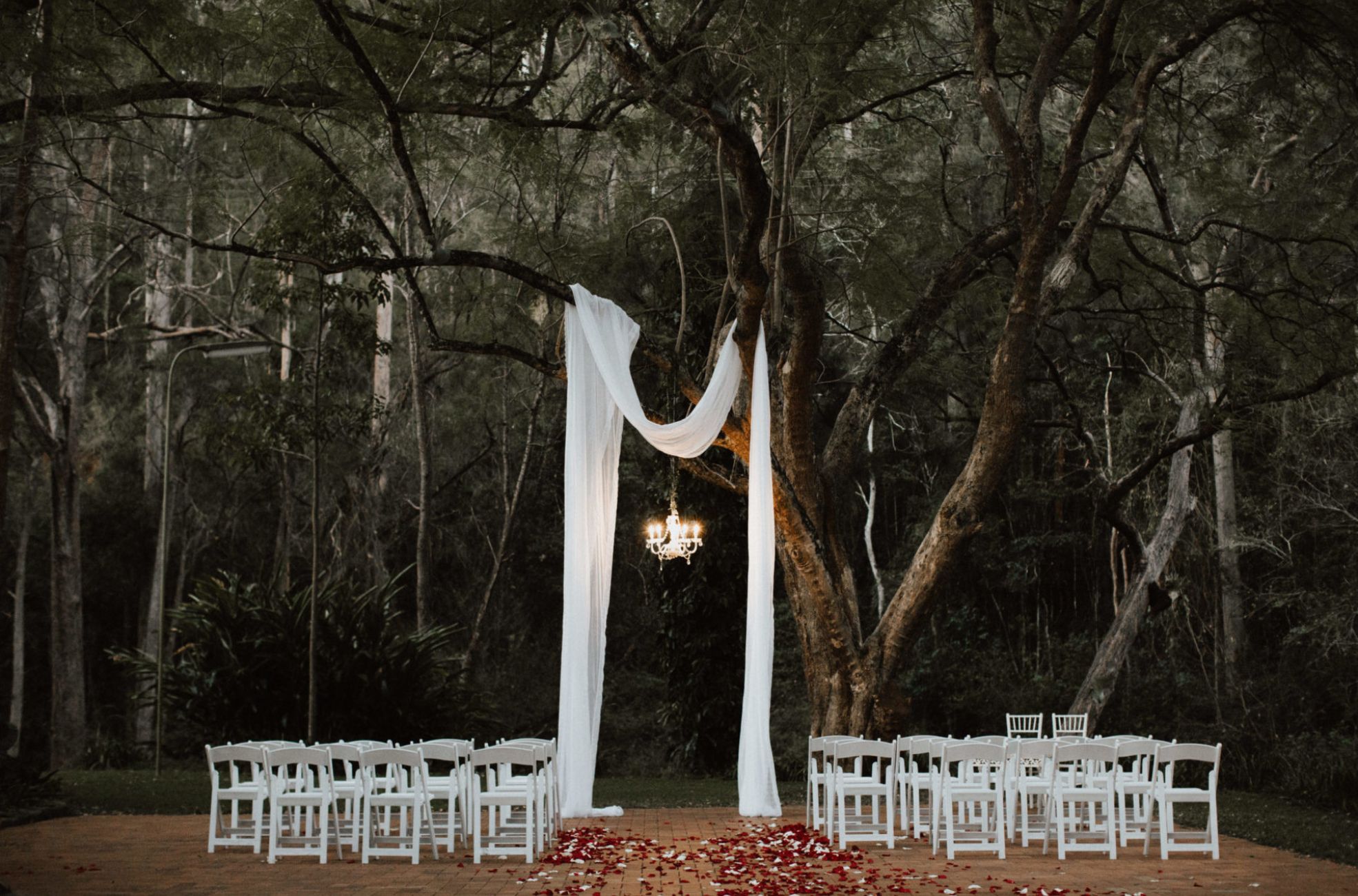 Transport Considerations for Wedding Guests
Accessibility is another significant factor when planning your Brisbane wedding. Consider the venue's location and how convenient it is for your guests. If your venue is outside of the CBD, arranging transportation for your guests might be necessary.
Ensuring a Smooth Wedding Day at Your Brisbane Venue
To guarantee a seamless wedding day, consider Brisbane's weather patterns. While the warm climate is ideal for outdoor weddings, summer can bring occasional heavy rain. Therefore, selecting a venue with indoor alternatives or large tents for shelter is advisable.
Moreover, consider the various expenses associated with a wedding. These can include attire, photography, officiant, videography, food and beverage, decor, and more. By planning and considering all these factors, you can ensure a memorable and stress-free wedding day at your chosen Brisbane venue.
Final Thoughts on Brisbane's Wedding Venues
In closing, the diverse wedding venues in Brisbane cater to a broad range of tastes, styles, and budgets. Whether you're seeking to tie the knot amid historic elegance, contemporary chicness, or breathtaking natural surroundings, Brisbane offers the ideal backdrop for your special day.
From the moment you begin planning your event to the day you say 'I do', the city's venues strive to provide seamless, all-encompassing experiences. Their excellent catering, convenient amenities, and impeccable service add to the charm. It's no surprise that Brisbane continues to rank as a top-choice destination among marrying couples.
Undeniably, this city has a magical venue for every dream wedding.