Ah, gala dinners – the epitome of elegance and sophistication, with the power to leave a lasting impression on all who attend. But as you're probably aware, pulling off a truly memorable gala dinner is no easy feat. There's the venue, entertainment, speakers, and of course, the delectable dining experience to consider.
But fear not, because we're here to walk you through the essential components and share our insider tips to make your gala dinner a standout success. In this article, we'll dive into the key aspects of planning a gala, from setting a fundraising goal and choosing a theme to selecting the perfect venue and entertainment. Plus, we'll share some practical advice for a smooth and enjoyable event that achieves its purpose and leaves your guests raving about the experience.
So let's get started on the path to a truly spectacular evening. Trust us, with a little planning, creativity, and attention to detail, you can bring your vision for an unforgettable gala dinner to life. Cheers to that!
What Is a Gala Dinner? A Regal Reception and Divine Dining Experience
Gala dinners are large-scale events that usually include a fancy meal, entertainment, and often an awards ceremony or theme. The main goal of a gala dinner is often to raise funds for a specific cause or organisation. These events are the perfect mix of sophistication and glamour, leaving a lasting impression on everyone who attends. Plus, guests can enjoy a fantastic evening while also contributing to a meaningful cause.
Key Components of a Gala Dinner
Now, when it comes to planning a gala dinner, there are a few important elements to think about. First off, make sure the cause or purpose of the event is clearly communicated to potential guests. This will help create excitement and encourage people to attend.
And don't forget to set clear goals for the gala dinner, like raising a specific amount of money or acquiring a certain number of sales leads. Having concrete objectives will make your event even more successful.
Next up: the venue. You want a location that screams elegance and sophistication, so your guests feel like they're part of something truly special. The atmosphere should be enchanting, with stunning surroundings and well-organised proceedings.
Entertainment is another key aspect of a gala dinner. From live music to mesmerising performances, make sure your entertainment lineup is top-notch to provide guests with a night they won't forget.
It is also important not to overlook the importance of engaging speakers or hosts. They can share insights, experiences, and stories related to the cause, which can really add that extra touch of magic to your event.
Lastly, the dining experience is, of course, a huge part of a gala dinner. You want to impress your guests with delicious dishes and fine wines, showcasing the high standards of the event. A beautifully presented menu will not only satisfy their appetites but also leave a lasting impression of elegance and refinement.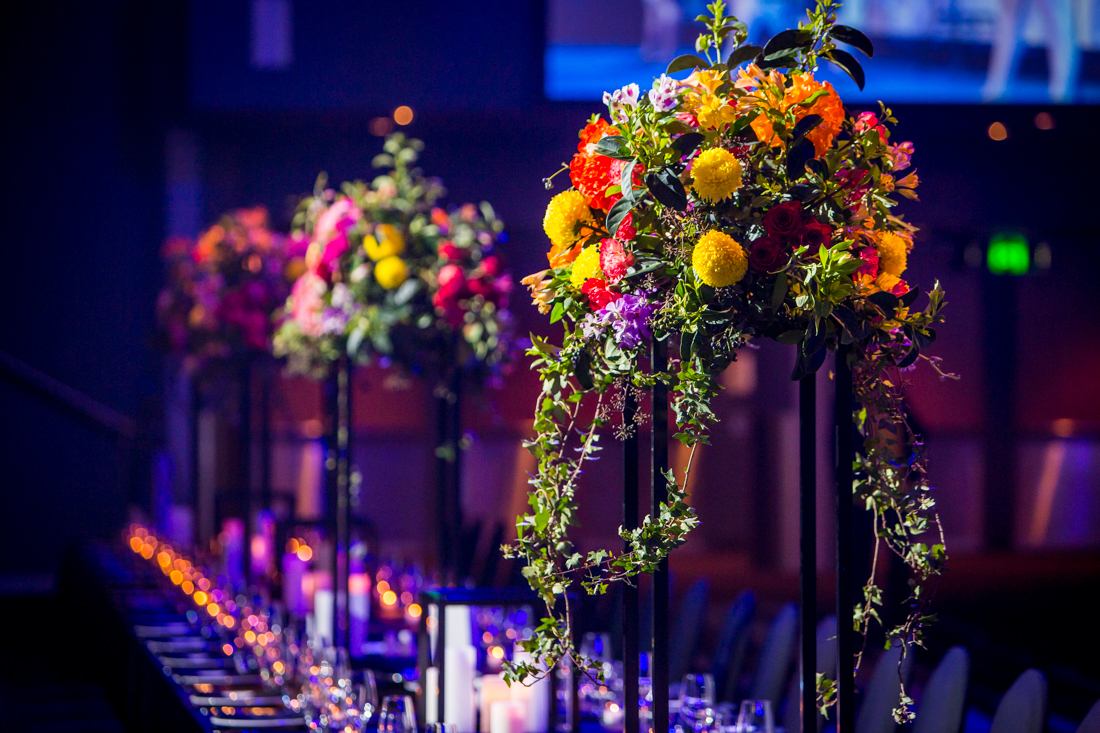 The Purpose of Gala Dinners
As mentioned earlier, gala dinners usually have a specific purpose in mind. They're often organised as fundraisers for charities or other worthy causes.
But that's not all – gala dinners can also be excellent networking opportunities. They allow businesses and individuals to make valuable connections in a luxurious and elegant setting.
Plus, they're a great way for organisations to celebrate their achievements and showcase success. That's why many gala dinners include awards ceremonies and recognition events, highlighting extraordinary individuals or teams who have shown excellence in their fields.
In the end, gala dinners are all about glamour, elegance, and purpose. They offer memorable experiences for attendees while supporting causes that genuinely make a difference.
Planning a Gala Dinner: Steps and Things to Consider
Setting a Fundraising Goal
When planning a gala dinner, understanding your budget is super important. The costs can vary quite a bit depending on how big and fancy you want your event to be.
To make sure your fundraising event is a success, it's a good idea to set a clear and realistic fundraising goal. This way, you have a benchmark for all your planning activities and can stay focused on the main reason for your gala dinner.
Determining a Fundraising Method
Now, let's talk about fundraising methods. You want to pick the right ones to reach your goal effectively. You've got options like live auctions, silent auctions, raffles, or direct donations. Each one has its pros and cons, so think about what works best for your event's size and target audience.
And don't forget to consider what your guests might enjoy the most – this will help you maximise their engagement and contributions.
Choosing a Gala Theme
Picking a theme for your gala event is a big deal. It sets the atmosphere and engages your guests. Try to choose a unique and appealing concept that most attendees will love. A well-chosen theme can really transform the event space and make planning and decorating a lot more fun.
Plus, it's important to pick a theme that fits well with your organisation's mission and purpose – this creates a cohesive and memorable experience for everyone.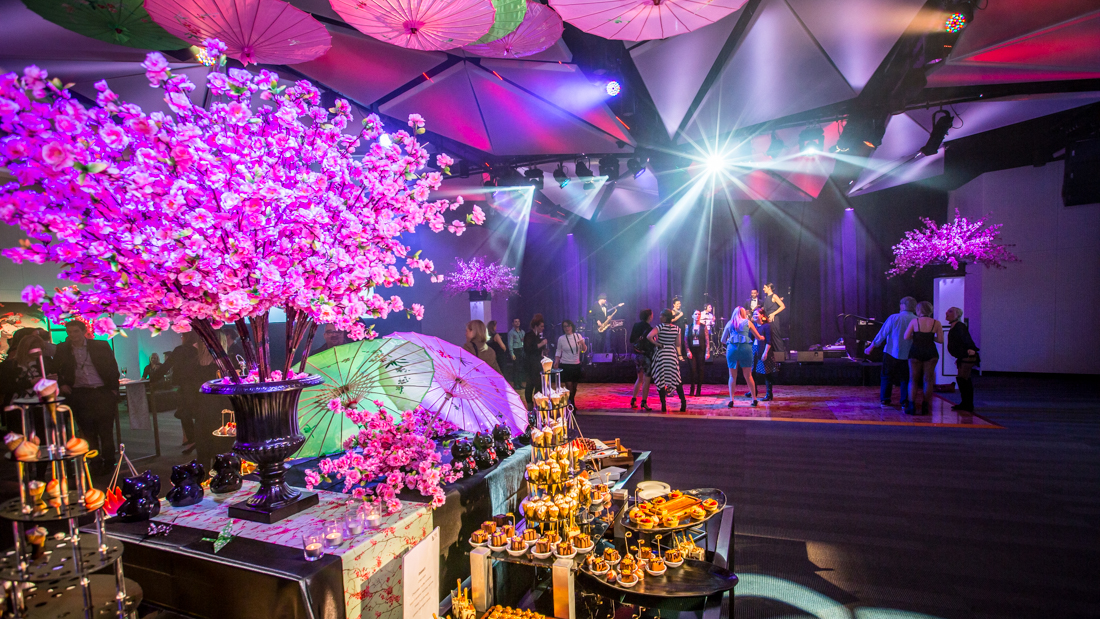 Finding a Gala Venue
The perfect venue is a top priority for a successful gala dinner. You want a location that can hold all your guests comfortably and matches the theme and style of your event. You can go for traditional venues like hotels or convention centres – they usually have professional staff and on-site management teams, which means a smooth event execution.
But if you're looking for something more unique, explore non-traditional venues that fit your theme. Just make sure to check out the site in person to assess its suitability and potential challenges, like parking, accessibility, and layout.
Selecting a Date and Finalising a Dress Code
Another important part of planning is choosing the right date for your gala dinner. Make sure to avoid conflicts with other big events or holidays that could affect your guest turnout.
Also, think about when your target audience is most likely to be available – this will increase your chances of high attendance.
Lastly, let's talk about the dress code. Setting a dress code that goes with your gala theme helps your guests feel more connected to the event and creates a unified look. Make sure to be clear in your invitations about the dress code, offering guidance and suggestions for the perfect attire.
Designing and Sending Invitations
The next thing you'll want to do is create and send out invitations. Make sure you market the event effectively through invitations, social media, and email campaigns to get more attendees and reach your fundraising goal.
Did you know today's technology offers plenty of digital tools to help streamline the check-in process and manage attendee information? A well-designed invitation can set the tone for the evening and get your guests excited to attend.
Managing the Guest List
Having a well-organised management team is super important for a successful gala. It helps delegate tasks and ensures everything runs smoothly. One of the most important tasks in event planning is managing the guest list.
By doing some research and getting references when selecting vendors for catering, audiovisual, and entertainment, you can guarantee a great gala dinner experience. Don't forget to have a smooth check-in process and volunteers available to help guests throughout the event.
Creating Themed Decorations and Event Space
The atmosphere of your gala dinner event can be greatly enhanced by the decorations and theme of the event space. Why not use creative lighting techniques to set the mood for the evening and showcase interesting decor pieces?
Hiring an experienced production company can make a huge difference, as they can ensure the event's audiovisual elements are well-executed. Make sure to collaborate with professional suppliers to plan the event in detail, from concept to completion, to create a truly memorable experience for everyone attending.
Hiring Staff, Recruit Volunteers, and Production Companies
Behind every successful event, there's a hardworking team making it all happen. Make sure you have a competent team of staff members dedicated to providing top-notch service throughout the evening. You'll also need to recruit volunteers to help with tasks like registration, ushering, and directing guests.
The production aspect of the event is super important for its success, so hiring an experienced production company to manage audiovisual components is a must. They can elevate the event's atmosphere and ensure all technical aspects run smoothly.
Catering and Dietary Requirements
Food is one of the most important aspects of any gala dinner event, right? Make sure you cater to your guests' dietary needs to make them feel welcome and taken care of. Offering vegetarian, vegan, and gluten-free meal options for guests with dietary restrictions is a thoughtful gesture.
Work closely with your chosen catering company to create a delicious menu that appeals to a wide range of tastes.
Entertainment and Activities for a Memorable Gala Dinner
Choosing the Right Entertainment
One of the key aspects to consider is selecting the right entertainment. You'll want something that appeals to a wide range of ages and genders, like live music or magic and comedic acts. Another exciting option to really engage your guests is roving entertainment. From fire breathers to stilt walkers, there are plenty of roving entertainment options to keep your guests in awe.
Why not set the tone for the evening with a drinks reception? You can feature a small ensemble or solo musician playing from the start. Just remember to choose background music that won't compete with anyone's conversations, such as an instrumental ensemble or acoustic performer.
Now, when it comes to the dancing portion of the evening, you'll want to make sure you have distinct musical performances that will encourage guests to hit the dance floor and enjoy themselves.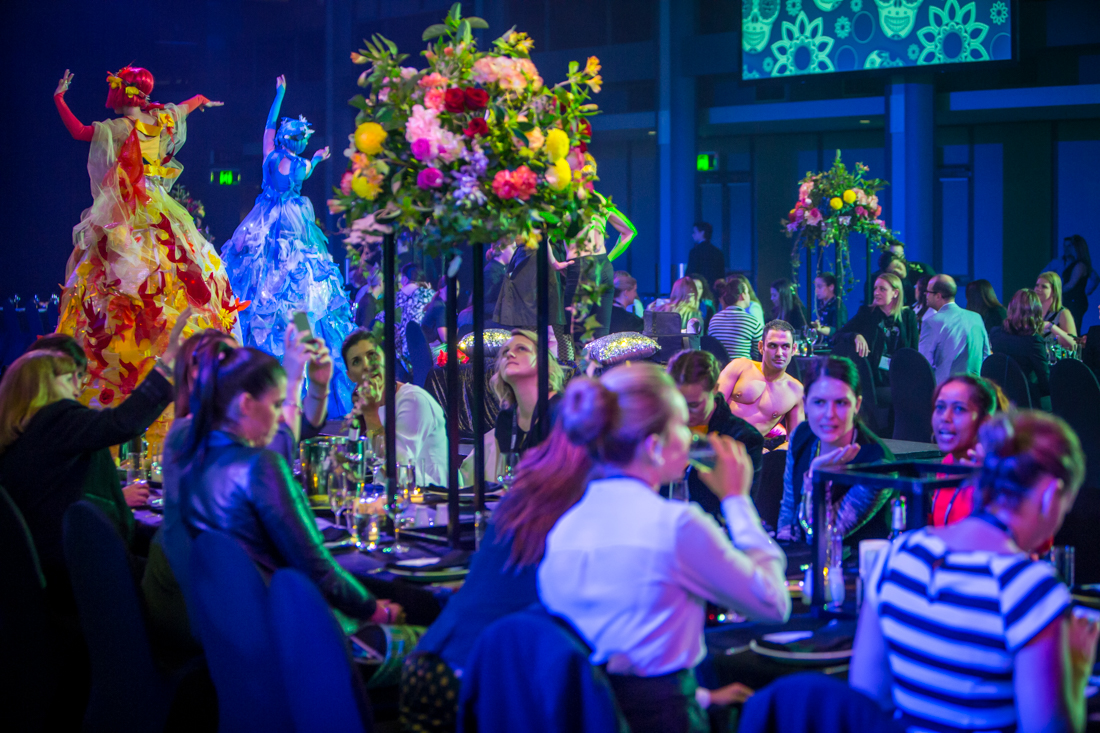 Incorporating Presentations, Speeches, and Awards
To keep your guests engaged and highlight the purpose of the event, consider incorporating presentations, speeches, awards ceremonies, or announcements between dinner and dancing.
You can use the time between dinner and dessert to express appreciation for guests or employees, present a keynote address, or include an additional performance at corporate events or balls.
Why not make dessert a networking opportunity? Set up interactive dessert stations or shareable dessert buffets to keep the conversation flowing.
Fundraising Activities and Auctions
If you're hosting a fundraising gala, it's important to choose the right fundraiser, such as a raffle or auction, and promote the items beforehand. You can even consider creative variations on traditional raffles or auctions for fundraising dinners.
Silent auctions can be a great way to advance the mission and message of your organisation by selling art and photography that represents the organisation's work. For live auctions, hiring a professional auctioneer is a good idea.
Pairing financially focused activities with entertainment, like a silent auction followed by a comedy performance, can create a fun and engaging atmosphere.
When making a pitch for donations during the event, connect the cause to the attendees' lives. It's also a great idea to invite beneficiaries of the organisation to mingle with donors and share their stories, creating an emotional connection to the cause.
Post-Gala Dinner Activities and Follow-Up
You've just hosted a fantastic gala dinner. What's next? It's important to follow up with guests and sponsors to gauge the success of your event. This includes making sure the funds raised reach the intended organisation and building lasting relationships with donors.
Evaluating Gala Dinner Success and Areas for Improvement
After the funds have been sent to the benefiting organisation and you've followed up with attendees, it's time to evaluate your gala dinner's success. Reflect on what worked well and areas where there could be improvements – this will help ensure future events are even more successful.
Taking the time to reflect on your gala dinner and using that knowledge for future events leads to a more cohesive experience for all involved, and most importantly, for the cause you are championing.
A Grand Finale: Sealing Your Legacy as a Gala Mastermind
There you have it, the ultimate guide to planning a dazzling and unforgettable gala dinner. By focusing on key components such as setting clear goals, choosing a captivating theme, and selecting a stunning venue, your gala dinner will leave a lasting impression on all who attend.
As you make your way through the planning process, always keep your guests and the purpose of the event top-of-mind. From the irresistible dining experience to the awe-inspiring entertainment, every detail contributes to the overall atmosphere and ultimate success of the occasion.
But don't forget – the journey doesn't end when the guests leave. Following up with attendees and beneficiaries, evaluating the success, and learning from the experience will ensure that your future events continue to ascend to new heights of glamour, elegance, and positive impact.
Now, go forth and conquer the world of gala dinners, making a remarkable difference while offering spectacular experiences to those who join you in supporting your chosen cause. Cheers to the unforgettable nights that await you!
Gala Dinner FAQs
Why is it called a gala dinner?
A gala dinner is a formal event usually held to raise funds for a specific purpose. The word "gala" comes from the Old French word "gale," which means "festive dress."
What do you need for a gala dinner?
A gala dinner requires careful planning and attention to detail. You will need a venue, catering, decorations, lighting, sound system, and entertainment. You may also need to invite guests, sell tickets, and organize a silent auction or raffle.
What is the gala dinner dress code?
A gala dinner usually requires formal attire, and the dress code is often stated on the invitation. For men, a tuxedo or dark suit with a tie is appropriate. Women can wear a formal gown, cocktail dress, or dressy separates. It's important to follow the dress code to ensure that you feel comfortable and appropriate for the occasion.