\Are you craving a celebration that's as unique and free-spirited as you? A boho-themed party could be just what you're looking for. Known for its eclectic and artistic vibe, bohemian style isn't just a fashion trend but an expression of individuality and freedom. We're here to help you plan the perfect boho party – from picking the ideal venue to embracing the boho dress code.
You'll learn how to bring the outdoors indoors, create a harmonious mismatch, and encourage DIY experiences. Whether you're organising a casual get-together or a big bash, you're about to throw an unforgettable boho-themed party as unique as the bohemian lifestyle. So, let's get started and let your creativity flow!
Why You Should Throw a Boho-Themed Party
Throwing a boho-themed party is a brilliant way to celebrate creativity, freedom, and the beauty of the natural world. The bohemian style, which came about in the 18th century, was a rejection of worldly possessions and a celebration of artistic liberty. Today, a boho-themed party is a unique opportunity to create a singular experience that no one could replicate, where each guest adds something unique to the celebration.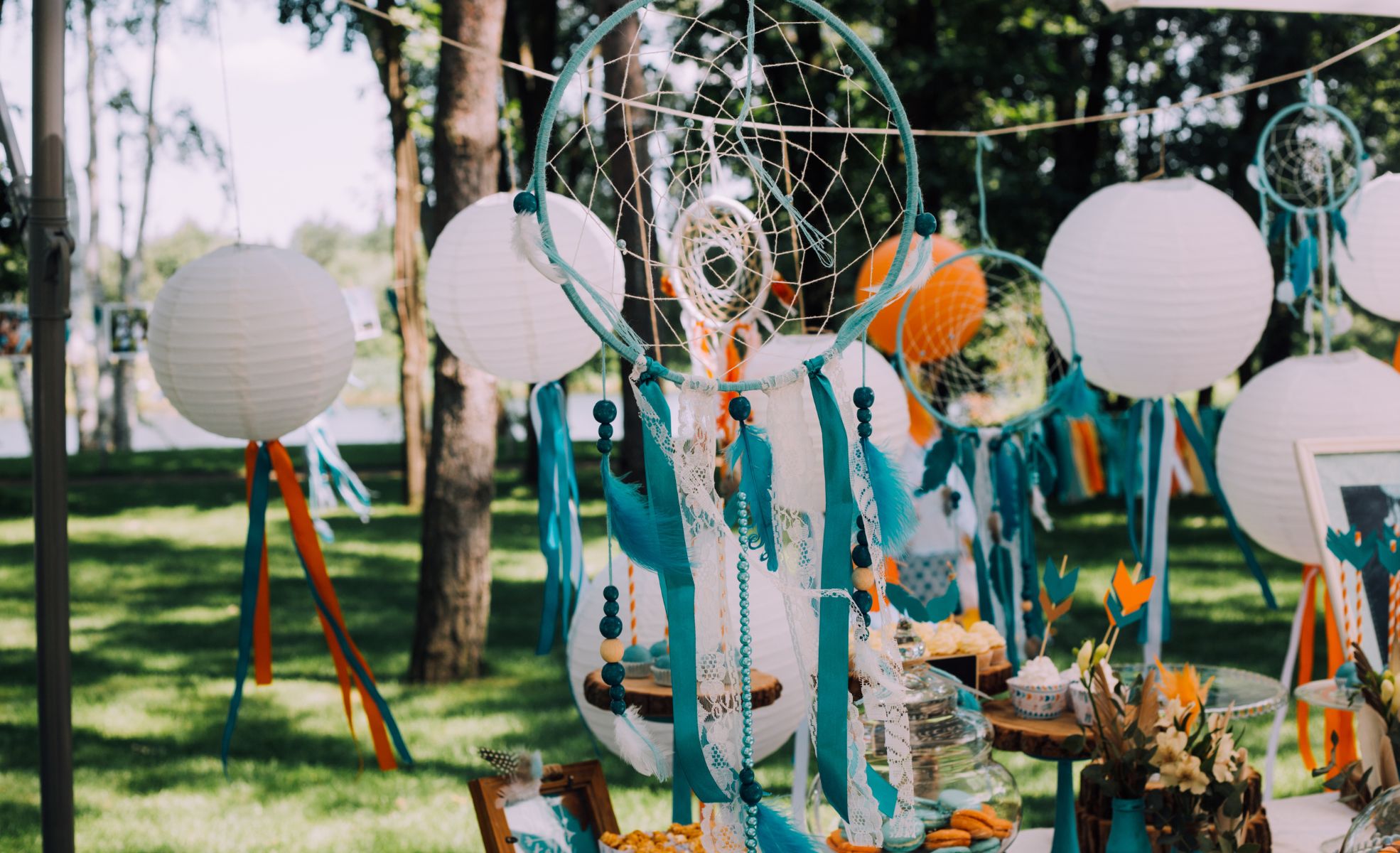 Key Elements Of Boho Themed Party
The essential elements of a boho bash include natural decor, cosy spaces, and joyful music to evoke the feeling of an outdoor festival brought inside. The goal is to make your party look magically curated with a blend of nature and whimsy. For example, you could incorporate foraged flowers, recycled glassware, and furnishings from the outdoors and indoors.
The eclectic boho aesthetic can be unified through a cohesive colour palette and textures. However, the real draw is the participation and shared experiences. Guests should contribute through communal activities like crafts, music, food prep, and more. Tap into creativity and nature to throw an unforgettable boho-inspired event, whether an intimate gathering or a huge celebration. Let your originality run wild to make your party as unique as the bohemian spirit.
Food and drink at a boho party should be simple and hearty, highlighting fresh, local ingredients. A communal grazing table filled with crackers, bread, meats, cheeses, fruits, nuts, and berries could be a great option. You could also serve wine, punches, and desserts that feature natural flavours and ingredients, such as a naked cake decorated with fresh flowers or fruit.
Encourage your guests to come dressed in bohemian festival fashion with rich, earthy colours or neutrals, free-flowing silhouettes, comfortable, nature-derived materials, and vibrant, bold patterns. This will not only add to the overall aesthetic of the party but also provide a fun opportunity for guests to express their creativity.
Finally, a boho-themed party is all about participation. Encourage your guests to contribute to the food preparation, decor, and entertainment. This could involve hosting a salon where guests can share their favourite art forms or providing a planting station where guests can pot plants or make terrariums.
The key to a successful boho-themed party is to have fun with creativity and nature, infusing the bohemian style into every aspect of your event. Whether you're planning a barbecue, wedding, or birthday party, a boho-themed party is a unique and memorable way to celebrate.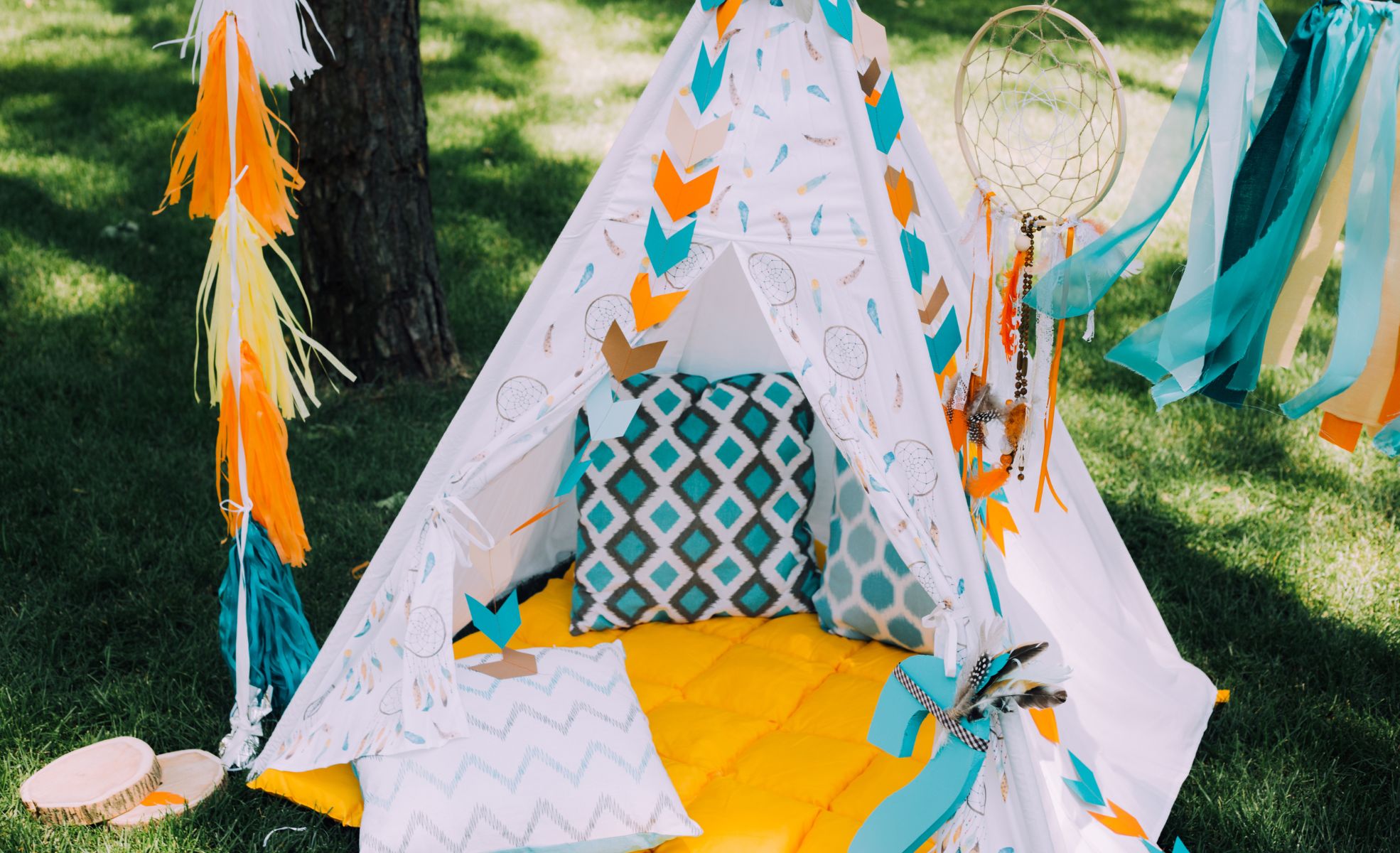 Planning Your Boho-Themed Party
Selecting the Ideal Venue
The first step in planning your boho party is to select the perfect venue. As a modern bohemian, you'll find beauty in what's around you, so consider venues that are connected to nature and offer a relaxed atmosphere. This could be a garden, a campsite under the stars, or even a blank canvas venue that lets you design your own masterpiece. The key is to choose a beautiful venue even when unplugged and doesn't rely on electricity for its charm. It should be a place that lets you slow down, be in the moment, and appreciate the little things.
Deciding on the Date and Time
When choosing a date for your boho-themed party, you'll need to consider the season and weather. If you're planning an outdoor event, choose a date when the weather is pleasant and suitable for your guests. Avoid extreme temperatures or inclement weather that could dampen the boho atmosphere. Once you've settled on a date, it's time to choose a time for your party. The timing will depend on the type of event you're hosting. For a daytime event, such as a garden party or picnic, schedule it during the afternoon when the sun is shining and the atmosphere is relaxed. For an evening event, plan it for later in the day when the ambience is more intimate and cosy.
Guest List Considerations
When you're curating your guest list, think about inviting warm, creative friends who can add something unique to your celebration. A boho party is all about creating a DIY atmosphere where guests can participate in crafting their own experiences. So, invite people who'd enjoy activities such as s'mores around the firepit, paint and sip, communal weaving, macrame station, mixology tutorial, tarot readings, and seed bomb-making station.
Sending Out Invitations
Once you've decided on the venue, date, time, and guest list, it's time to send out the invitations. For a boho-themed party, it's recommended to send out party invitations at least four weeks in advance. This gives guests enough time to add the party to their schedules and make arrangements to attend. Suppose the party is being held at a venue. In that case, it's advised to send invitations at least six weeks in advance or sooner if a final head count is needed for the venue. Remember to incorporate boho elements into your invitations to set the tone for the party.
Decorating for a Boho-Themed Party
Creating the perfect boho atmosphere is largely dependent on your choice of decor. A blend of natural and whimsical elements characterises the bohemian aesthetic.
Choosing the Right Decor Elements
To begin, select decor elements that embody the bohemian spirit. Dream catchers, macrame wall hangings, and vibrant tapestries are quintessential boho decor items. Enhance the bohemian vibe with floral arrangements, lanterns, string lights, and vivid rugs.
For a more personalised touch, consider bohemian-inspired tableware and party favours. Incorporate natural elements like wood, plants, and feathers, and opt for earthy colours and patterns.
Colour Palette for Boho Themed Decorations
While the boho colour palette is typically earthy and natural, featuring shades of brown, beige, and green, don't shy away from adding vibrant colours like turquoise, coral, and mustard yellow. Metallics and bold streaks can also serve as great accents for a boho look.
DIY vs. Purchased Decorations
You have the option of either creating your own decorations or purchasing them. DIY decorations can add a personal touch to the party and can be more budget-friendly. You can create handmade dreamcatchers, macrame wall hangings or even DIY floral crowns and garlands.
If you need more time or prefer convenience, there are plenty of boho-themed decorations available for purchase. Etsy, for example, offers a wide range of boho party decor, with various options for decorations such as banners, signs, and wall art.
Setting Up the Party Space
Creating a relaxed and cosy atmosphere is key when setting up the party space for a boho-themed party. This can be achieved by using low tables and floor seating, such as pillows and pouffes. Adding string lights or lanterns can also create a warm and inviting ambience.
Consider creating cosy seating areas with floor cushions and low tables to add to the boho ambience. You can also incorporate activities like DIY flower crown-making or henna tattoo stations to add to the boho experience.
The key to a successful boho-themed party is to create a relaxed and natural atmosphere, incorporate bohemian-inspired decorations, serve fresh and organic food, provide entertainment that aligns with the boho vibe, and curate a playlist that sets the mood. With these elements in place, your guests are sure to have a memorable and enjoyable experience.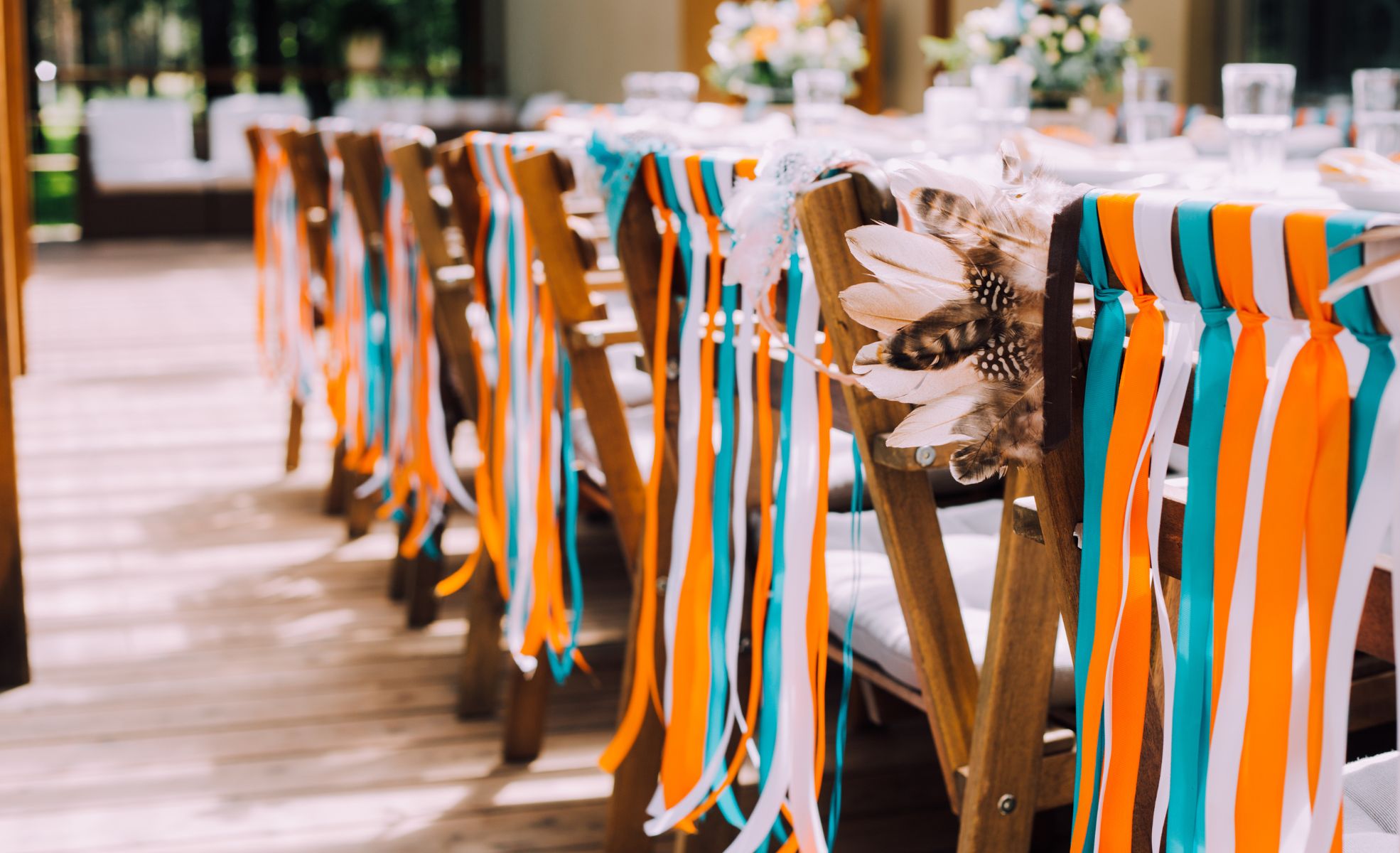 Crafting Perfect Boho Party Outfits
The Boho Dress Code
The boho dress code is a reflection of the bohemian spirit, often drawing inspiration from 1970s fashion and the nomadic lifestyle of the gipsies. It's about embracing free-flowing cuts, eye-catching designs, and vibrant colours.
Guests can opt for printed maxi dresses, flowy skirts, or boho-chic-inspired outfits. It's also worth considering the environmental impact of clothing purchases. Opting for natural fibres like wool, silk, hemp, linen, cotton, jute, and bamboo is currently on trend for this theme. By avoiding synthetic fibres like polyester, nylon, and acrylic, you'll be helping to reduce pollution.
Inspiring Boho Outfit Ideas for Women
Loose, flowy clothing like tunics, baggy shirts, and maxi dresses are popular choices. Layering is key, and seemingly unrelated items can be combined to create a unique look.
A printed maxi dress with a boho-chic design or an off-the-shoulder top paired with a high-low skirt can make a statement. Floral arrangements play a significant role in bohemian culture, but various prints and patterns can be integrated into this style.
Inspiring Boho Outfit Ideas for Men
Men's bohemian style has gained popularity in recent years, allowing for individuality and creativity through fashion. This style embraces loose, relaxed silhouettes, natural fabrics, and vibrant patterns. You can opt for oversized shirts, wide-leg pants, and loose-fitting jackets to achieve that effortless boho look.
Consider other versatile elements like a denim vest, a loose tunic, or harem pants. This variety will allow you to create diverse outfits that still maintain the core of the Bohemian style. Layering isn't just about warmth but also about creating visual depth. Explore options like a poncho or oversized scarf instead of the conventional long coat or cardigan.
Accessories to Complete Your Boho Look
Accessories are crucial in completing the boho look. Hats, headbands, scarves, and belts are essential. Handcrafted indigenous jewellery made from shells, terracotta, bamboo, metal, or coins can add a unique touch to your outfit. Embellishments like feathers, beads, thread, and tassels are also commonly found in bohemian style.
For women, dangling gypsy earrings, a large statement ring, and a striking nose pin can add flair to the ensemble. For men, leather bracelets, beaded necklaces, and layered rings are great options for adding that boho flair.
Remember, the bohemian look isn't limited to your clothes. It extends to your grooming choices and the lifestyle you lead. Whether you're adopting a more natural grooming routine or cultivating hobbies that reflect the bohemian ethos, such as playing an acoustic instrument, pottery, or painting, embracing the bohemian lifestyle will enhance your overall boho style.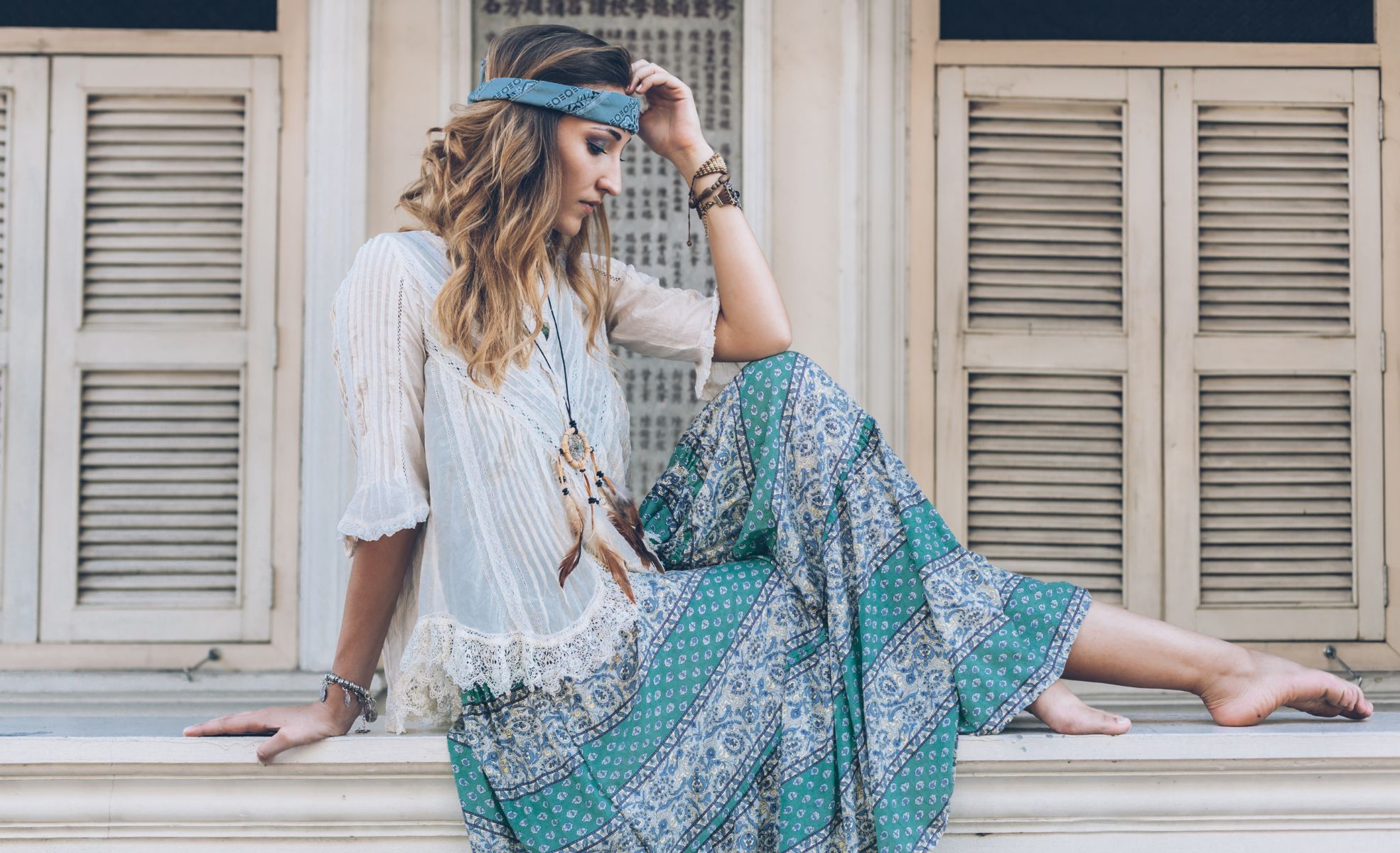 Entertainment Options For Your Boho-Themed Party
The entertainment at your boho gathering should be as diverse and eclectic as the bohemian lifestyle itself. Let your imagination run wild and create a unique event that reflects your personal style.
The location of your party can set the tone for the entire event. Consider unique settings that enhance the boho vibe, such as a rustic barn, a beach, or a forest clearing.
Live music is a great way to add a cosy ambience to your party. Consider hiring a local band that plays acoustic music or even a DJ who specialises in chill, ambient tunes.
Consider offering a variety of interactive activities that allow guests to engage with each other and the boho theme. This could include a DIY jewellery-making station, a poetry reading corner, or a yoga session.
For a unique twist on the traditional party fare, consider hiring a food truck that serves organic, locally sourced food. You could also offer a variety of craft beers and artisanal cocktails to complement the food.
Encourage your guests to dress in bohemian festival fashion. You could even include a DIY tie-dye station for guests to create their own boho-inspired attire.
Remember, a boho party is all about freedom and creativity. So, feel free to mix and match different elements to create a unique and memorable event. Whether it's a boho chic picnic party, a Tulum beach-inspired baby shower, or a bohemian solstice birthday party, the possibilities are endless. So, let your creative whims guide you and create a boho party that's uniquely you.
Wrapping Up Your Boho Bash
Throwing a boho party isn't just about the decor and outfits. It's about creating a warm, inviting atmosphere where your guests can express their creativity and enjoy the beauty of nature. By incorporating found treasures, delicious food, free-flowing fashion, and engaging activities, you'll ensure your boho-themed party celebrates freedom, spontaneity, and artistic spirit.
The best boho party is about more than achieving perfection. It's about tapping into the bohemian mindset – embracing the natural, the relaxed, and the creative. With these elements, your boho-themed shindig is sure to be a truly memorable experience for you and your guests. So, go ahead and create the boho party of your dreams!