Whether you're planning a lively birthday bash, an elegant first wedding reception, or a polished corporate event, the food's a key player in making it memorable. Thats why catering food ideas and party catering ideas are Social imperative to both you and your event attendees. Intrigued? This article's brimming with innovative catering ideas, from interactive food stations to fresh presentation styles, that'll add a unique spin to your events and have your guests buzzing with delight.
When it comes to catering ideas, there are so many things to consider. Cold food, for instance, can make great finger foods without making a mess of your event attendees' clothing. Not to mention, finger foods can be a fun catering idea, as it allows your guests to mingle as they eat. Another fun catering idea for your event guests is miniature food such as mini pizzas, which allows people to taste multiple items – even if they are only wanting a light meal.
If it's a birthday party, you'll want to include a fun dessert or even a dessert bar, as it is always a major crowd pleaser. For outdoor events ideas for large groups can be overwhelming. You could consider hiring a sandwich bar food truck, where guests can choose their own fillings such as grilled cheese on crusty bread. Or a waffle bar serving waffles with ice cream or even savoury waffles with maple bacon. Fruit platters of assort fresh fruit can also be an affordable sweet treat for large crowds. Savoury options which save money can be old-fashioned favourites, such as potato salad, French toast or deviled eggs, even they have made a come back and become instagram worthy on any catering menu.
We've paid particular attention to dietary needs and themed menus with our catering ideas, so there's something for everyone on your guest list. And that's not all; we're also exploring seasonal inspirations and the latest trends. So, please have a look, get inspired, and let's make your event the talk of the town!
Innovative Catering Ideas for Your Next Event
Interactive Food and Drink Stations
Interactive food and drink stations aren't just a great way to engage your guests but also a surefire way to make your event memorable. These stations let your guests personalise their dishes, making eating a fun, individual experience.
You've got a ton of options to consider. How about a waffle bar with a range of sweet and savoury toppings, a taco truck, or a mac and cheese bar with various mix-ins?
A s'mores bar or a mini milkshake shooters station could be a hit for dessert. If you're after sophistication, a massive charcuterie board or a seafood bar could be just what you need.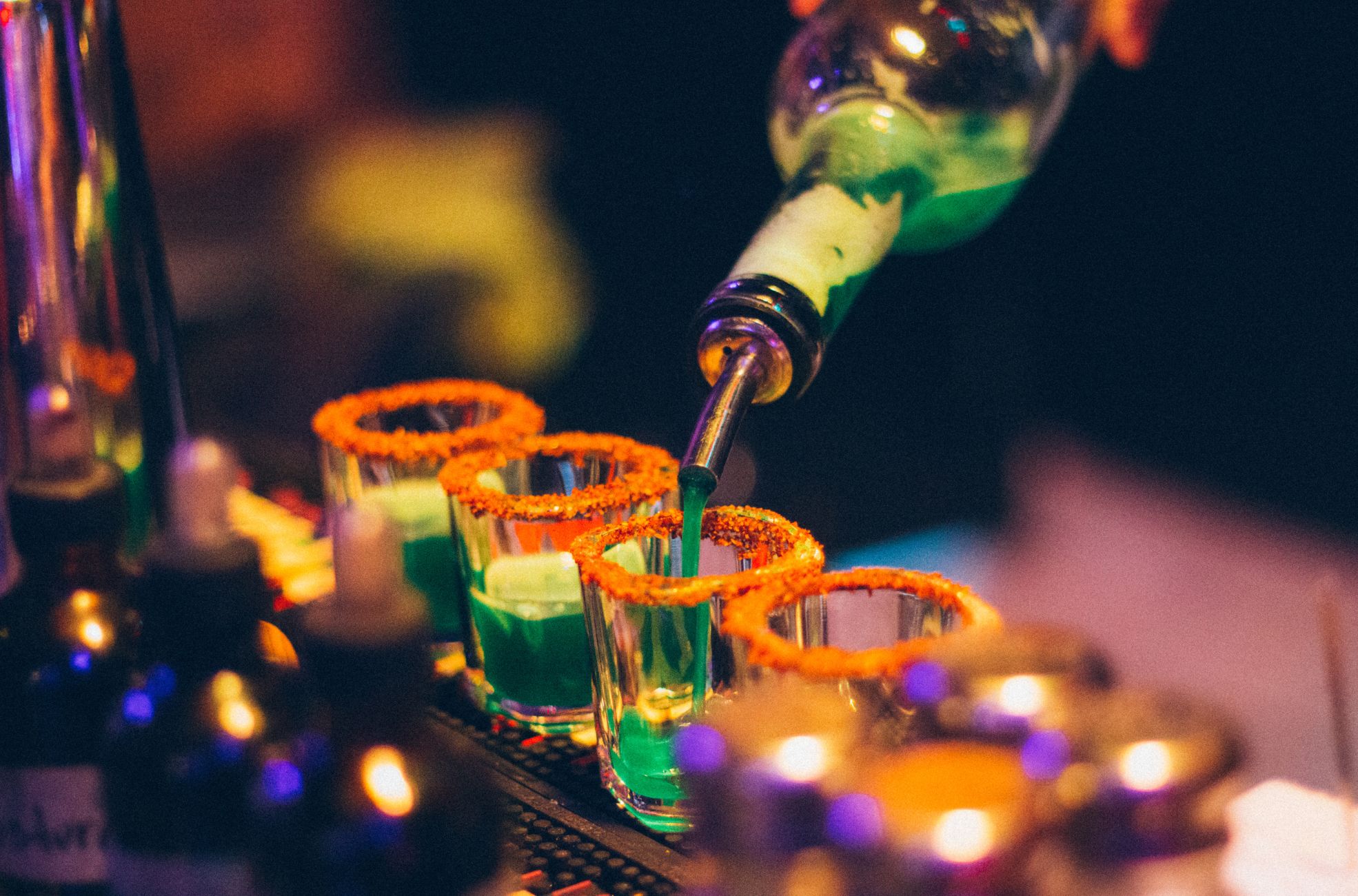 Themed Menu Selections
Themed menu selections can give your event a unique twist. You can explore different cultures through your menu, offering dishes like bánh mì sandwiches, bento boxes, or Italian cuisine. Or, you might want to focus on current food trends such tasty treats such as breakfast bowls, Japanese soufflé pancakes, or matcha tea. Think about a hot dog and burger bar or a fry station for a casual vibe. If you're catering for a wedding, a carving station or a hot cocoa bar could add a touch of elegance.
Special Dietary Options
Catering for all dietary needs at your event is crucial. This means thinking about allergies, gluten-free diets, and plant-based lifestyles. You can offer meat and dairy-free options for those with lactose intolerance, vegetarian and vegan dishes, and opportunities for those following the Paleo or Ketogenic diets. Also, remember to cater for those with specific allergies, such as tree nut and peanut allergies or fish and shellfish allergies. Offering a range of dietary options ensures all your guests can enjoy the food at your event.
Unique Presentation Styles
The way you present your food sets your event apart. Creative serving options can prevent crowding in the serving area and add a unique touch to your event. For example, you could serve snacks, cookies, or even full meals on individually wrapped plates. Use wooden log slices, crates, or boxes to display your food. This looks great and adds a rustic touch to your event. For a more interactive experience, think about setting up food stations where guests can watch their food being prepared. This adds a fun and interactive element to your event.
Sophisticated Wedding Catering Trends
Creating a memorable wedding experience involves more than just serving food. It's about fostering connections and making everyone feel included.
Family-style Dinners
Family-style dinners are an excellent way to foster a sense of community. Offering various dishes catering to diverse dietary needs can make everyone feel included. For instance, a nacho bar could cater to those who enjoy a bit of spice, while a salad on skewers could be a hit with health-conscious guests.
Interactive food stations, such as a poke station, can add fun to the dining experience, allowing guests to create their own culinary masterpieces.
Weekend Brunch Weddings
Weekend brunch weddings are gaining popularity, and chefs can make them stand out in plenty of ways. Consider serving a power breakfast of smoothies and acai bowls or an All-American breakfast of biscuits, meats, and eggs.
Interactive food stations, such as a bagel station with varied spreads or a wine and mimosa bar, can add a personal touch to the dining experience, allowing guests to customise their meals.
Signature Wedding Cocktails
Signature wedding cocktails can add a unique touch of charm to your wedding. A mobile bar serving various cocktails can be a hit with guests. For those who prefer non-alcoholic drinks, consider a hot cocoa bar.
Remember to cater to all dietary needs when creating your cocktail menu. For instance, offering a variety of non-alcoholic cocktails for those who don't eat or drink alcohol or gluten-free cocktails for those with gluten intolerance.
Vegan and Vegetarian Options
With the increasing number of vegans and vegetarians, catering to these dietary needs is essential. Offering a variety of plant-based dishes, such as steamed buns or a vegan poke station, can be a great option to make these guests feel included.
Presentation is key when it comes to food. Consider using galvanised buckets for snacks, sizeable round wood tree log slices for decorating the buffet table, or even wooden log slices for serving food. This can add a rustic touch to your event and make the dining experience more enjoyable.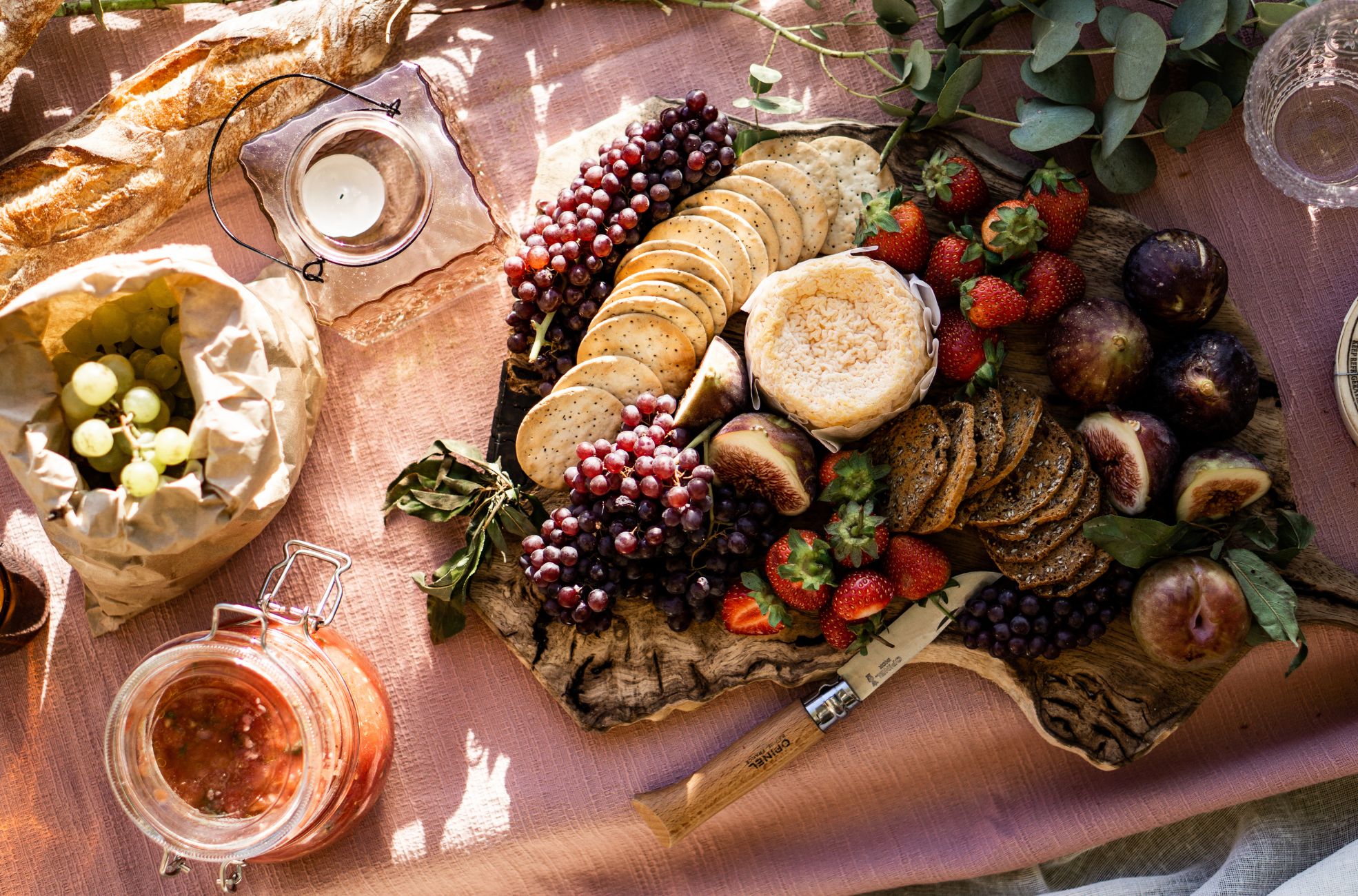 Corporate Event Catering: Making it Unique
To make your corporate event catering stand out, consider incorporating a variety of food waste and innovative ideas that cater to different tastes and dietary needs.
Customisable Food Trucks
A trend that's gaining traction in event catering is the use of customisable food trucks. These mobile kitchens offer a unique and interactive dining experience, allowing guests to craft their own meals. From gourmet burger trucks to sushi bars, the possibilities are limitless. To enhance the experience, consider offering a variety of condiments or add-ons that cater to different tastes. Collaborating with local culinary experts could add a professional touch to private events and extend your marketing outreach.
Multicultural Buffet Selections
A multicultural buffet is another way to make your corporate event catering stand out. This could include diverse dishes inspired by local fare or international cuisine. For example, you might have a station featuring New York-style pizza or Thai curry. This diversifies your menu and pays tribute to different cultures and cuisines. Remember, catering for large groups requires simplicity and versatility. So, opt for dishes that are easy to consume and facilitate social interaction.
Healthy Food Stations
In today's health-conscious society, catering to different dietary needs and preferences is essential. You can achieve this by setting up healthy food stations. These stations could offer gluten-free, dairy-free, and vegan options. Consider creating a separate station with kid-friendly selections. These should be both tasty and nutritious. Remember, understanding the difference between someone who is gluten intolerant and someone that is coeliac is essential. Other dietary restrictions and preferences also require careful menu planning.
After-hour Snack Stations
Finally, consider setting up after-hour snack stations. These will keep your guests energised throughout the event. This could involve individually wrapped plates of snacks, cookies, and even full meals. Creative serving options like these not only make guests feel comfortable and safe. They also add a unique touch to your event. And don't forget about desserts – crafting some visually appealing and stunning desserts that are likely to be shared on social media can add more appeal to your event.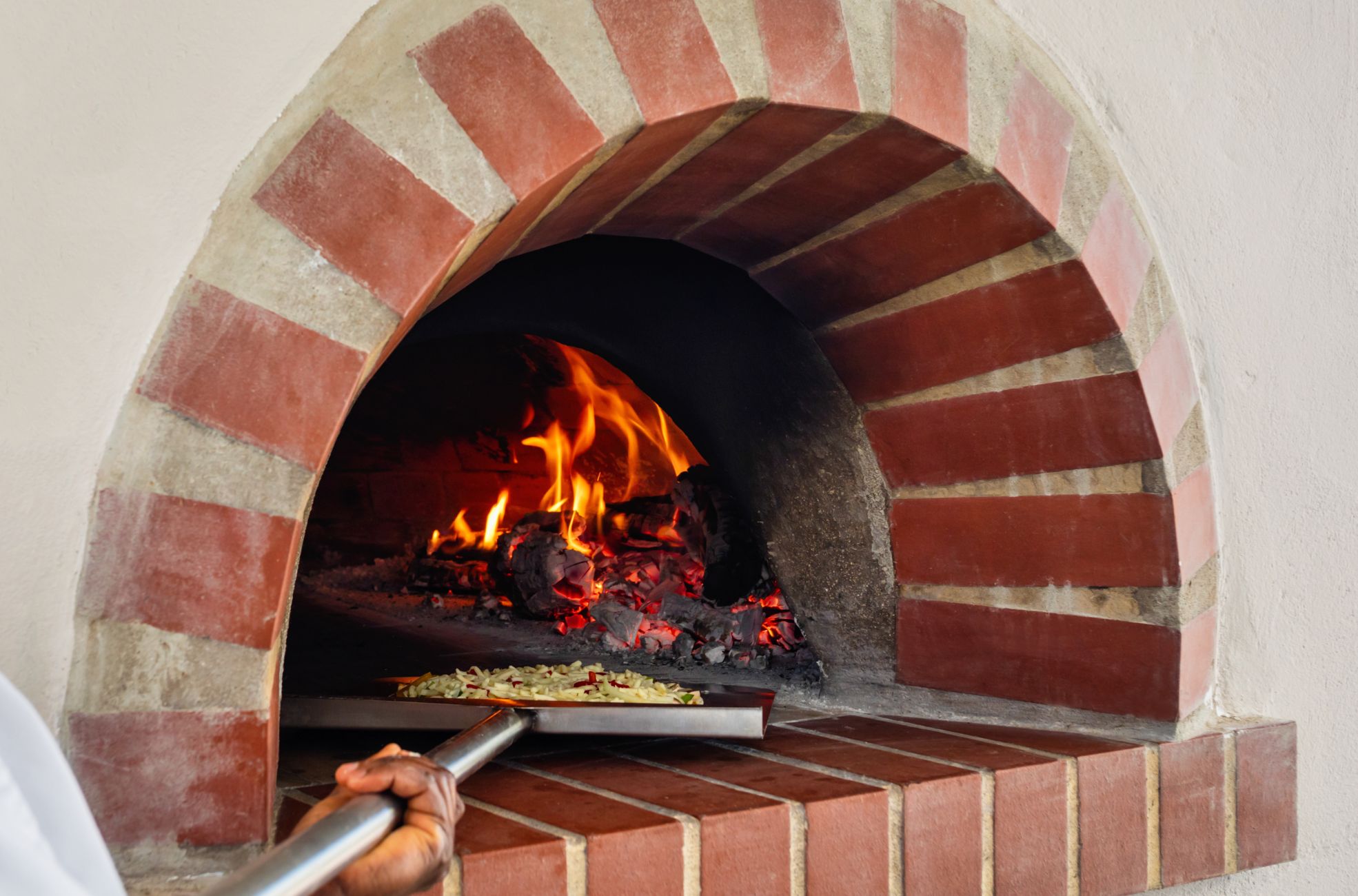 Exciting Catering Concepts for Birthday Celebrations
The culinary offerings at birthday parties and celebrations can significantly influence overall enjoyment. Here are some inventive and delectable catering concepts that'll make your celebration unforgettable.
Child-Friendly Menu
A child-friendly menu is an excellent way to keep the younger attendees at your celebration entertained. This could include various engaging food stations where children can assemble their meals. For instance, a station with bite-sized burgers and garnishes lets the children construct their culinary delight. Alternatively, a station with tortillas and a selection of fillings can offer a more nutritious choice. Consider a station with petite milkshake shots or a marshmallow and chocolate station for the sweet course. Remember to cater to dietary needs by providing alternatives like gluten-free mini lettuce wraps or dairy-free chickpea fritters.
Self-Made Pizza Station
A self-made pizza station is an engaging catering concept that's sure to be a hit with attendees of all ages. You can offer a selection of pizza doughs, sauces, cheeses, and a wide variety of toppings. This lets guests craft their own unique pizza tailored to their personal preferences. You should provide alternatives like gluten-free pizza doughs and plant-based cheeses to cater for unique diets.
Sweet Treats and Dessert Display
A sweet treats and dessert display can be a real highlight of the catering, especially when the desserts are designed to be photogenic for social media. Consider a variety of petite desserts displayed on a tiered stand or a hot chocolate station with a selection of garnishes. For a unique twist, why create a mobile beverage station where guests waiting around can get a fresh drink prepared for them on the spot? It's also important to include healthier options, like fruit kebabs or smoothie bowls with delicious garnishes.
Inventive Birthday Cakes
The birthday cake is often the party's highlight, so why not make it memorable? You could consider a unique twist on the traditional birthday cake, such as a cake constructed from a pile of doughnuts or a cake adorned with edible blossoms for a touch of sophistication. For a more engaging experience, how about hosting a DIY cake embellishing station where guests can decorate their mini cakes or cupcakes? This can be a fun activity for children and adults and provides a unique dessert option that caters to everyone's individual preferences and budget.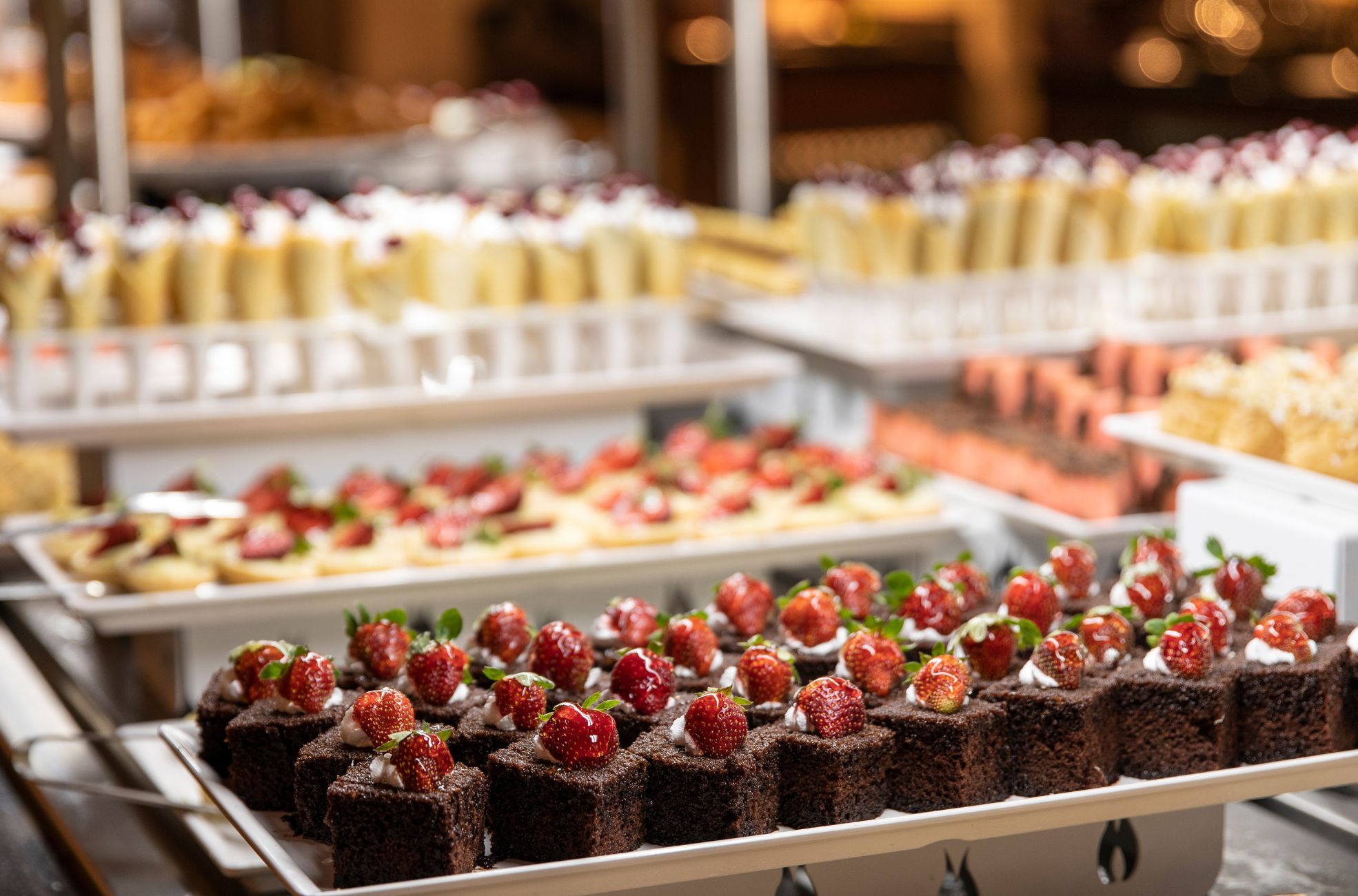 Seasonal Catering Ideas: Making the Most of Fresh Produce
Seasonality can significantly influence the availability and taste of ingredients and your guests' cravings. Focusing on fresh, seasonal produce will make your menu delicious and fitting no matter the occasion.
Spring: Light and Fresh Menu
Spring is a time of renewal, and your catering service and menu should reflect this. Consider light, vibrant dishes that celebrate the new season. Salads with fresh spring vegetables and herbs could be a hit. Interactive stations can add fun to your event and ensure all dietary requirements are met.
Summer: Barbecue Grills and Seafood
Summer is synonymous with outdoor dining, making it the perfect season for barbecue grills and seafood.A barbecue station, where guests can choose from a variety of meats and fish, could be a hit. Pair these with a selection of sauces and sides. A seafood station offering everything from fresh oysters to grilled prawns could also be popular. Remember to provide a range of vegetarian and vegan options.
Autumn: Comfort Food and Seasonal Harvest
As the weather cools, your catering menu should start to heat up. Autumn is the perfect time for comfort food. Hearty stews, roasted vegetables, and warming soups could be on the menu. It's also a great time to make the most of the seasonal harvest. Try incorporating ingredients like pumpkin, squash, and apples into your dishes. An apple crumble or pumpkin pie could be the perfect end to your autumnal feast.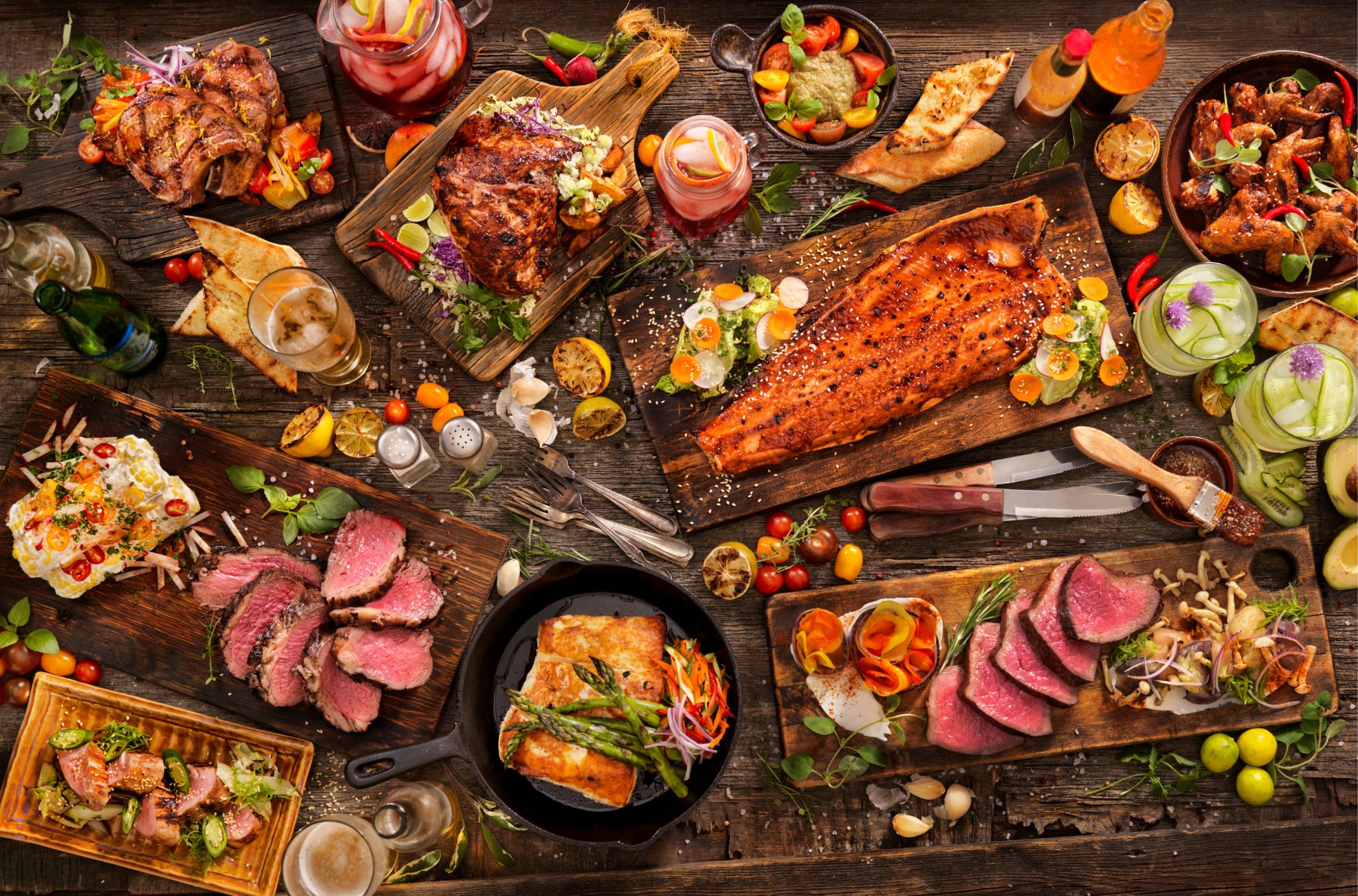 Winter: Holiday Themes and Hot Drinks
Winter catering should focus on warmth and indulgence. This could mean a roast dinner with all the trimmings, a hot chocolate station, or even a festive-themed menu. Serving food on wooden slabs or in galvanised buckets can add a rustic, cosy feel to your event. Always make sure you cater for all dietary requirements. Offer dairy-free, low FODMAP, and other options as needed. Aim to source the best fresh fruits and vegetables for your dishes in all seasons. Collaborating with local culinary experts could add a unique touch to your catering events.
Elevate Your Event with Remarkable Catering
Gastronomy at an event does not simply fill the stomach but also makes a lasting impression on the heart and minds of your guests. You can create unforgettable culinary memories by incorporating interactive food stations, themed lunch menus, dietary-friendly options or unique presentation styles. Seasonal catering can add colours of freshness that perfectly complement your event.
Whether you're planning a corporate gala, a simple birthday celebration or the wedding of the year, remember that food is the ingredient that binds us together. Choose wisely from various catering ideas, make your event stand out and treat your guests to a feast for all senses. After all, a meal is best enjoyed when shared with others.