Imagine exchanging vows in the serene comfort of your backyard, surrounded by close family and friends. This intimate setting reflects a personal touch and can also be a testament to your resourcefulness. Crafting the quintessential backyard wedding might seem daunting, but it doesn't have to be. With strategic planning, the space you wake up to daily can transform into a romantic oasis.
We're here to navigate you through the logistics of backyard wedding ideas, from maximizing your outdoor space to the nuances of décor, ensuring your special day blossoms with charm and ease. Explore expert insights that will elevate your backyard nuptials to an event of elegance and intimacy.
Planning Your Backyard Wedding
Evaluating Space and Size
When you're considering hosting your backyard wedding reception in the comfort of your own backyard, you'll want to take a leisurely walk around your property, envisioning where each part of the celebration could unfold. You'll need to arm yourself with a measuring tape and meticulously measure the dimensions of the outdoor space, taking into account every nook and cranny. It's crucial to assess the surface area as well, noting whether it's flat or on a slope, hard or soft, and identifying any uneven spots that might hinder the placement of tables and chairs. These obstacles should be subtracted from the overall dimensions to calculate an accurate square footage.
Once you've got the space mapped out, you'll need to focus on the guest list. How many seats can this space comfortably hold? For the ceremony, you'll find that each guest will require about 6 to 8 square feet of space, while the reception will demand a bit more—around 13 to 15 square feet per person. This calculation is crucial in determining the number of guests you can invite. You'll also need to consider the practicalities of restroom facilities. Are you comfortable with guests using the bathrooms inside your home? If not, you'll need to rent portable restrooms, ensuring there are at least two for your guests.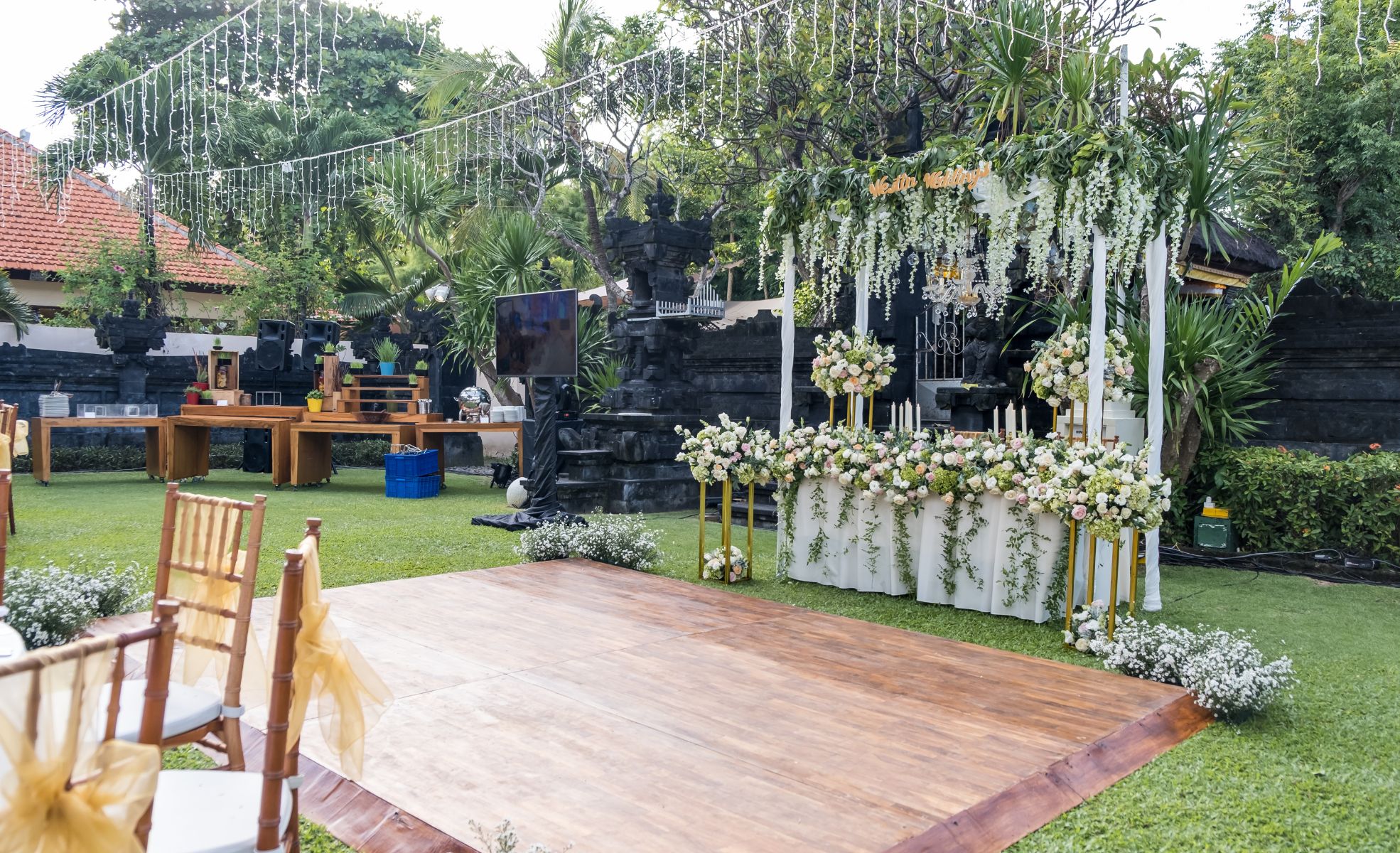 Seasonal Considerations
The time of year can also significantly impact a backyard wedding or outdoor furniture. You'll need to think about the typical weather patterns for the season you're considering. Will it be the height of summer with the potential for sweltering heat? If so, the absence of natural shade in your backyard means that renting a party tent could provide some much-needed relief for your guests. This isn't only a consideration for comfort, but also a practical one, as the tent could serve as a contingency plan should the weather turn sour.
Creating a Backup Plan for Bad Weather
Weather is one of the most unpredictable elements of an outdoor wedding. You'll need a solid Plan B. Does your backyard have a structure like a barn, a large garage, or a shop that could be converted into a ceremony or reception space in case of high winds or rain? If not, the next best option—a party tent—might be necessary. Contacting a local tent rental company to get a quote and factoring this into your Plan B budget is smart. This isn't only a precaution against rain but also a potential necessity for providing shade during hotter months.
Beyond the tent, you'll need to consider other logistical elements that could be affected by bad weather. Where are the outdoor electrical outlets located? If they're not near the ceremony or reception area, you'll need to run extension cords or even consider installing new outlets safely. Testing the circuit loads is also a good idea to ensure they can handle the additional strain from lights, sound systems, and any catering equipment that might be used.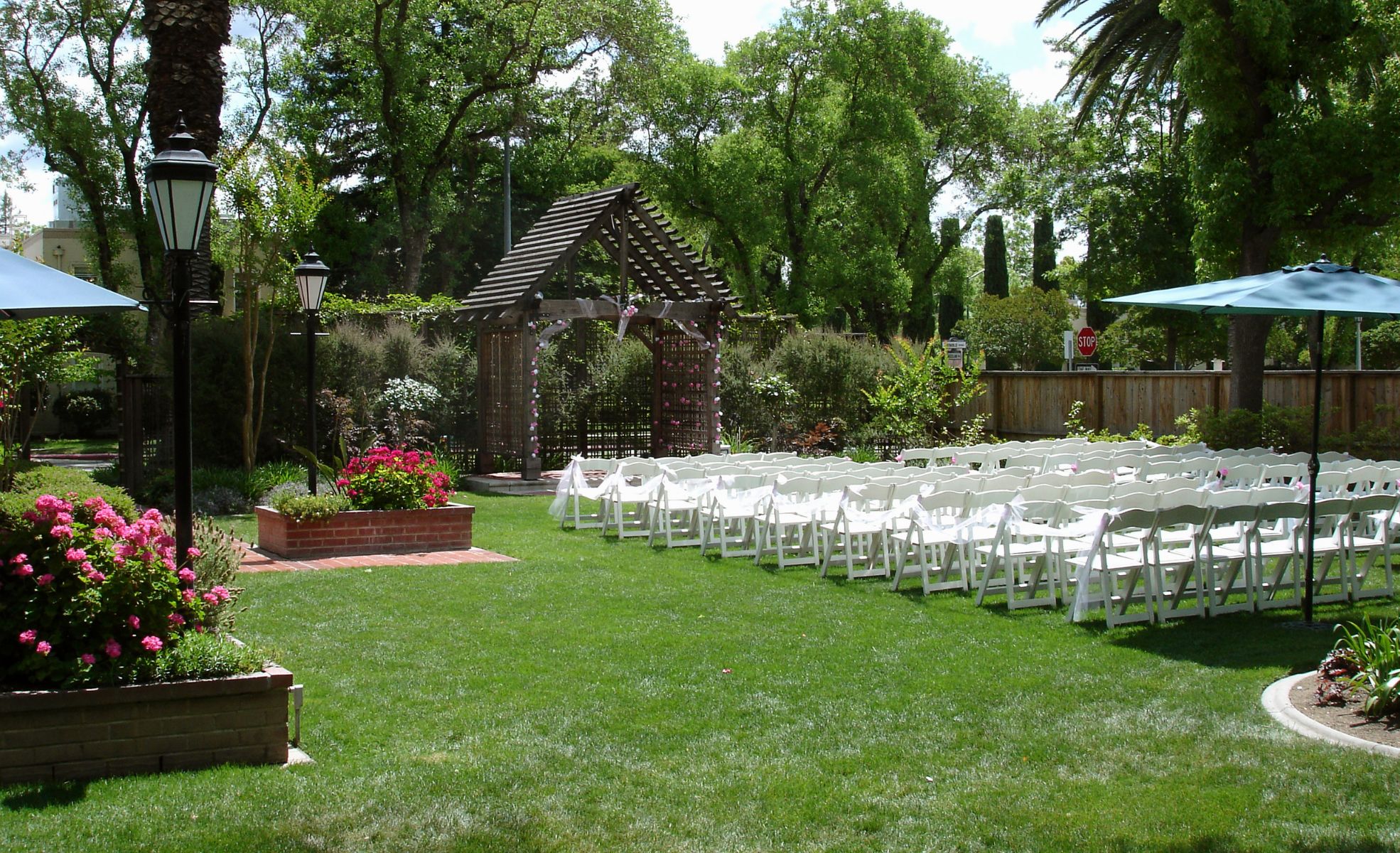 Designing the Aesthetic
Choosing a Theme
Selecting a theme is a pivotal step in the wedding planning process, as it influences your design and decor decisions. It's an opportunity to infuse your event with personal flair and creativity. Whether inspired by a favorite hue or a place with sentimental value, the theme should reflect your unique narrative and aesthetic preferences.
For a wedding cake, for instance, if you're enchanted by vintage elegance, you might incorporate classic elements and a palette of soft, pastel tones. Conversely, a contemporary celebration may feature streamlined arrangements with a focus on simplicity. Your theme will ensure a unified appearance, with every aspect contributing to the desired ambiance.
Lighting and Décor Options
Effective lighting transforms your venue as the evening approaches. Consider suspending paper lanterns, festoon lights, and elegant chandeliers to bathe your space in a cozy radiance. Candle arrangements or lights nestled among foliage can introduce a mystical element. Consider suspending chandeliers from sturdy branches or encircling trees with twinkling lights for a striking impact. Overhead bistro lights or a central pole supporting a canopy of lights can define the dining area. Projecting floral patterns onto the ground or using patterned light across the lawn can create an engaging visual display. Your lighting choices should complement your theme and enhance the visual appeal.
Furniture and Layout Design
The comfort and movement of your guests are crucial, with furniture and layout being key contributors. Drafting a floor plan is vital for a seamless celebration. Consider the positioning of the dance area, seating, performance stage, and beverage stations, as these will dictate the event's dynamics. Lounge spaces serve a functional purpose and act as stylish havens for guests to converse and unwind.
Depending on your chosen theme, these areas can be adorned with meaningful items or luxurious fabrics. Positioning these vignettes to take advantage of the natural landscape can further enrich the reception's aesthetic. Incorporating a variety of lounge setups can add distinct character to the event.
Floral Arrangements and Features
Floral designs are essential in elevating the visual splendor of your own wedding venue. It's important to consider how the existing environment can be integrated into your theme. An archway embellished with flowers can be striking against a natural or urban backdrop. Luxurious fabrics and lush blooms draped over branches can conjure a storybook setting.
For the processional path, arrangements that appear to sprout organically towards a central feature, such as a grand tree, can be enchanting. Even with smaller gatherings, the use of greenery and florals can create intimate and mesmerizing archways. As night descends, the interplay of light and shadow with the floral hues contributes to the enchanting atmosphere of an alfresco celebration.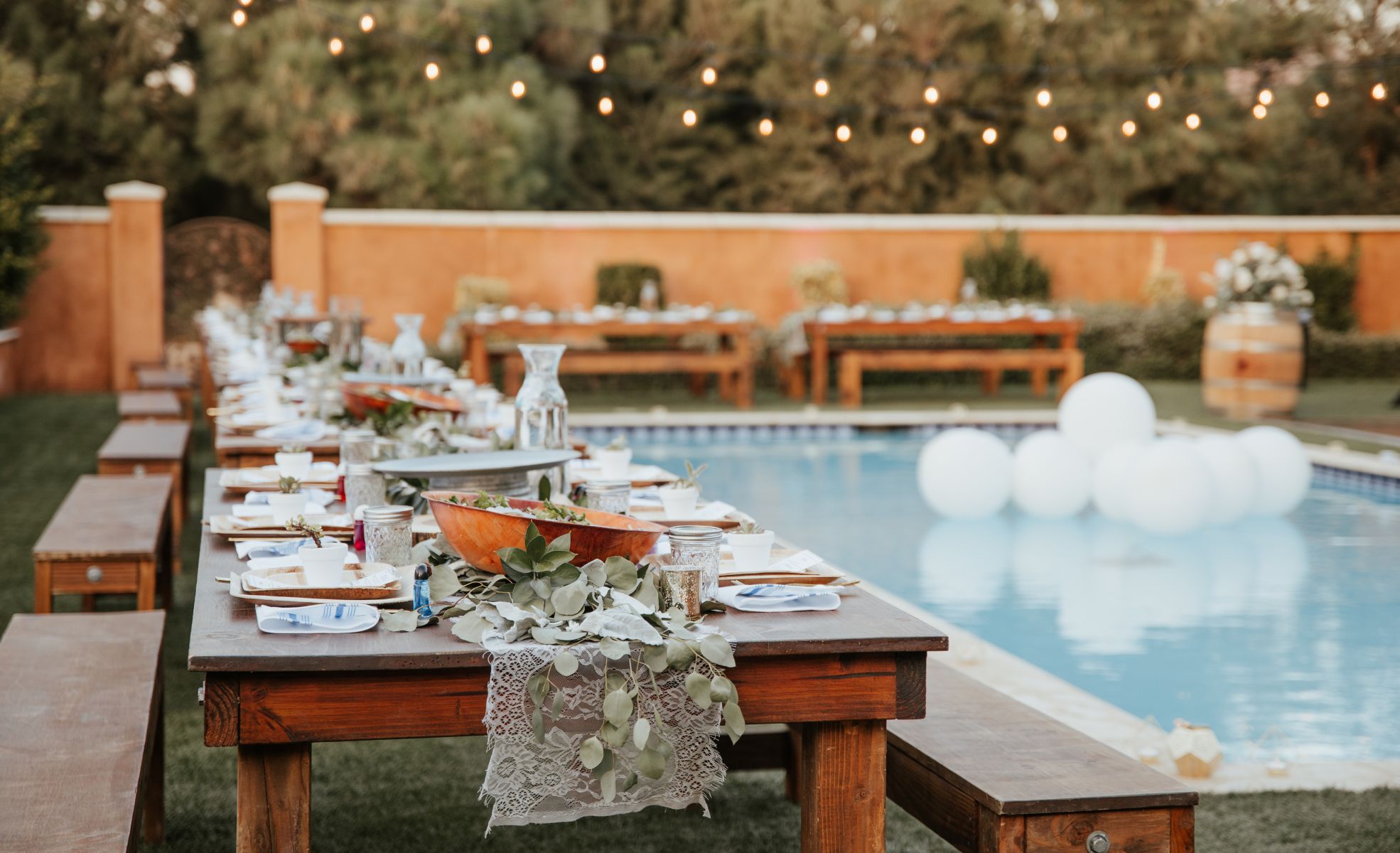 Organizing the Ceremony
Setting Up the Altar or Arch
The altar or arch is the centerpiece of your intimate backyard wedding, setting the stage for your vows and framing those precious moments to come. It's important to choose a design that reflects both your personal style and the theme of your wedding. Whether you're drawn to a traditional structure adorned with flowers or a more unconventional setup using natural elements like a growing tree or reclaimed wooden doors, the aim is to create a focal point that resonates with the beauty of your love and the intimacy of the setting.
For a modern twist, you might consider a geometric frame or a circular arch, which can be personalized with a variety of decorations such as fresh flowers, pampas grass, or even macramé if a bohemian aesthetic appeals to you, a half-arch of fluffy pampas grass with metallic chairs could be the perfect backdrop. Or, a simple yet elegant wooden arbor draped with fabric and asymmetrical flower arrangements can complement any outdoor setting beautifully.
Remember, the altar or arch doesn't have to be elaborate. Sometimes, a minimalist approach with a single white curtain or a semi-circle of flowers growing from the ground can be just as impactful, especially when nature's own beauty is the main show. And if you're looking to honor your heritage, traditional structures like a chuppah or mandap can be incorporated and adorned with in-season blooms or vibrant citrus hues.
Seating Arrangement Tips
When it comes to seating your guests, think beyond the conventional straight rows. Arranging chairs in swirls, semi-circles, or even rings can create a more inclusive and intimate atmosphere, allowing everyone to have a clear view of the exchange of vows. If chairs aren't quite your style, you might consider alternative seating like picnic blankets, rugs, hay bales, or even custom pews with messages of love inscribed in gold.
For a touch of whimsy and comfort, communal rugs or couches can invite guests to sit together, fostering a sense of unity and closeness. And if you do opt for chairs, see-through or woven options can maintain an airy feel that complements the openness of your backyard setting. Lush floral arrangements along the aisle or at the end of rows can add a romantic and dreamy touch, further enhancing your enchanting environment.
Audio Requirements for Vows and Music
Ensuring your vows and music are heard clearly is crucial for an intimate backyard wedding. You wouldn't want your heartfelt words to be lost amidst the rustling leaves or gentle breezes. Invest in a quality sound system that can project your voice without being obtrusive. Lapel microphones for yourselves and the officiant are a good idea, and make sure speakers are strategically placed to provide even coverage throughout the seating area.
Music sets the tone for your ceremony, so whether you're opting for a live musician or a curated playlist, the audio setup should be tested beforehand to avoid any technical hitches. It's important to account for the acoustics of the outdoor space and adjust the volume accordingly so it's neither too loud nor too soft, creating the perfect auditory backdrop for your bright and special day.
Timeline of Events
Crafting a timeline of events is like composing a symphony; each moment must flow seamlessly into the next. Start by deciding on the time for the ceremony, taking into account factors like lighting and temperature. Then, outline the procession, including the entrance of the bridal party and the moment you walk down the aisle. Allocate time for readings, the exchange of vows, and any rituals or traditions you wish to include.
After the ceremony, a brief interlude for guests to stretch their legs while you sneak away for photos is a good idea. This is also an ideal time to transition the space for the reception if needed. By planning each segment of the wedding day with care, you'll ensure a smooth and enjoyable experience for everyone involved, allowing the joy and love of the occasion to be the true highlight of the day.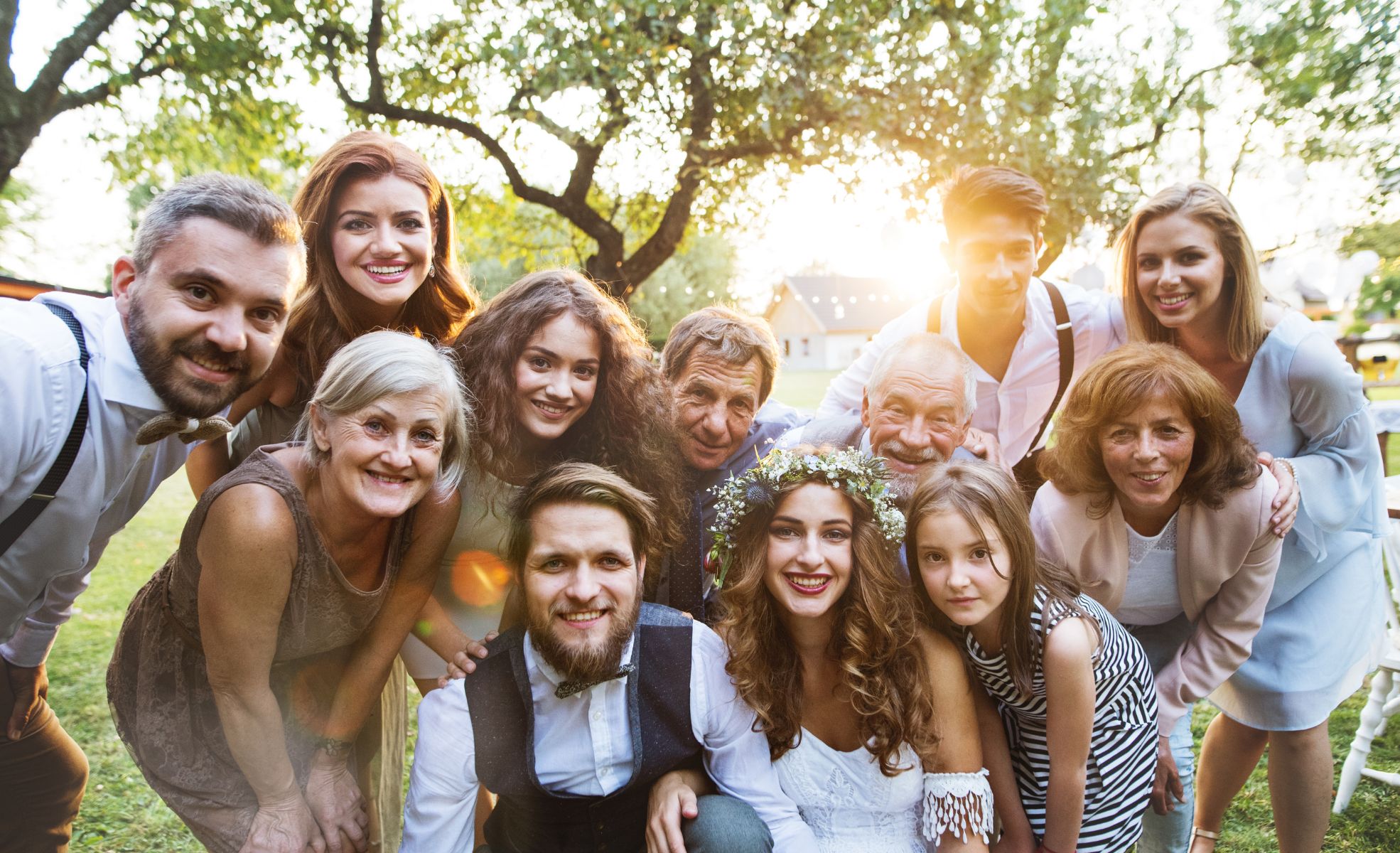 Coordinating the Reception
Catering and Menu Ideas
Opting to self-cater your wedding party is a personal touch, allowing for a more intimate and budget-friendly dining experience. You could whip up a selection of appetizers, main dishes, and desserts that reflect your culinary preferences. A buffet with homestyle favorites or a build-your-own waffle or pizza station can offer a relaxed yet stylish dining experience. A taco bar provides a customizable option for those with a penchant for Mexican flavors. More refined choices like sausage chive pinwheels or a variety of salads can cater to different dietary needs. Consider a donut wall for a fun and eye-catching dessert to end the meal on a high note.
Dance Floor and Entertainment
Creating a dance area is crucial for a lively reception. You can construct a dance floor with interlocking tiles or a substantial rug. The entertainment, whether a DJ or a band, should reflect your personal taste and keep guests engaged throughout the cocktail hour and the evening.
Setting Up a Bar or Beverage Station
A well-organized bar or beverage station is a key component of the reception. If you're opting for a self-service bar, ensure compliance with local regulations and provide a diverse selection of drinks, including non-alcoholic options. Have a plan for the disposal of empty containers, with recycling bins or trash receptacles nearby.
Incorporating Personal Touches
Adding personal elements to your wedding reception can make the event more intimate and memorable. Consider a display of your journey as a couple, a homemade photo booth, or a table dedicated to meaningful keepsakes. These details not only personalize the space but also encourage guest interaction.
Signature cocktails can tell your love story when designing the bar, or a specialty station, such as a whiskey-tasting area, can surprise and delight your guests. Seasonal and weather-appropriate beverages can enhance the outdoor experience. In light of health and safety, providing sanitizing options at the bar and setting up multiple stations can help maintain a safe and comfortable environment. For ease of service, pre-packaged drinks like canned wines or bottled cocktails offer variety without the need for a bartender.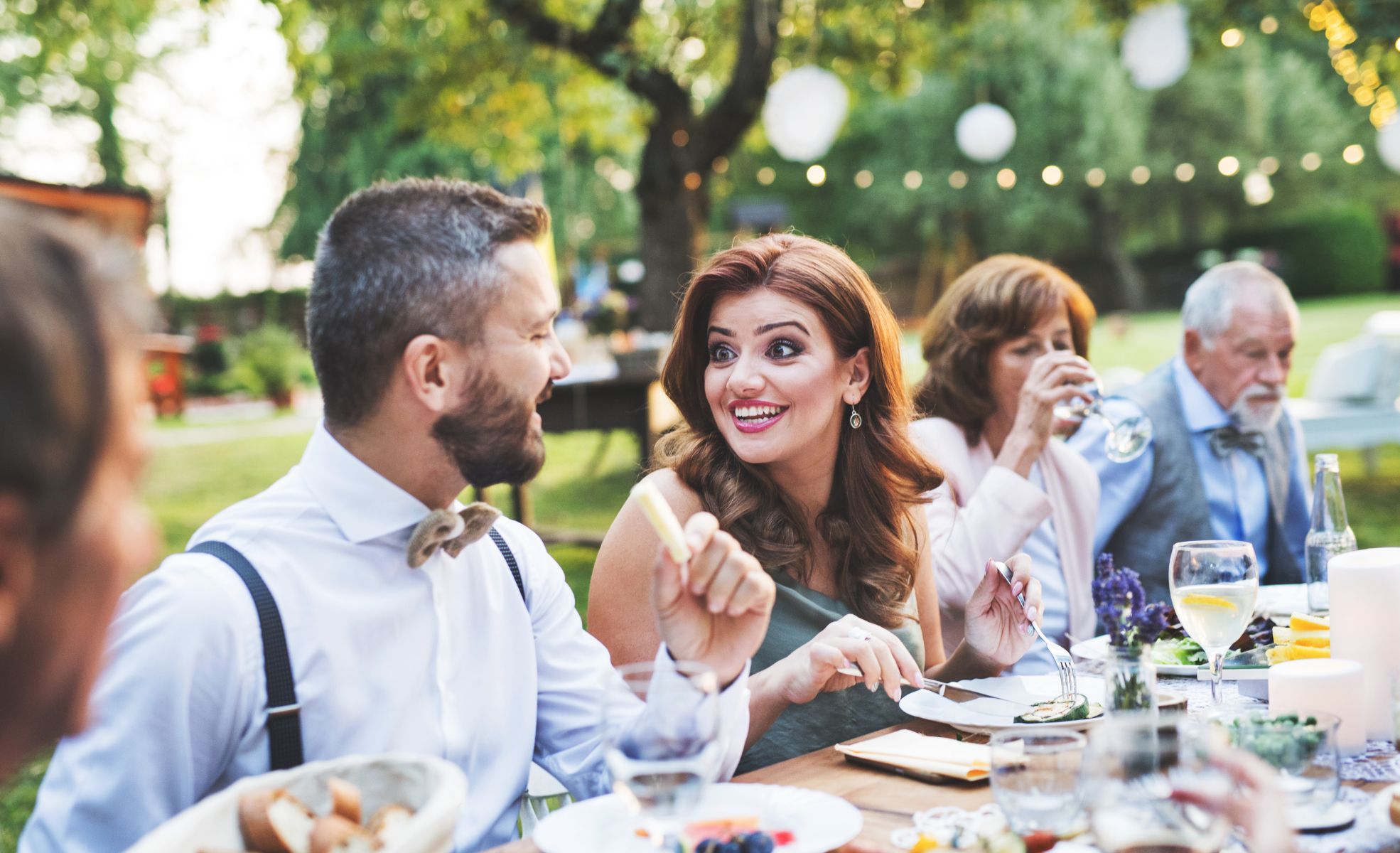 Practical Considerations
Restroom Accessibility and Options
For larger gatherings or extended celebrations, consider the cost of renting additional portable toilets or restroom trailers. Place these facilities discreetly, perhaps camouflaged or decorated in line with your wedding theme to maintain the event's aesthetic. Luxury restroom trailers with amenities such as flush toilets and running water can elevate the comfort level of your attendees.
If opting to use your home's restrooms, ensure your house and septic system are up to the task. A typical system can handle significant usage, but it's wise to prepare for increased demand by stocking up on essentials and possibly designating someone to oversee the maintenance and restocking of supplies throughout the event.
Parking and Transportation
If your property cannot accommodate all guest vehicles, securing alternative parking solutions is necessary. Renting a nearby lot and providing a shuttle service can alleviate parking woes. Clear signage or directions will assist guests in navigating to the venue without hassle.
Accommodating Overnight Guests
For those traveling from afar, consider suggesting local accommodations or creating a unique camping experience on your property. Communicate these options in advance to allow for proper planning.
Dealing with Noise Restrictions
Be mindful of local noise ordinances that may affect the duration of music and speeches. Informing your neighbors about the event can foster goodwill and minimize disturbances, ensuring a harmonious celebration.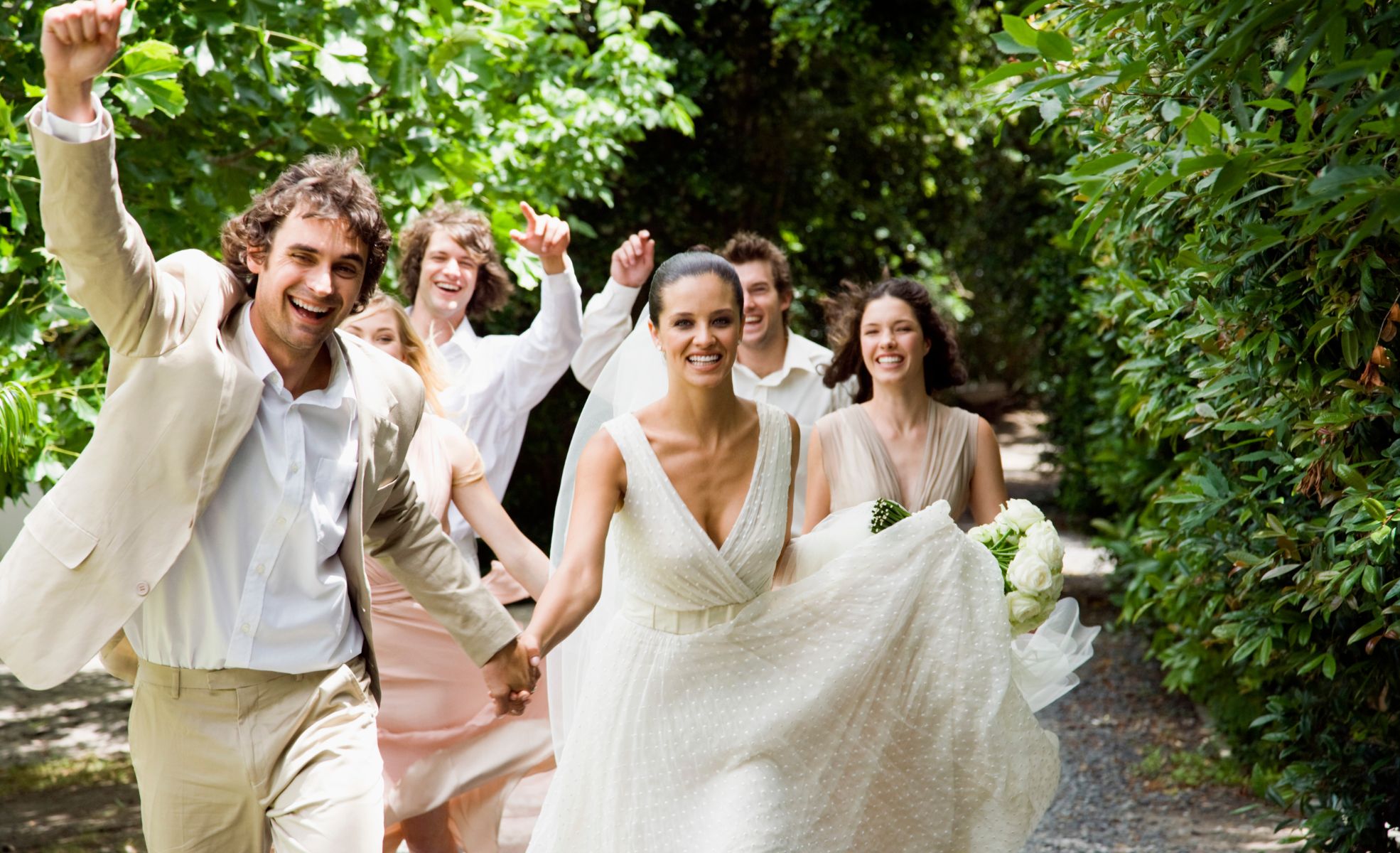 Your Dream Backyard I Do's
Crafting an intimate backyard wedding is all about personalization and thoughtful planning. You'll want to choose the right theme and ensure your guests are comfortable every step of the way—these are the touches that'll make your special day truly yours.
Get creative with your space, embrace the season, and remember the tiny details celebrating your unique story. Meanwhile, stay flexible and ready to pivot should the weather or other unexpected challenges arise.
Most importantly, remember that dinner on this day is about the love you share and the memories you create with those closest to you. With these tips in mind, set the stage for an enchanting affair that your guests will reminisce about for years to come. Here's to the start of your forever in the most familiar and beloved place—home.
FAQS
How do you have a wedding in a small backyard?
To host a backyard wedding decor, even in a small backyard, focus on maximizing space and creating an intimate atmosphere. Utilize vertical space for decorations, such as hanging lights or small canopies. Choose smaller, round tables for seating to optimize space. Keep the decor minimalistic yet charming, and consider a standing ceremony to save space. If needed, rent a small tent for a cozy reception area. Prioritize the essentials, like seating and a small dance area, and consider nearby locations for additional activities or photo sessions.
How do I make my backyard wedding look elegant?
Focus on fine details and tasteful decor to make your casual backyard wedding more elegant. Opt for a consistent color scheme with soft, sophisticated colors. Add elegance through lighting, like string lights or elegant lanterns. Use fine linen for tables and incorporate floral arrangements as centerpieces. For seating, consider renting stylish chairs or adding decorative covers. A well-set dining area with classy dishware and glassware adds to the elegance. Finally, a small, tastefully decorated arch or backdrop for the ceremony can be a beautiful focal point.
Why should you have a backyard wedding?
Backyard weddings offer several advantages. They are often more intimate and personal, allowing for a smaller, more meaningful gathering of close family and friends. They offer flexibility in terms of date and time without the constraints of venue bookings. Backyard weddings can be more budget-friendly, saving costs on venue hire. They also allow for greater control over the wedding theme and decorations, ensuring the event truly reflects your personal style and preferences. Additionally, having a wedding in a familiar and sentimental location adds a special touch to the occasion.
Why are outdoor weddings so popular?
Outdoor weddings are popular for several reasons. They typically offer stunning natural backdrops, creating beautiful settings for ceremonies and photographs. The open space provides a relaxed and airy atmosphere, often appreciated by guests. Outdoor weddings also offer versatility in terms of decor and layout, allowing couples to personalize their event more freely. They often feel more casual and less constrained than indoor weddings, encouraging a more laid-back and enjoyable experience. Furthermore, being surrounded by nature can add a unique and memorable element to the wedding.