Are you ready to turn the typical school dance into a night that'll be etched in memory for years to come? Let's ignite your imagination with our curated list of the best school formal themes, each promising to create a magical atmosphere. Imagine the thrill of a Fire and Ice soirée, the allure of a Masquerade ball, the enchantment of Arabian Nights, the glamor of the Roaring Twenties, or the relaxed vibe of a Beach Party. All are fantastic formal themes!
Dive into our guide, where every detail is covered, from stunning visuals to theme-consistent activities, ensuring your formal is the talk of the schools. Get inspired, get excited, and get ready to make this event an unforgettable night with our top theme picks.
Fire And Ice Formal Themes
When it comes to creating an unforgettable school formal, the theme is paramount. A Fire and Ice themed event is a spectacular choice that promises a night of stark contrasts and vivid memories. The allure of this theme lies in its striking visual dichotomy—warm, passionate tones of reds, oranges, and yellows clash and mingle with the cool, soothing hues of blues, whites, and silvers. This juxtaposition isn't just visually arresting; it sets the stage for a dynamic and immersive experience that'll captivate you from the moment you step into the venue.
Imagine walking into the formal and being greeted by a red carpet and the warm glow of flameless candles, creating a romantic and elegant atmosphere that hints at the fiery aspect of the night. As you move further in, the room transitions into a winter wonderland, with glittering silver icicle garlands and snowflake decorations that shimmer in the light. The use of curtain string lights and fairy string lights can add a magical touch, enhancing the enchanting ambiance of the ice-themed areas.
Decorations are crucial in bringing the Fire and Ice theme to life. For the fiery side, consider incorporating fire truck birthday party supplies, such as fire balloons and firefighter decorations, to add a vibrant touch. Decorative cardboard campfire centerpieces can evoke the essence of a campfire, while fire paper hanging decorations and flameless LED tea lights in red can create a warm and cozy atmosphere. To represent ice, winter balloon garland arch kits with ice and snow decorations, blue streamers, and foil curtains can transform the space into a frozen realm for a snow queen.
The guests' attire is another element that can significantly enhance the theme. Encouraging attendees to dress in fire or ice-themed outfits creates a visually stunning crowd. You might opt for a red dress with silver embellishments to channel your inner flame or a frosty blue gown embroidered with delicate patterns to embody the ice. For those who dare to be different, costumes ranging from fire-breathing dragons and phoenixes to snow queens and frosty characters can add an extra layer of excitement to the event.
Catering to the theme, the refreshments should also reflect the Fire and Ice concept. Spicy, bold mocktails and fiery snacks like buffalo wings and jalapeno poppers can tantalize the taste buds with heat, while icy cool beverages and frozen treats such as blue raspberry mocktails and ice cream sundaes offer a refreshing chill. Interactive food stations, like a flaming s'mores bar or a nitrogen ice cream stand, not only serve thematic delights but also engage guests in the creation of their own desserts.
Entertainment and activities should be noticed. To keep the theme consistent, you could organize games like a "freeze dance" competition or a "flaming hoop" toss. Hiring performers such as fire jugglers or ice sculptors for a more dramatic flair can provide mesmerizing displays that'll leave the audience in awe. Even the music selection can be tailored to the theme, with temperature-themed songs setting the mood for the evening.
In terms of table decorations, ice sculptures or fountains can serve as stunning centerpieces. Diamond table confetti and vases filled with diamond crystals can also add a touch of elegance and sparkle. For a more interactive element, consider having a large block of ice with drilled holes for chilled drinks or an ice chute for a novel way to serve beverages.
The Fire and Ice formal theme isn't just about the visual spectacle; it's about creating an invigorating and enchanting atmosphere. It's a theme that allows for creativity and innovation, ensuring that your school formal isn't just another dance but a night of fantasy and wonder that'll be talked about for years to come. Whether through the decorations, the attire, the food, or the entertainment, every aspect of the event can be infused with the essence of fire and ice, resulting in a truly magical experience.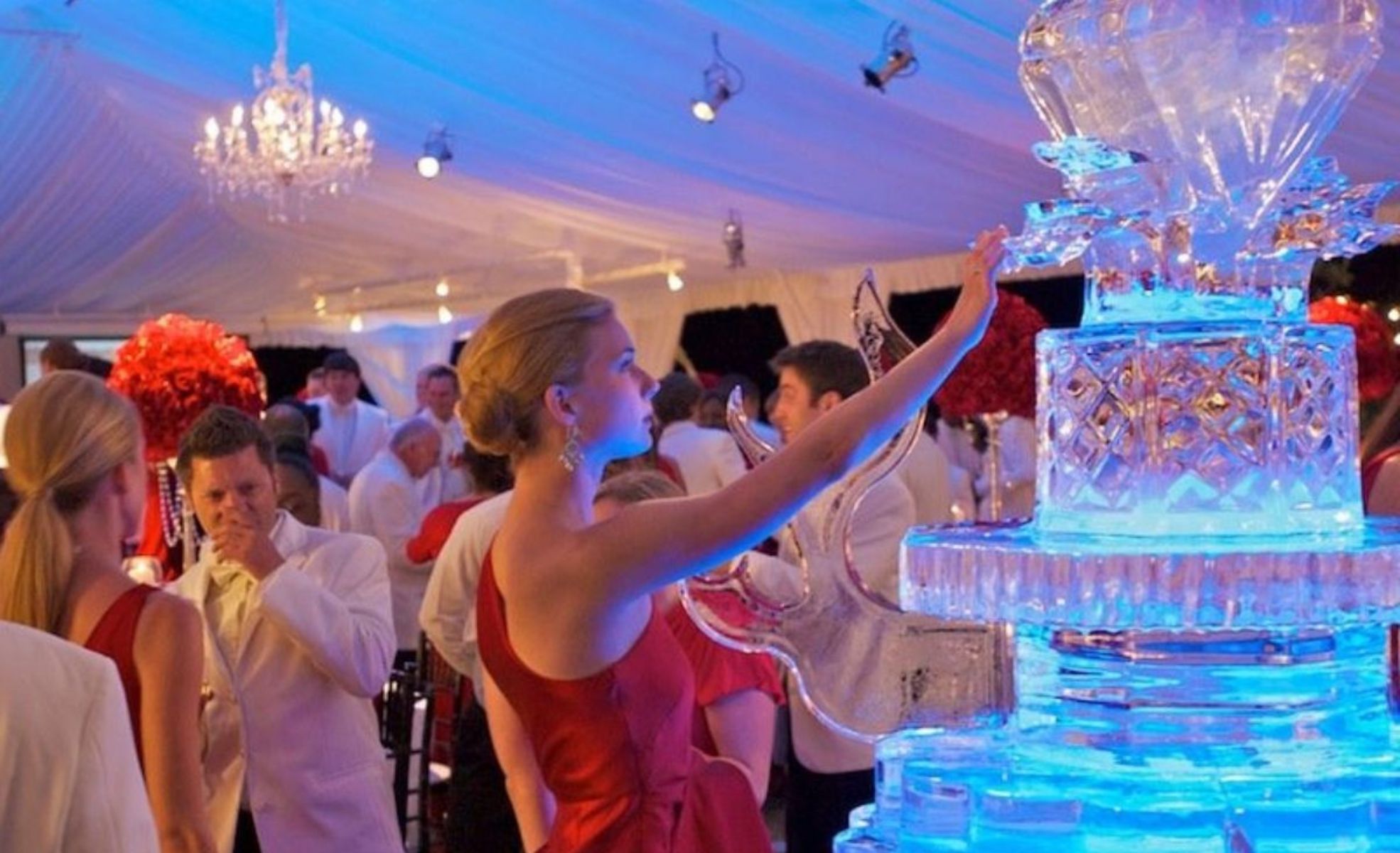 Masquerade Formal Themes
The masquerade ball is another theme that exudes sophistication and secrecy, with roots in the carnival season of the 15th century. These gatherings were characterized by their lavish costumes and the anonymity provided by masks, which allowed people to mingle without the constraints of social hierarchy.
Venice was particularly renowned for these opulent events during the Renaissance, with masks like the Colombina, Bauta, and Volto becoming iconic. These accessories are central to the masquerade concept, each with its distinct style and backstory.
Choosing a masquerade theme invites attendees to immerse themselves in a historical fantasy. The expected dress code is formal, with men in suits or tuxedos and women in elegant dresses. Masks are crucial, ranging from feathered and glittery modern designs to classic Venetian masks, adding a layer of mystery.
The masquerade has been a source of intrigue in literature. It has influenced various forms of media, often portrayed as a setting for pivotal events. Its modern interpretation is more relaxed, focusing on a festive atmosphere suitable for a school formal. It can incorporate historical authenticity or a blend of formal themes from different eras.
Decor can vary from opulent to simple, with chandeliers, gold accents, or more minimalistic designs. A consistent color palette and providing masks as favors can enhance the experience.
Entertainment can include classical music for a traditional feel or a contemporary playlist for a modern twist. Engaging activities like a photo booth with themed props or a mystery game can add to the fun.
When planning a formal party, offering masks compatible with eyeglasses and serving theme-appropriate refreshments is practical. The masquerade ball is an opportunity for students to revel in the glamor and tradition of a bygone era, creating an unforgettable evening.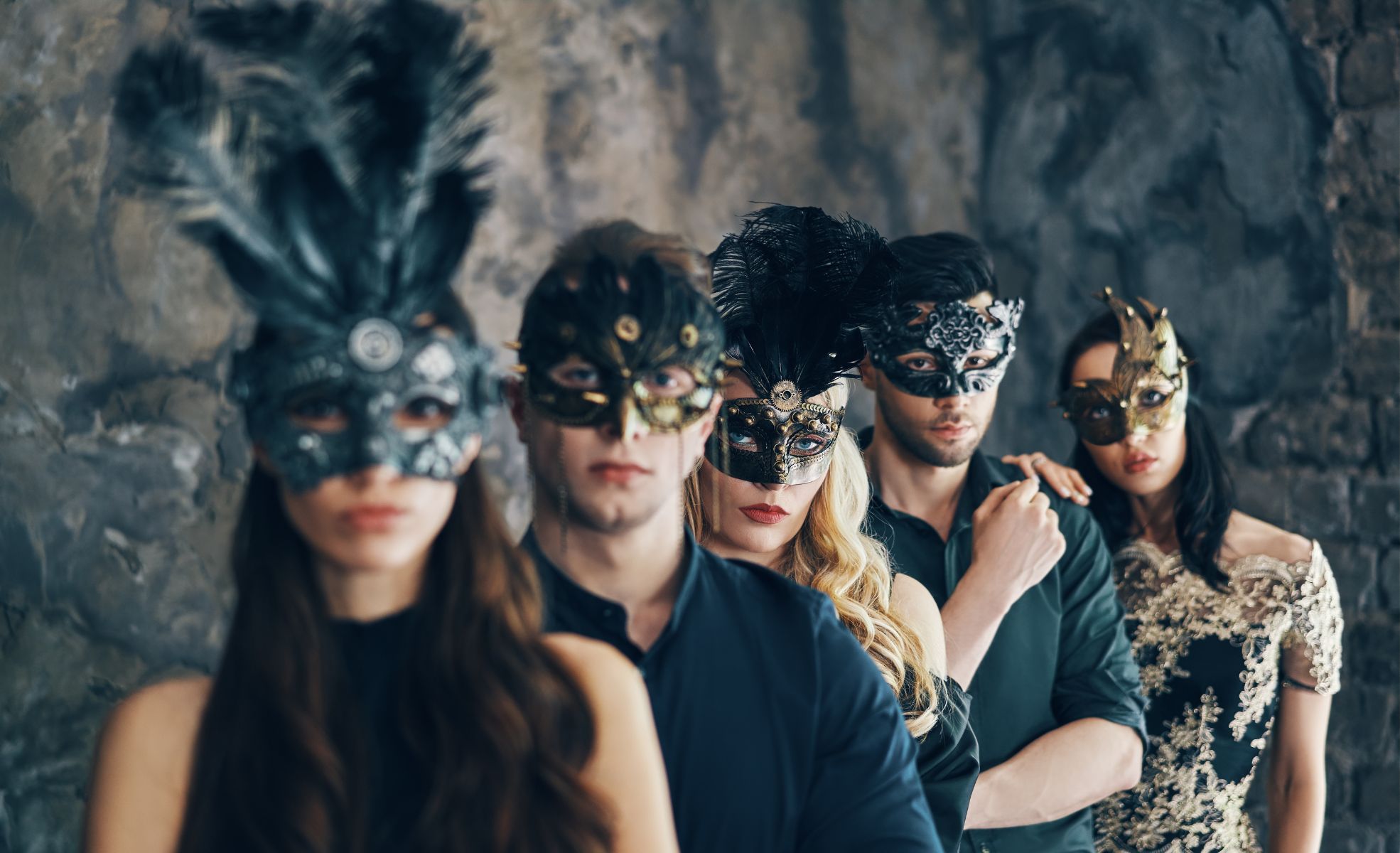 Arabian Nights Formal Themes
Choosing an Arabian Nights theme for your school formal can transport attendees to a world reminiscent of the tales from "One Thousand and One Nights." The attire should reflect the region's fashion, with options like harem, yoga pants, crop tops, or flowing shirts for a comfortable yet chic look. Embellishments such as waistcoats, gold accessories, and dramatic eye makeup can enhance the authenticity of the outfits.
The setting is crucial in creating the desired atmosphere. Utilize spaces like event tents or terraces and decorate them with fabrics, rugs, and floor cushions to evoke the sense of a Middle Eastern palace. Lighting should include Kobba lanterns, fairy lights, and silhouettes to cast captivating shadows and a warm glow.
Entertainment should encompass traditional arts such as henna and fortune telling, with the addition of performers like belly dancers to enchant the audience. For a contemporary edge, consider acts that include fire jugglers or sword swallowers provided by entertainment companies.
The cuisine is integral to the experience. Consider serving regional delicacies like hummus and shawarma and sweet treats such as figs and dates. Beverages could feature Limonana and mocktails with pomegranate molasses for a refreshing twist.
Enhance the ambiance with decorations in rich tones and textures, and consider including a shisha bar for a leisurely social area. Unique elements like camel hire or snake charmers can introduce an educational component about their roles in the region's culture.
An Arabian Nights-themed formal is an opportunity to delve into and honor the vast cultural heritage of the Middle East, creating an event that students feel is as enlightening as it is enchanting and leaving attendees with lasting impressions.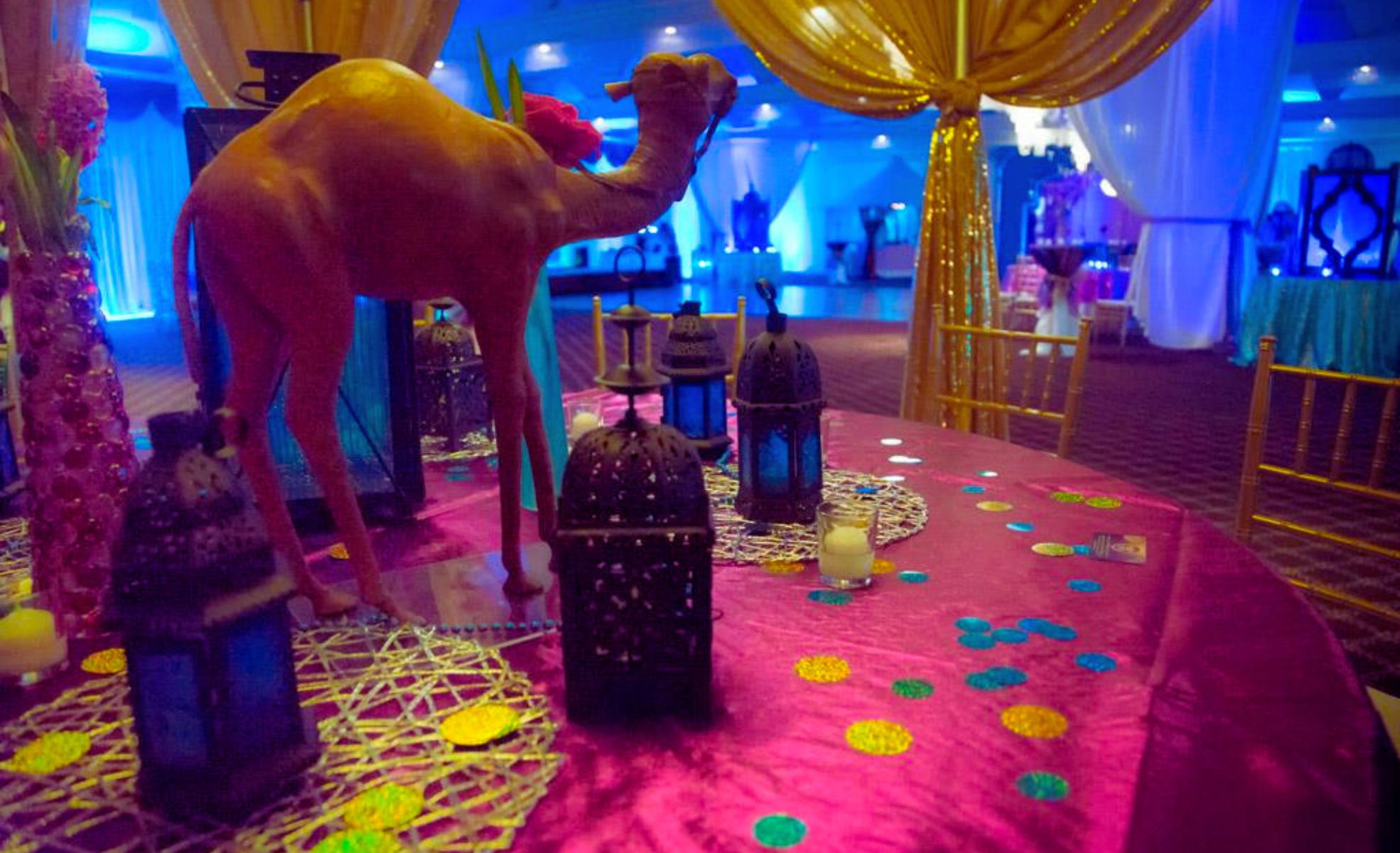 1920s Great Gatsby Formal Themes
The 1920s Great Gatsby theme is a nod to the Roaring Twenties, an epoch marked by jazz, speakeasies, and sartorial innovation. It's a theme that always delivers a sense of splendor and festivity, perfect for a memorable school formal.
Sharp suits and fedoras are the go-to for gentlemen, while ladies can dazzle in flapper dresses adorned with beads and tassels. Complementing these outfits with accessories such as gloves, feathered headbands, and strands of pearls can encapsulate the era's fashion.
The adaptability of the Great Gatsby theme allows it to suit a variety of settings and budgets. Whether it's a grand ballroom or a more modest venue, elements like art deco backdrops, vintage automobiles, and towers of champagne glasses can set the stage. Black and gold palettes alongside feather centerpieces can instantly evoke the spirit of a 1920s jazz club.
Live jazz bands can recreate the soundtrack of Gatsby's extravagant soirees while a dance floor invites guests to strut the Charleston. For an interactive twist, a photo booth stocked with period props offers a playful diversion. To sip on the era's libations, consider serving classic mocktails reminiscent of those from underground speakeasies.
For those assembling their outfits, online shopping provides a convenient solution with a variety of styles and sizes. Features like "Try Before You Buy" allow for experimentation with different silhouettes and adornments, ensuring the perfect fit for the occasion. High-quality brands deliver options for all preferences, with the convenience of direct shipping.
Inspiration for both attire and decor can be found on Pinterest and in online stores, where the grandeur of the 1920s is on full display. These platforms offer a wealth of ideas, showcasing garments with detailed Art Deco motifs and opulent accents.
Suppliers such as Windy City Novelties cater to the theme with an array of related products, from decorative room rolls to themed backdrops and dim lighting. These items are essential for a unified and captivating atmosphere. Pairing these with classic Hollywood party adornments can elevate the sense of stepping into a Gatsby movie scene.
Custom invitations can hint at the sophistication to come, while an Art Deco setting can serve as an ideal environment. Engaging activities like a murder mystery or a bespoke photo backdrop can provide additional entertainment, allowing attendees to immerse themselves in the theme fully.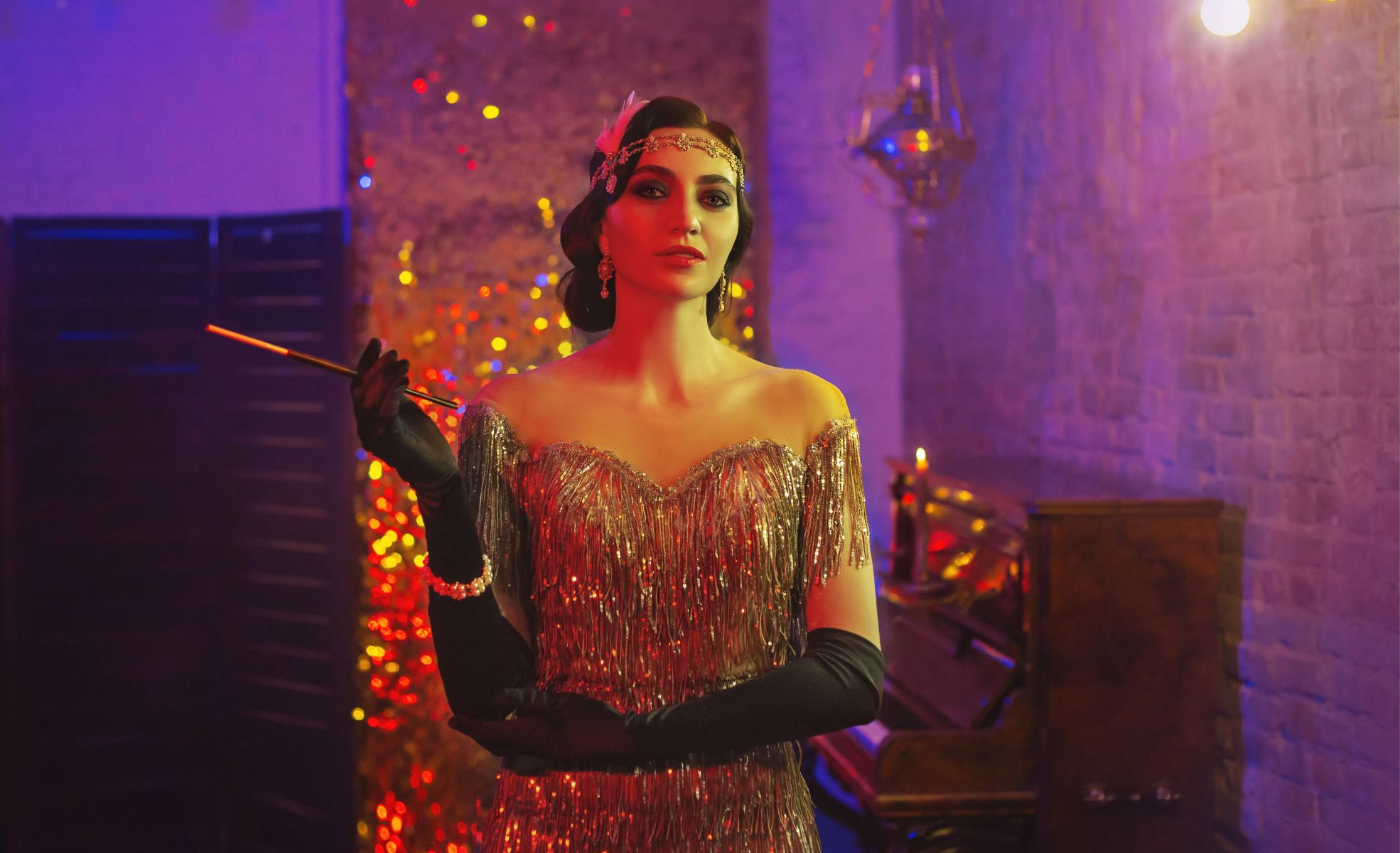 Beach Party Formal Themes
A beach party theme is a splendid choice for a school formal, offering a laid-back and enjoyable atmosphere. This theme is versatile enough to be adapted for indoor and outdoor settings, allowing for a range of creative interpretations that can transport attendees to a coastal paradise, no matter where you're located.
To set the scene, consider a formal venue with an array of decorations that evoke the serenity and beauty of the seaside. Imagine walking into a venue adorned with sea-inspired items such as shells, driftwood, and sea glass, complemented by beach balloons and thematic centerpieces. The inclusion of beach-themed lanterns and photo booths can also add to the immersive experience, letting guests capture memories of the event against a charming coastal backdrop.
The culinary offerings at a beach-themed formal can be just as thematic as the decor. A menu featuring fresh salads, tropical fruits, and finger foods can provide a light and refreshing dining experience. Fish and chips or Caribbean fruit skewers can be a hit for heartier appetites. At the same time, tropical ice cream and smoothies offer a sweet conclusion to the meal. And let's not forget the fun of sipping on beverages through umbrella parasol drinking straws, which can add a playful touch to the occasion.
Entertainment and activities are crucial to any successful party, and a beach theme opens up a treasure trove of possibilities. From sandcastle-building contests to beach frisbee golf, there's no shortage of games that can be enjoyed. For those with a competitive streak, sand sculpting contests and beach treasure hunts can provide a delightful challenge. For a more relaxed vibe, guests might partake in a beach bonfire party with acoustic music and storytelling.
The beach party theme also lends itself well to a variety of subthemes. You could opt for a Hawaiian-style luau with leis and hula dancing or a surf-themed party that celebrates the thrill of catching waves. For a touch of elegance, a nautical or mermaid-themed event can be enchanting, while a beach carnival-themed formal or driftwood DIY party can offer a more casual and interactive experience.
When it comes to attire, the beach party theme encourages a casual dress code. Guests can don their favorite Hawaiian shirts, maxi dresses, or any comfortable beachwear that allows them to move freely and enjoy the festivities. The relaxed nature of the theme means that everyone can express their personal style without the constraints of formal wear.
As the organizer, it's important to ensure that the invitations reflect the laid-back yet festive spirit of the beach party. Opting for designs that incorporate vibrant colors and fun wording can set the right tone from the outset. It's also essential to provide guests with all the necessary details, such as the location, time, and any specific instructions related to the theme.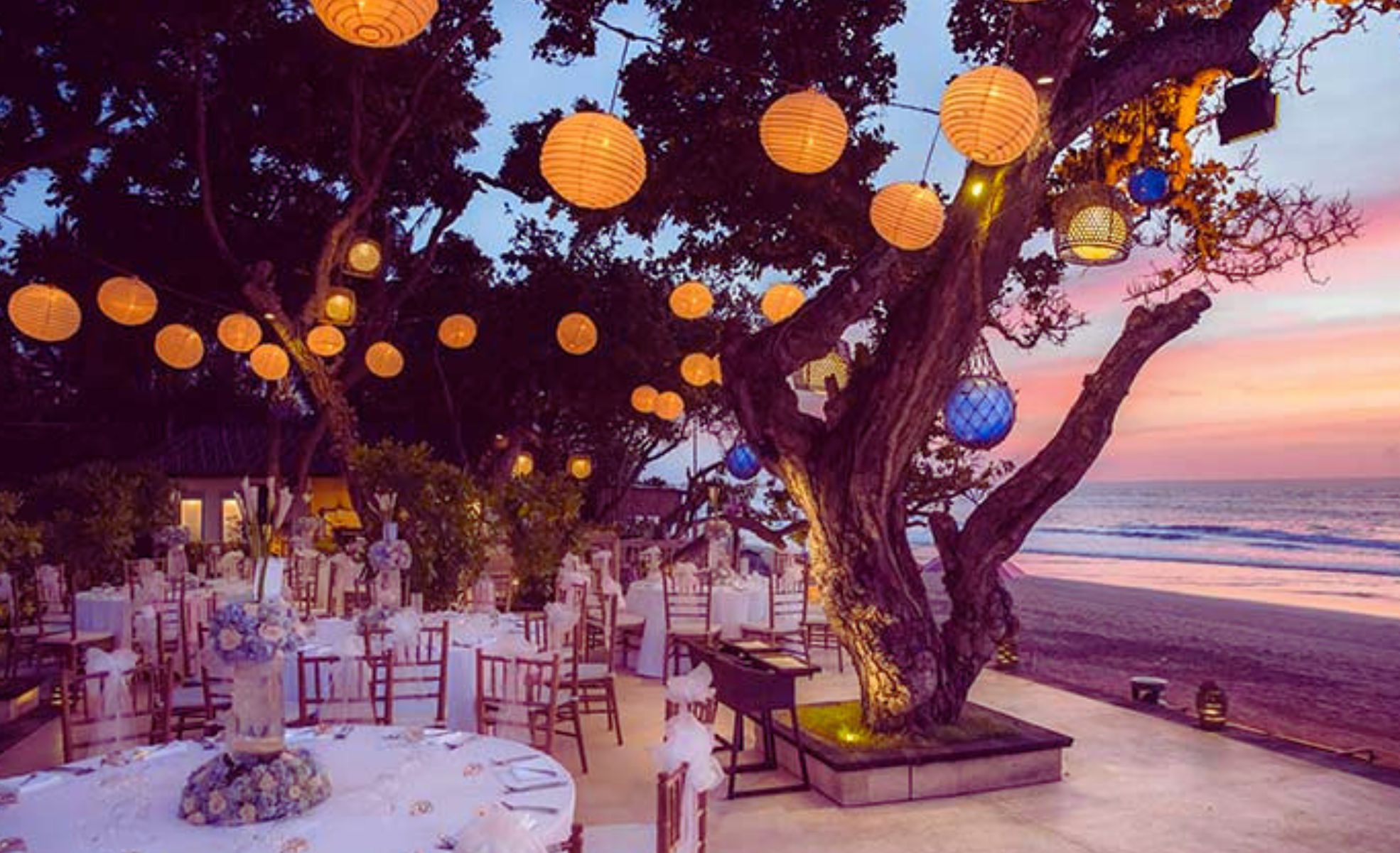 Memorable Moments Await
Choosing the perfect formal theme ideas for your school formal isn't just about picking decorations and a playlist. It's about creating an experience that'll live on as cherished memories for everyone who attends. Whether you're dancing under the enchanting clash of Fire and Ice, mingling mysteriously at a Masquerade, wandering through an Arabian Nights dream, swirling in the glamor of the Great Gatsby, or kicking back at a breezy Beach Party, your formal is destined to be a landmark event.
Each theme carries the promise of a unique adventure. This night stands out with its flair, inviting attendees to step into a world shaped by their imagination. So, pick your formal theme with heart and excitement—because a school formal is more than a celebration; it's a moment in time that'll sparkle in your memory, as brilliant and timeless as the themes themselves.