Music's the heartbeat of any wedding celebration, setting the tone and atmosphere for your big day. But how do you ensure your playlist reflects your personality, engages your guests, and makes your event memorable? In this comprehensive guide to fun wedding songs, you'll find out why the right song selection matters, how music sets the mood, and how to use it to reflect your unique relationship. So, you may be wondering some of the best and happy wedding songs to play on the big day!
We'll also provide song suggestions for every step of the wedding, from the walk down the aisle to the reception dance floor, ensuring your day is just as you've imagined. So, let's get started on planning the perfect soundtrack for your special day.
The Role of Music in Weddings
Music isn't just background noise at weddings; it's a key part of the celebration, setting the tone and mood for the entire event. From the ceremony to the reception and dancefloor, the right music can create a memorable experience for everyone involved.
Choosing The Right Wedding Songs Matters!
Choosing the right wedding songs is important because it allows you to reflect your personality and create a unique atmosphere. The music you pick will forever be linked to your special day, stirring emotions and creating new memories for you and your guests. It's not just about throwing a few tracks together; it's about creating a soundtrack that tells your love story.
It would be best if you also considered the timing and tempo of the music. Slower songs might be more fitting for the meal, while more upbeat songs can get everyone on the dancefloor. It's also important to choose music suitable for each section of the wedding, from the entrance to the first dance and the exit song.
Music Sets the Mood…
Music has the power to set the mood for your wedding. Studies have shown that music positively affects the brain, boosting mood and creating a sense of calm and happiness. It can create an atmosphere of joy and celebration or evoke a sense of romance and intimacy.
For instance, the prelude, which is the period leading up to the beginning of the wedding ceremony, can be filled with calming and serene music. The recessional song, marking the official marriage, should be up-tempo, happy, and celebratory, setting the mood for the rest of the day.
Reflecting the Couple's Personality Through Music
Your wedding music should reflect your unique relationship. It's an opportunity to share your personal history and the songs or genres of music that hold special meaning for you and your partner. Whether it's a song that reminds you of your first date or a song that you both love to dance to, incorporating personal touches into the music can make your wedding even more memorable.
Consider the tone and atmosphere you want to create when choosing wedding songs. Traditional choices might include classical pieces, but many couples opt for more contemporary songs with personal meaning. The key is choosing songs that mirror your preferences and ensuring they're the right length for your needs.
Using Music to Engage Wedding Guests
Music is a universal language that brings people together, regardless of their background or preferences. It helps to engage wedding guests and create a sense of unity. Involving guests in the song selection process and creating personalised playlists can make the wedding more enjoyable for everyone.
Consider the preferences and tastes of your guests when choosing wedding songs. While it's your special day, you want to ensure that everyone has a good time and enjoys the music. Consider including a mix of genres and eras to cater to different age groups and musical preferences.
Remember, the goal is to keep guests engaged and interested throughout the day, creating a seamless flow of events. So, trust the performers you've hired, communicate your song choices and preferences with them well in advance, and let them do what they do best.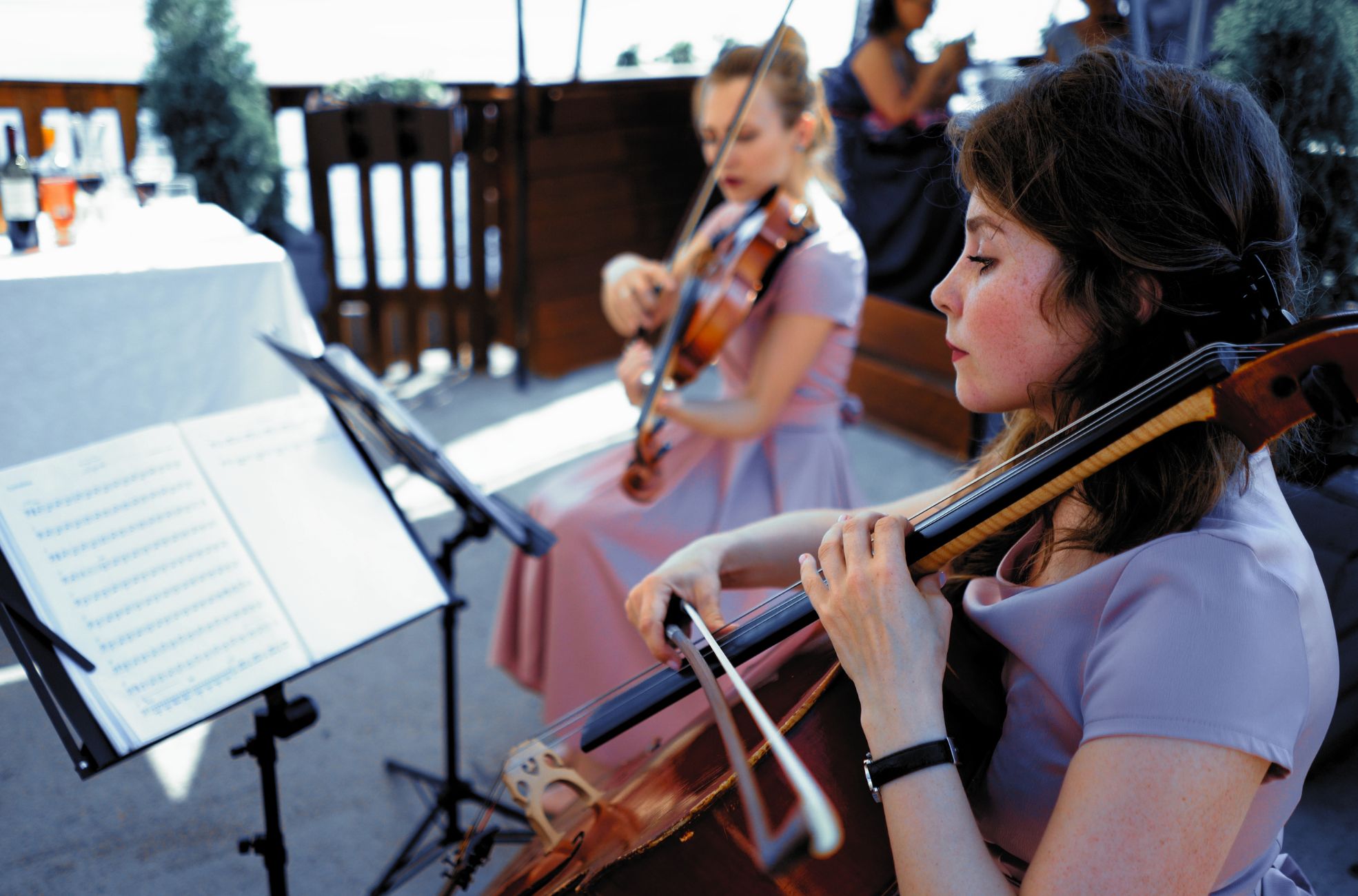 Top Fun Wedding Songs for the Ceremony
Selecting the perfect tunes for your wedding ceremony can be exciting, especially when considering the significance of these moments.
Walk-Down Aisle Song Suggestions
Your bridal entrance is a pivotal moment in a wedding. The song for this moment should encapsulate your identity and resonate with both of you. It could embody your feelings for each other or reflect your journey as a couple. The rhythm of the song is also crucial. It should be slower than usual to accommodate a comfortable walk down the aisle. If you're smitten with a song that's too brisk, you could seek a slower acoustic version or time the song to fade as you reach your partner.
There's an abundance of popular wedding songs for the bridal entrance. Traditional options include "Canon in D" by Pachelbel, "At Last" by Etta James, "A Thousand Years" by Christina Perri, and "Here Comes The Sun" by The Beatles. Classical music is often the first choice for traditional wedding ceremonies, with songs like "Clair de Lune" by Debussy, "Bridal Chorus" by Wagner, and "Wedding March" by Mendelssohn being favoured choices.
For a contemporary twist, consider romantic songs like "Can't Help Falling In Love" by Elvis Presley, "Perfect" by Ed Sheeran, and "Stand By Me" by Ben E. King. Suppose you're seeking a unique and personalised touch. In that case, songs from various genres like indie, rock, country, and folk can be selected for the bridal entrance.
Unity Ceremony Song Ideas
The unity ceremony is another crucial part of the wedding where music can enhance the moment. The song selected for this moment should be significant and special to you as a couple, as it sets the tone for the rest of the wedding ceremony.
There are plenty of options, whether you're seeking something trendy and fun or a bit more traditional. This could range from country hits to R&B ballads or even under-the-radar song ideas you might have yet to consider.
Recessional Song Recommendations
The recessional is the moment when you and your partner walk back down the aisle together as a married couple. The song selected for this moment should be celebratory and joyful, reflecting the happiness of the occasion.
When selecting your recessional song, consider the tune's style, pace, and timing. If you've got a live band or a music group performing at your wedding, you'll need to discuss these aspects with them.
Remember, even though some songs may sound romantic, their lyrics might not be suitable for a wedding. Your walk down the aisle is a beautiful moment that deserves an equally eloquent song, so make sure to listen to the lyrics carefully before making your choice.
Best Fun Songs for the Wedding Reception
The reception is where the party truly begins, and the music you select can make or break the atmosphere.
First Dance Songs that Create Fun Moments
The first dance is a significant moment for you and your partner. While romantic tunes like "Thinking Out Loud" by Ed Sheeran, "At Last" by Etta James, and "Can't Help Falling in Love" by Elvis Presley are popular choices, don't shy away from more lively options. "I Wanna Dance With Somebody (Who Loves Me)" by Whitney Houston and "September" by Earth, Wind & Fire can inject a dose of fun and get your guests moving.
Cake Cutting Song Choices
The cake-cutting ceremony is a joyous occasion; the music should mirror this sentiment. While "Signed, Sealed, Delivered (I'm Yours)" and "Higher Ground" by Stevie Wonder are often chosen for their celebratory feel, consider adding a playful twist with "Sugar, Sugar" by The Archies or "I Want Candy" by Bow Wow Wow.
Last Dance Song Suggestions
The last dance song is your final chance to leave a lasting impression. While "Sweet Caroline" by Neil Diamond and "Dreams" by Fleetwood Mac are often chosen for their nostalgic feel, remember to select a song that resonates with you, be it a timeless classic or a modern hit.
The key to a successful wedding reception playlist is variety. It's about finding the right mix of songs you love and your guests will enjoy. So, pay attention to your playlist. The right selection of music can get everyone on the dancefloor and foster a lively atmosphere.
Uplifting Songs for Wedding Party Entrances
The transition from ceremony to reception is marked by the entrance songs for your wedding party. These tunes can ignite the celebratory spirit of the reception, regardless of whether you're a bride and groom, a bride and bride, a groom and groom, or a non-binary couple.
Bride and Groom Entry Song Ideas
Your debut as a married couple is a significant event, and the song choice should reflect this. Energetic options like "Raise Your Glass" by Pink and "Feel So Close" by Calvin Harris are ideal for igniting a festive mood. Other tunes that'll encourage your guests to hit the dance floor include "The Walker" by Fitz and the Tantrums and "Shut Up and Dance" by Walk the Moon. For a touch of nostalgia, "Love and Marriage" by Frank Sinatra is a delightful choice.
Bridesmaid and Groomsmen Entrance Songs
The arrival of your bridesmaids and groomsmen is another reception highlight. The song choice here can mirror the individuality and tastes of your wedding party. Some lively and popular choices include "Dynamite" by Taio Cruz and "Uptown Funk" by Mark Ronson ft. Bruno Mars. "Howlin' for You" by The Black Keys is a fantastic choice for a rock and roll twist. For a contemporary feel, "Crazy in Love" by Beyoncé ft. Jay-Z will set a vibrant tone and create an energetic atmosphere.
Fun Family Entry Song Choices
Consider tunes that evoke nostalgia or hold sentimental value for your family's entrance. Some popular options include "Here for the Party" by Gretchen Wilson and "Stuck Like Glue" by Sugarland. For country music enthusiasts, "Love Somebody Like You" by Keith Urban and "Yours If You Want It" by Rascal Flatts are excellent choices. These tunes will elicit smiles and create a warm and joyful ambiance.
The ultimate aim is to select wedding entrance songs that are meaningful, enjoyable, and contribute to a memorable experience for you and your guests. So, whether you're a pop, rock, country, or hip-hop fan, there's a perfect tune out there for your wedding party entrance.
How to Implement Your Song Choices Flawlessly
Executing your musical vision flawlessly requires careful planning and coordination. Here's how you can ensure your chosen tunes are delivered without a hitch.
Coordinating with Your Wedding Planner, Band, or DJ
The initial step towards a flawless musical experience involves effective coordination with your wedding planner, band, or DJ. They're the experts who'll actualise your musical vision. It's crucial to convey your specific requests or preferences, including the music style, particular songs versions, and any special moments or lyrics that should be emphasised.
If you need to decide between hiring a band or a DJ, consider the advantages and disadvantages of each. A DJ provides versatility in the playlist and is generally more budget-friendly. A band, however, brings a performance element and energy that can ignite a magical atmosphere on the dance floor. If you're finding it challenging to decide, why not incorporate both? You can have live music during the cocktail hour and dinner and then transition to a DJ for the remainder of the reception.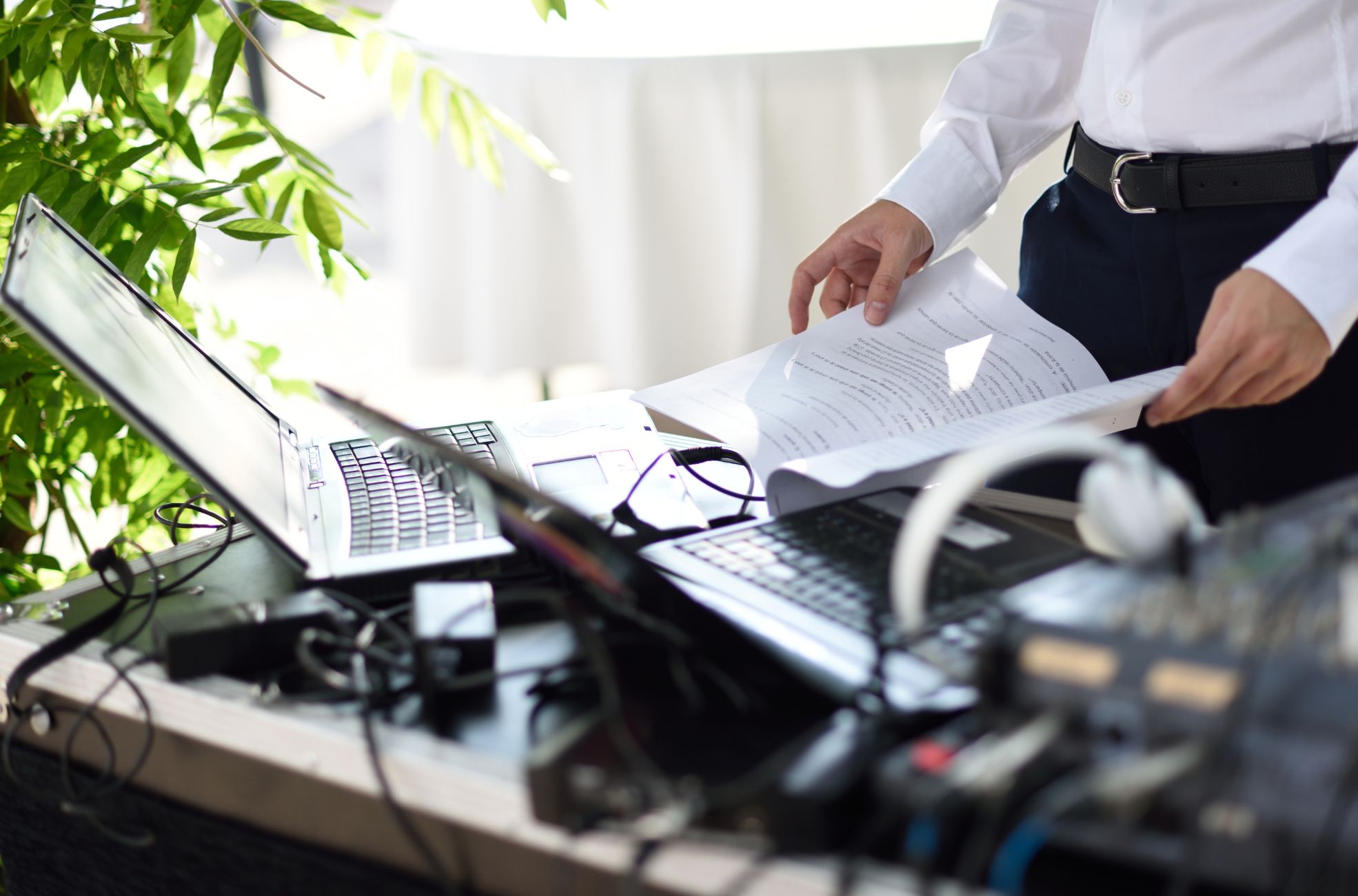 Setting Up Wedding Playlist Ahead of Time
Preparation is key when it comes to your wedding playlist. This ensures a seamless transition between different parts of the ceremony and reception. When selecting songs, consider the preferences of both you and your guests. Don't limit yourself to traditional wedding music; explore soundtracks, film scores, and other genres to discover unique and meaningful tunes.
Consider the different segments of your wedding day. Pre-ceremony music sets the ambiance as guests arrive and are seated. Processional music accompanies the wedding party and your entrance. Recessional music is played as you and your wedding party exit the ceremony. Cocktail hour music fosters a relaxed atmosphere for guests to socialise. And of course, the reception music should be chosen based on the ambience you desire for the party.
Keeping a Flow Between Different Parts of the Ceremony
Maintaining a seamless transition between different parts of the ceremony requires meticulous planning and coordination with your DJ or band. For instance, during the processional, there's usually a shift from the prelude music to the processional. The DJ or whoever's playing the music will pause for a few beats to signal that something's about to occur.
When curating a playlist for the reception, consider your guests' tastes. Including popular tunes and hits from different eras can ensure that everyone enjoys themselves. Transitions between songs should be smooth and harmonious. It's a good idea to allocate extra time for each playlist to accommodate for unexpected changes or if the party's still in full swing.
With meticulous planning, coordination, and a dash of creativity, you can curate a musical experience that you and your guests will cherish forever.
Creating Your Wedding Soundtrack
Picking your wedding songs is a journey you'll embark on, where you'll recall meaningful moments and shape your perfect day. Remember, your wedding is a reflection of your unique love story, and the music should echo that. From the ceremony to the reception, the tunes should capture your emotions and create lasting memories. It's about creating a deeply personal atmosphere, yet brings your guests together in celebration. Let your personality shine through whether you're a fan of classical, modern, or unconventional tunes. Trust your performers, involve your guests, and ensure the flow's seamless. In the end, your day will be enhanced by music that's true to you. Let each chord and lyric stir your heart and set the dancefloor on fire. So create your wedding soundtrack and turn your special day into a melodic masterpiece.